Over Valentine's Day weekend in 2016, a winter storm wiped out most of New England's peach crop — a development that left Sweetgreen's supply chain team scrambling.
In the thick of summer menu planning, the group was forecasting supply for the restaurant chain's popular peach and goat cheese bowl and coming up short. While other fast-food companies might have opted to truck in less-than-fresh peaches from a far-flung location, Sweetgreen's team on the ground took a different route.
They swapped out the peaches for locally grown (and unscathed) blueberries and strawberries, whipping up a brand-new menu item that was dubbed the "Patriot Bowl" in an homage to the region. It quickly became one of the most popular orders throughout Sweetgreen's northeastern restaurants — and is now a prime example of a concept that co-founder and Chief Brand Officer Nathaniel Ru calls intimacy at scale.
"When we started out, you had two choices: food that was either fast, cheap and unhealthy or slow, expensive and fresh. We wanted to create a place where you didn't have to sacrifice price for flavor or convenience. For us, intimacy at scale is about proving that that we can serve healthy, real food at scale, while still making it feel like your Sweetgreen and not just a Sweetgreen," he says. "There are all of these cautionary tales about startups or restaurants that grew massively, transforming into slow-moving corporate entities where quality takes a nosedive, products become more bland, customers are no longer at the center, and employees feel less involved and inspired. We've been determined to avoid that."
Ru and his two co-founders, Jonathan Neman and Nicolas Jammet, started out on a journey to bring this philosophy to life more than 11 years ago, opening up a 500-square-foot restaurant in Washington, D.C. just a few months after graduating from Georgetown. Cozy and decorated with local art, this first location became anchored into the folds of the community, providing a stable foundation for further expansion along the Eastern seaboard. By maintaining a flexible supply chain and crafting a seasonal, curated experience for customers, Sweetgreen has bottled the essence of its humble beginnings as it has scaled, tapping into that familiar-yet-fresh feeling to fuel impressive growth.
The company now boasts more than 3,500 employees and nearly 100 locations in eight states, with plans to double the number of restaurants in the next year. But Sweetgreen has been growing beyond mere physical footprint as well. From launching enterprise office delivery and using blockchain to track ingredients to unlocking unicorn status and raising over $300 million in funding, the company seems to share more DNA strands with tech startups than with their fellow fast-casual competitors.
In this exclusive interview, Ru draws on his experience scaling Sweetgreen to offer startups a clearer window into how rapidly growing companies can maintain intimacy with customers, partners and employees. He deconstructs the essential strategies for authentically approaching new markets and collaborations, while diving deeper into the tactics Sweetgreen used to infuse intention into its supply chain, mobile app and team building efforts. Founders looking to build a company that can withstand growing pains and stay connected with customers will benefit from Ru's masterclass on building a brand steeped in community.
TAKE A LEAF FROM THE PLAYBOOK FOR SCALING INTIMACY
As more cooks crowd the kitchen and new locations are spun up, standard operating procedures and efficiencies are introduced to maintain consistency. Soon enough, the culture gets watered down, the products lose flavor and the founding spark of creativity dims as a cookie-cutter approach takes over.
This description could just as easily apply to a scaling tech startup as to a rapidly growing restaurant chain (and as we've previously noted, there's considerable overlap in the skillsets of chefs and product managers as well). As Ru is quick to point out, companies in both industries face an inherent tension between scale and intimacy.
"Focusing on intimacy is much easier when you're starting out. It's hard to reverse engineer or revive it once you've reached a certain size," says Ru. "That's why building the mindset to embrace change and flexibility from the beginning is important. It's easy to concentrate on sales and growth, but losing the storytelling and emotion of your early days is a recipe for a transactional approach that won't last."
For Sweetgreen, scaling intimacy revolves around expanding access to healthy food without compromising on the core, inherently local spirit the company started out with — a guiding light that requires a mindset different from that of their food industry peers. "In our space especially, many food companies obsess over building more restaurants. But we try to think more about deeply about customer-centric metrics, focusing on NPS, frequency by channel, social sentiment and overall loyalty over time," says Ru. "And we believe we can increase that value by thinking less like a traditional restaurant company and more like a customer subscription business."
To further unpack the thinking behind scaling intimacy, Ru details the four core principles that have formed the ethos of Sweetgreen's approach, sharing the mistakes he and his co-founders learned from along the way.
1) Slow down to speed up.
"Like many startups, we started off with a few core values, but it quickly ballooned from there. I think at one point we got up to 20 values and we couldn't even memorize all of them. That was definitely a reflection of us trying to do too much in our early years. Over time we learned the power of saying no and slowing down," says Ru.
While it's tempting to grow as fast as you can in every dimension, it's the decisions that you say no to that define who you are.
"After opening our first restaurant, we immediately thought we could open all over the country in L.A., New York and Miami within the first three years. There's a lot of pressure for startups and restaurants alike to expand to new markets quickly. But eventually we realized that by saying no to expansion, we could focus on building the brand and get stronger, not just bigger," says Ru. "We made the decision to stay in D.C. for the first six years, and honestly, it was one of the best things we ever did. It allowed us to build a network effect and really learn from our mistakes before we took that blueprint to new markets. Whether it was connecting to the local farmer's market, building out an entirely local supply chain, scoping out real-estate or working on social impact projects, we incubated every tactic in D.C. first so we could put deliberate and authentic growth at the center."
2) Study the community.
Further embodying that philosophy of taking things slow, the Sweetgreen team takes its time before entering a new market, knowing that the exact same launch playbook won't work in every location.
"Unlocking intimacy and the ability to resonate with customers hinges on doing the legwork to understand them. You have to connect with each community differently. At least a year before we enter in a new market, we're introducing ourselves to the community and taking the time to understand its unique culture so we can so that we can show up in a more meaningful way," says Ru.
"We're students first, analyzing each community before every new market launch. For example, we've been immersed in Houston now for over a year, meeting with the largest farmer's market, combing through real estate options, working with local artists and architects, learning about what people who live in that area like to do and eat, and looking at historical data for everything from traffic patterns to demographics," he says. "We've also created our own mindset model that we overlay on different ZIP Codes to gauge how well we would perform in certain regions. So in the case of Houston, our diligence has led us to apply new tactics, such as introducing heartier food plates, serving beer and wine, and adding in more seating to cater to the culture of driving."
3) Embrace modularity.
In Ru's eyes, Sweetgreen's earliest stumble was underestimating how fast the world was changing. "When we first started expanding outside of D.C., we were essentially building the same version of the Sweetgreen restaurant over and over again, focusing purely on adding more locations, instead of lasering in on the expectations of the customer" he says. "Over time, we've discovered the power of modularity, designing our restaurants to embrace change. Just as a fashion retailer changes merchandise by season, our locations have the flexibility to change menus, ambiance and decor, feature local artists and different playlists."
And with Sweetgreen's ambition to become the "Starbucks of real food" that flexibility could come in handy. "It gives us room to grow if we want to go international. Imagine what Sweetgreen would look like, say in Japan," says Ru. "We've intentionally held the space in our brand to allow for Sweetgreen to fit in many different environments."
Sweetgreen has also explored another dimension of modularity: addressing the recent explosion of delivery apps and online ordering. "We had to figure out how we could provide Sweetgreen anytime, anywhere. We built our own app, but we've also introduced Outpost, a shelf-based free Sweetgreen delivery to offices. It's not our traditional storefront and it's not typical delivery either," Ru says. "You have to tinker with different formats that span across physical and digital to rethink how you're serving customers."
You have to design products and experiences for modularity because everything changes so quickly. Don't just focus on the today's functionality — peer into the future and start thinking about how you can show up in unexpected ways.
4) Thrive on collaborations.
To tap into community specific microcosms, reach out to customers in new ways and inject flavor into the brand, Sweetgreen has utilized unexpected collaborations from the start. From a Kendrick Lamar "Beets Don't Kale My Vibe" campaign in 2015 to a recent partnership that delivers salads directly to WeWork locations, the company has dabbled across an incredibly diverse range of domains.
But one of Ru's personal favorites was the recent partnership with Michelin-starred chef Dan Barber.
"Everyone says 'farm to table' these days, but we wanted to try 'seed to restaurant,'" he says. "Dan has a seed company that breeds new strains of vegetables to maximize flavor, so we bought 100,000 seeds of a brand-new squash he invented and we planted them in six farms across the country. They all came out in completely different shapes and sizes. It had never been produced in mass quantities and obviously no customer had ever heard of the Koginut squash before, but we put it on the fall menu at every location. That's not something most fast-food companies would do, but for us, it's about showing our customers a different side of food and making sure purpose permeates throughout our brand," says Ru.
When considering partnerships, Ru advises early-stage teams to go with what feels like a natural fit, not a forced extension. "The relationships that have been the biggest successes for us have always been the ones where the brainstorming and execution were seamless," he says.
Even at scale, you can still find ways to experiment with bold, wild card ideas and look for partnership opportunities that bring out a different side of your brand.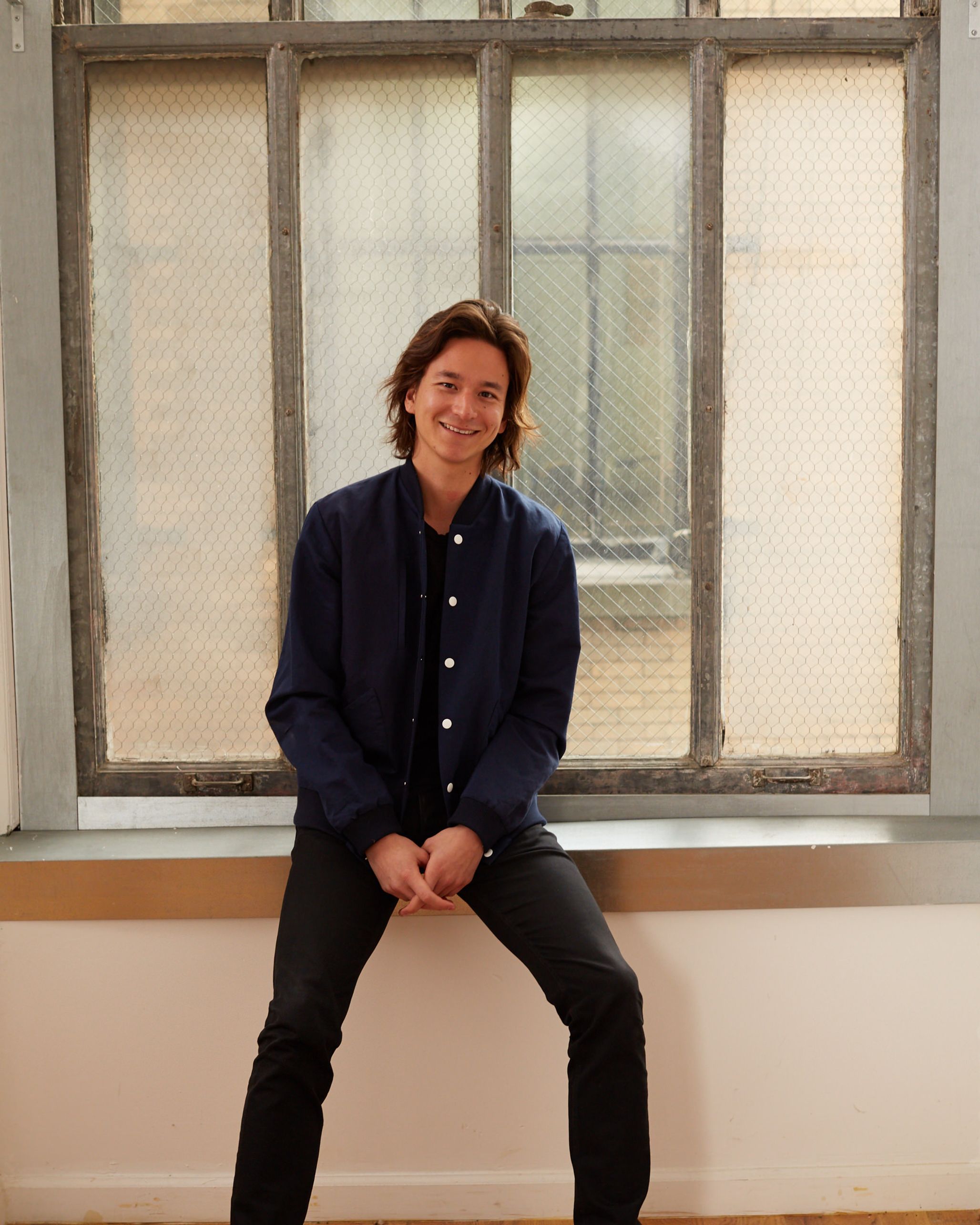 To fill in more color beneath these four strategic pillars, in the following sections Ru goes on to reveal the tactical threads of how intimacy at scale has been woven into Sweetgreen's supply chain, tech platforms, brand building efforts and internal company culture.
LOCAL LOGISTICS TO SCALE SUPPLY FROM THE GROUND UP
Although centralized sourcing and distribution has been the operational bedrock of fast-food for decades, Sweetgreen has upended convention from the very beginning. By going straight to the farmers themselves (including more innovative suppliers such as Barber's seed-breeding company and Bowery's indoor farms,) Ru and his co-founders are dedicated to instilling intimacy and avoiding a typical conglomerate supply chain mentality at every turn.
"We want to show people that fast-food can be good for you and also taste different in different places. Our kale in Philadelphia tastes different than it does in Palo Alto, and our goal is to make that completely normal in the fast-food world," says Ru.
While most startups aren't struggling to figure out the logistics of planting a new strain of squash or distinguishing different kale varieties , early-stage consumer-facing companies often rely heavily on operations and suppliers — and stand to learn a few things from how Sweetgreen has set it all up.
Today the company has seven separate supply chains that involve over 150 local farmers across the country so menus can be designed around the regions and the seasons. "Our supply chain is incredibly complex — but it's also our moat," Ru says.
If you're willing to do the upfront work of setting up different supply chains or upending traditional operating models, you can reinvent the business you're in.
"Some ingredients are procured nationally, such as wild rice or olive oil, but most of it is sourced locally. We also change our menu five times a year, and each one involves more than 3,000 hours of research. There's also last-mile coordination and a value-chain coordination in each supply chain, which includes managing relationships, checking quality and helping farmers with purchasing power," he says. "The biggest challenge is understanding forecasting and making sure that we set the right expectations with farmers and the right volumes. It's much harder to do all of that in seven separate areas at once, but for us, it pays off in spades. Our food tastes better, we can be more transparent on where it's coming from and we're able to support local food economies, all of which comes together to build a fresh take on fast-food."
Here are two tactics Sweetgreen relies on to power this process:
Go deep to build supplier relationships that last. Before Sweetgreen moves in on a new market, the first task is to make sure it can be supported by a local supply chain. "We always say that we meet farmers before we meet landlords," Ru says. "Our second restaurant in D.C. was actually in the parking lot of the biggest farmer's market, which enabled us to connect with every vendor. That meant going to their farms, seeing what they do and figuring out how we could start working together and then scale that further," he says. "We still use this tactic today. Don't just view your partners or suppliers as inputs or cogs in your operations; take a long-run view and think of each one as an opportunity to build a real relationship that can grown wildly beyond where you first started. We partnered with our goat cheese provider in the D.C. region, Firefly Farms, back when we were both really small. 11 years later, we still work with them and their business has grown alongside ours."
Open up with blockchain. Out of a desire to improve food safety (and avoid the tainted tribulations of competitors such as Chipotle), Sweetgreen has started using blockchain to track ingredients from seed to store. "We know exactly where our food came from, when it was picked and how it got to us," says Ru. "We partnered with Ripe.io to tag ingredients, put sensors in the ground and map the full journey of food by looking at variables in soil, microclimate and timestamps. It maximizes transparency and traceability, as the blockchain-based public ledger will allow any customers to see what's going on. But it also enabled us to really dig into and quantify taste," he says. "We've been conducting taste profile projects on heirloom cherry tomatoes in Boston and goat cheese in Chicago to validate our thesis that local, sustainably grown ingredients are better than grocery store ones from an unknown source. For example, through using blockchain and running customer taste tests, we could pinpoint that peak flavor occurs more than five days after a tomato is harvested."
Transparency is an unbelievably powerful tool for startups looking to shake things up in their industry. Open up and demystify your operating practices as much as possible to forge connections with your customers.
BRIDGING THE GAP BETWEEN BOWL AND APP: INTIMACY AS AN INGREDIENT IN TECH
While Sweetgreen is known for the snaking lunch lines and fast-moving assembly stations of the physical realm, the company has been steadily dialing up its digital presence as well.
Nearly 50% of orders in the last year came through its mobile app, which has more than a million users. Given that Sweetgreen can count only 90 physical locations, these figures stand out.
"We're a food company first and tech company second. For us, it's always going to be important that the food is flavorful and delicious, but we also want to make sure we're meeting our customers where they are, so along with head chefs and line cooks, we have developers and product designers," says Ru. "We want to own that relationship with customers and bring a deliberate authenticity to every touchpoint, which is why we're also prepping for our own delivery launch this year."
Tech needs to enhance the human experience, not replace it.
Ru shares a behind-the-scenes look at how the company built its order-ahead app and internal operating system in a quest to deliver digital offerings with Sweetgreen's signature streak of intimacy:
(Mobile) ordering with the eyes and Spotify for salads.
Sweetgreen was an early mover as one of the first in its category to release an app.
"Food ordering and delivery apps have since exploded, but when we were first designing our mobile app back in 2011, there wasn't anything that represented the experience that you felt in a restaurant. It was a mixed bag of radio buttons and dropdown menus, but we wanted to create an app that was as good as ordering in our restaurants," says Ru. "We spent two years developing it and when it launched in 2013, mobile ordering only made up 5% of the business. But now only five years later, its nearly half of our volume. And we'll expand on this even further by exploring new functionality such as text, voice or even Slack ordering in the future."
Here are two goals Ru kept the team focused on during the design process:
Content forward. "We had this mantra of 'ordering with your eyes.' At our restaurants, you walk down a front line and you choose what you want to go into your bowl based on what you see. We wanted that experience to come through in our app, so we invested heavily in content descriptions and photography of every bowl and every ingredient to create really rich, storytelling experiences around food," says Ru.
Personalization. "Navigating through dropdowns or grids of standard menu options is tedious and we wanted to reduce the cognitive load of ordering food online. We incorporated everything from dietary restrictions to order history to create the most customized experience possible. It could be adjusting the heaviness of the dressing, specifying if you want the salad mixed or using the 'save to favorites' button so you can quickly re-order your custom creations," says Ru. "Eventually this will evolve to using this data to present you with a completely personalized, curated menu based off your preferences, more similar to Spotify than a salad chain."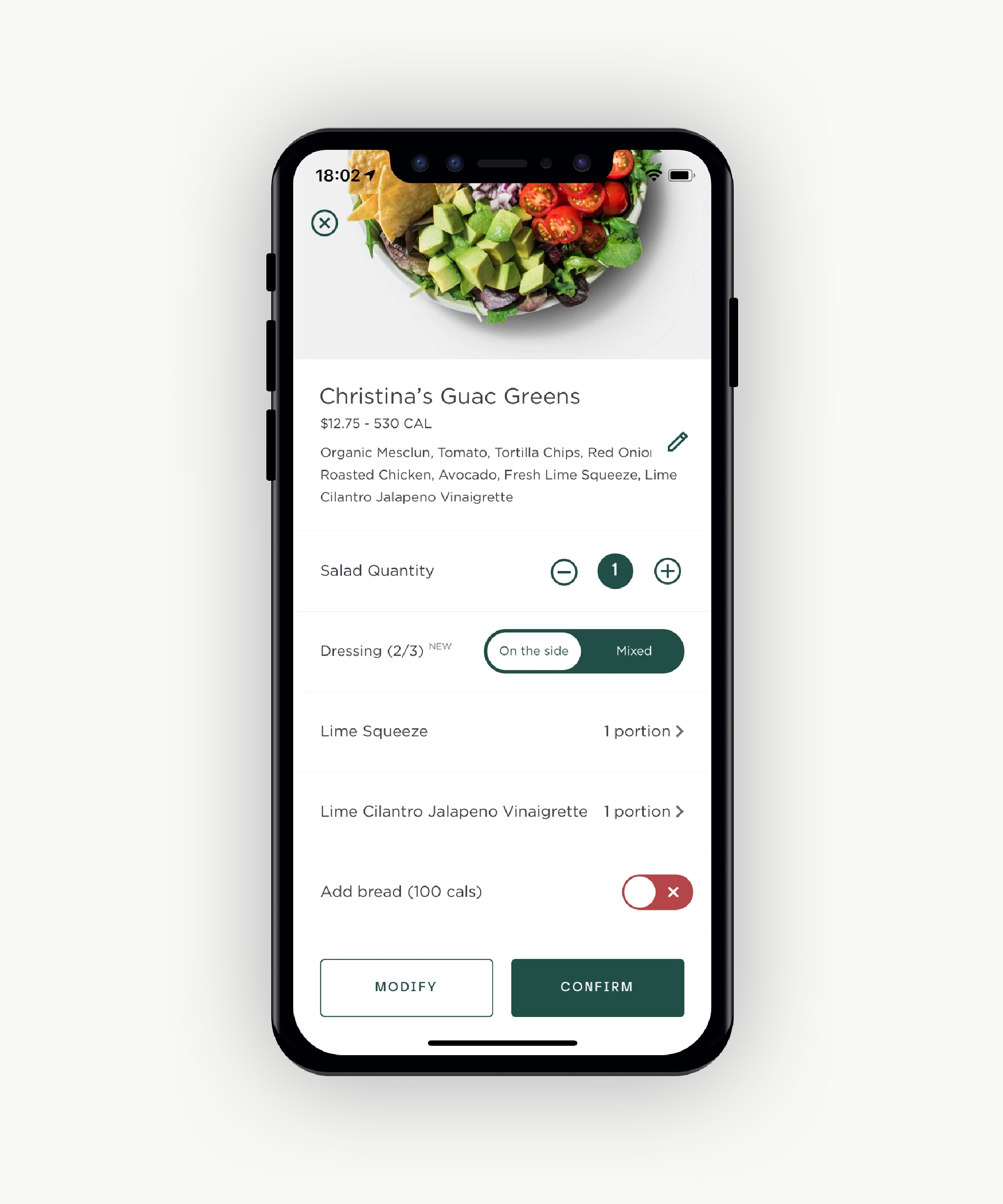 Updating to Sweetgreen OS.
Early on, the Sweetgreen team recognized the importance of back-of-house functionality. "Many focus on what our website or mobile app looks like, but we've invested a lot of time in redesigning our kitchen space. Because the pace of online ordering was overwhelming the front assembly line, we had to make some operational changes," says Ru. "Today, every single Sweetgreen restaurant has a secondary make line to handle online orders. Some of our New York locations actually have four assembly lines to meet mobile demand."
For Sweetgreen, thinking through the configurations of the behind-the-scenes kitchen operations is also about making it easier for store teams to execute real food from scratch, as everything from the dressings to the roasted steelhead trout is prepared fresh at every restaurant, every day.
"In the restaurant business there aren't many technical tools to help make the job easier," says Ru. "That's why we developed Sweetgreen OS, which we like to think of as the turn-by-turn directions an Uber or Lyft driver gets. It takes in the inputs of sales forecasting, weather and historical performance to help the team know how much food to make, when to make it and what steps to follow."
It's tempting to focus only on externally-facing platforms, but don't neglect back-of-house operations. Don't be afraid to spend the time custom-building the tools that your team needs to work more effectively.
THE STORY BEHIND THE SALAD: SERVING UP PASSION AND ASSEMBLING A COMMUNITY-DRIVEN BRAND
When Ru and his co-founders first started Sweetgreen, they were dismayed that the food companies with the best marketing were the most unhealthy options: Coca-Cola, McDonald's, Red Bull.
"Our thesis was, 'How can we use similar marketing tactics to tell the story of real, healthy food, and make it a bigger part of the conversation?'" says Ru. "Simply telling people to eat their vegetables wasn't going to work. We had to connect it to lifestyle and culture while making it feel different and fresh. Similar to Nike and Supreme drops or new Netflix originals, we see the white space to create hype around healthy food through our five seasonal menu launches, which is why we partner with noted chefs such as David Chang," he says.
Outside of menu launches, Sweetgreen seeks other ways to weave food, music, art and social impact into its brand. "For example, when we hosted our big Sweetlife music festival in D.C., you could eat quinoa and watch Kendrick Lamar at the same time," says Ru. "But even that's a great example of how scale results in a loss of intimacy. We've since pared things back and are now focusing on smaller, local block parties or having musicians play at an event hosted at Blue Hill at Stone Barns."
For Sweetgreen, this search for connection has led the team to find ways to contribute in the communities they operate in that have nothing to do with restaurants. "Our mantra is to leave people better than we found them. It's easy to apply that thinking to the way we treat our customers or our teammates, but as students of the community, we need to extend it to our broader environment," says Ru.
As we get bigger, we need to act smaller. There's no such thing as a successful business in an unsuccessful community.
The team has invested heavily in social impact projects, including partnering with an urban farm to renovate an old bus to help serve the 'food desert' of Southside Chicago and turning a local corner liquor store in L.A. into a real food destination complete with a point-of-sale system and access to Sweetgreen's local supply chain.
"In every city where there's a Sweetgreen, the team seeks out a partner that inspires them to brainstorm ways to solve a real problem. They donate ongoing resources to support this partner, including opening day proceeds. It could be acting small, such as offering free bowls on a recent weekend to federal workers affected by the government shutdown in the D.C. area," Ru says. "But we're also focused on scale. For example, Sweetgreen in Schools started as a homegrown program in 2010 as a one-week food and health curriculum in D.C., and we've grown it into a series of wellness workshops involving more than 5,000 students."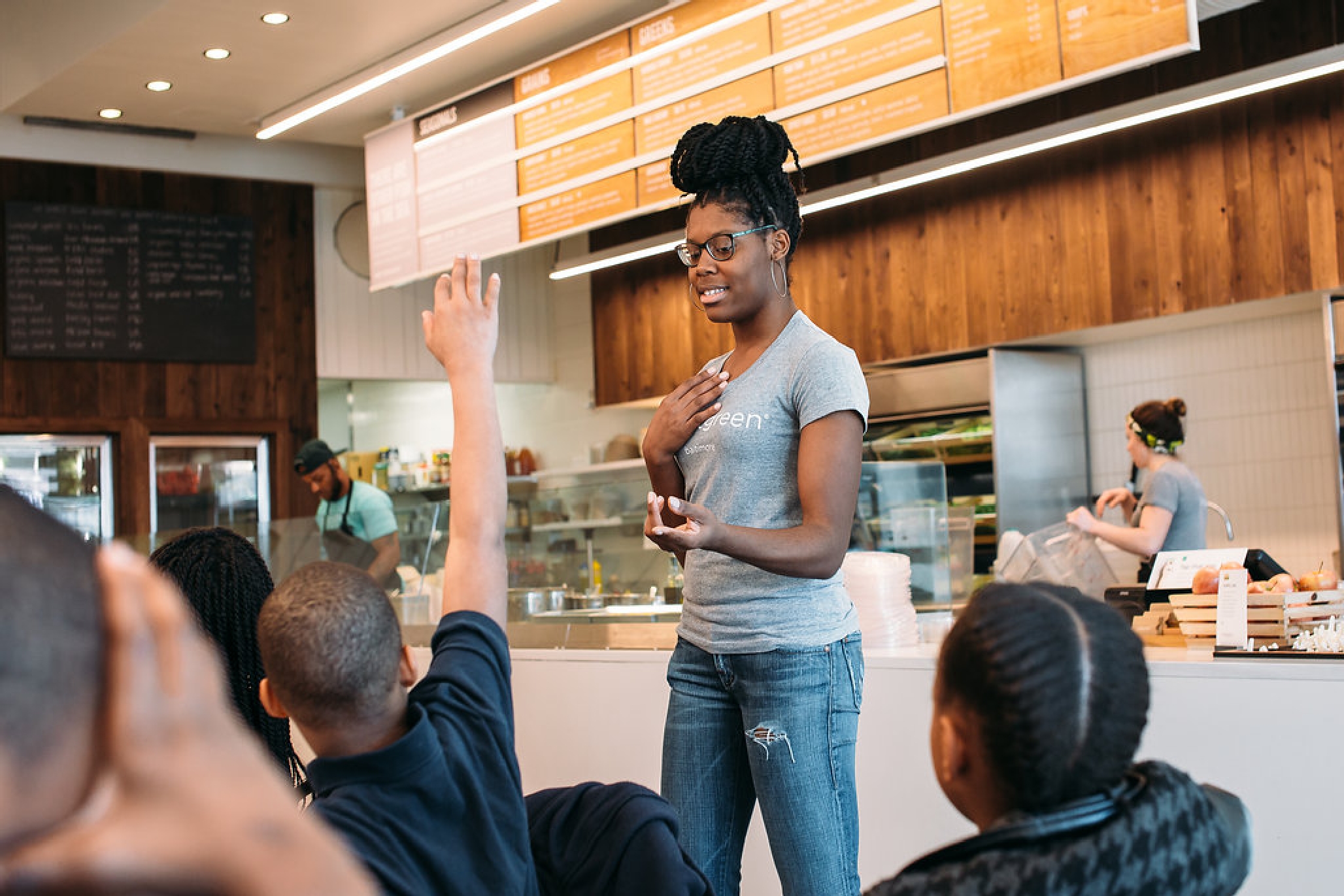 COOKING UP A CONNECTED CULTURE THAT SCALES
As companies grow and new locations open, managing an ever-expanding team, maintaining hiring standards, inspiring large groups and reducing turnover are converted into instant challenges. So it makes sense that the final ingredient in Sweetgreen's approach is bringing intimacy to the employee experience. The main goal? To prevent the unique company culture and customer-centric focus from wilting as the company has grown from three college friends to over 3,500 employees.
"As leaders, we're focused on two things: retaining our employees by supporting them with a great environment and building a team that can both embrace and get excited about the constant change. Our hourly team members in our restaurants and our 'head coaches' or general managers, are all on the frontlines of customer experience. They are the ones that deliver great service daily," says Ru. "And the reality is that working in the restaurants is really hard. My co-founders and I make sure to take a store shift with every menu change, so we know firsthand the current challenges they face. As important as it is to create innovative products and launch trendy initiatives, it's just as important, if not more, to serve those who work with you," he says.
Here are four tactics Ru and his co-founders rely on to nurture the seeds of Sweetgreen's culture:
Intention to kick off the day. Across every single restaurant, each morning general managers lead a session called 'The Sweet Talk.' This ritual is a huddle, a pep talk — and a key team building tool. "It can be a forum to recognize great talent, or to share best practices from corporate or other restaurants. It's 15 minutes of inspiration, ideas and recognition, every day, and it's my favorite part of visiting our restaurants," says Ru. "Whether or not you have multiple physical locations, every startup has sub-teams that need a dash of inspiration to kick start their mornings and feel connected to the bigger picture. Using stand-ups, sending out a quick note or holding huddles are powerful opportunities to reinforce that every day."
Shark Tank for salads. Each year, Sweetgreen holds an offsite for every head coach and corporate team member to get together. But one of the retreat sessions stands out more than others — and it proves that the best ideas can come from anywhere. "We create a mock 'Shark Tank' where team members get to pitch their next big idea. It's almost like the food world version of a hackathon," says Ru. "The winners two years ago came up with this idea called 'Sweet Plate,' which was an attempt to solve the problem of getting more customers in at dinner. They pitched a heartier offering that was warmer, but the best part was that it was inspired by a secret menu hack restaurant workers had started making for themselves after their shifts. 'Warm Bowls' launched two years ago and are now almost 30% of the menu mix company-wide," he says. "When you're an early-stage startup, anyone can toss an idea out and bring it to life. The trick is encouraging those seeds when your team grows to hundreds or even thousands of people. Look for ways to source ideas from all over the company, especially your front-line employees — they'll almost always be the best ones."
Nudging with new tools. To shore up employee retention, Sweetgreen turned to another tech solution: Lazslo Bock's new startup, Humu. By enlisting analytics, economic research and people ops expertise from Google, Humu provides Ru and his co-founders with another tool to help improve the team experience of working at Sweetgreen. "After the assessment from Humu, we found that while employees were pretty happy, career advancement was a spot we need to work on. The software sends 'nudges' to remind head coaches of more specific topics to address in this realm, which could be covered in a Sweet Talk or by holding one-on-one conversations with the restaurant team members," says Ru.
Staying tethered as a founder. For many founders, remaining connected to a growing business is a full-time job in and of itself. "In the beginning, everything was bootstrapped — we waited until we opened three stores before hiring any corporate staff. Since it was just the three of us for a while, we've each probably done every job in the company," says Ru. "But as the organization grows and your role becomes more focused on one certain area, it's important to not to lose curiosity. Great founders, regardless of company stage or functional expertise, are really well-versed in all parts of the business," he says. "Today, I manage marketing, creative and design but I've maintained my curiosity about everything from our supply chain to our CX team. I also focus on a different a market every quarter, making site visits and working to understand the nuances. All of this makes it easier for me to connect the dots and help solve problems in my own role, whether it's a national campaign or a product design hurdle."
In the early days as a founder, you wear all the hats, but over time your role narrows in on a specific function. Don't lose your curiosity — staying well-versed in all aspects of the business will make you stronger as a functional leader.
TOSSING IT ALL TOGETHER
Conventional wisdom suggests that rapid hypergrowth and expansion necessitates a sacrifice of intimacy and familiarity. Sooner or later, "a way of doing things" develops, customers and employees feel less connected, and ideas go stale as companies struggle to escape the consistent, slow-moving trappings of predictability that accompany scale.
To avoid this fate, focus on getting stronger and saying no, not just on getting bigger and growing faster. Before entering new markets, avoid a templatized feel by studying the community to custom-tailor your approach and experiment with how you serve customers. Tap into collaborations to show up in unexpected places. Don't be afraid to invest in unconventional operational models or custom, in-house tools that'll make your team stronger and moat wider. Take a wider lens view of your brand's purpose by making time for social impact projects that make a difference. Source new ideas from employees and implement them, introducing new forums and tools for keeping the team connected amid the growth.
"There isn't a blueprint for achieving intimacy at scale, but the biggest lesson I've learned along the way is making it a reality comes down to building meaningful connections and relationships with your internal and external customers. It's easy for founders to be heads-down and focused on building the business, and often we forget that this is a muscle we always need to work on," says Ru.
"On a personal level, it's about the smallest touches, such as a handwritten thank-you card. As a manager, it may mean taking the time to inspire and appreciate your team. For the new community, it's taking that step back to spend the time doing your homework before plunging in and prescribing a solution. From an industry standpoint, it's about changing the narrative and finding unorthodox channels to reach new audiences," he says. "'Leaving people better than you found them,' is the motor driving intimacy at scale forward. We're going to leave our customers, our community, our employees and our suppliers better than we found them — and we're going to feed the world healthy food and have some fun along the way."
Sweetgreen in Schools photo by Allison Zaucha. All other photos courtesy of Sweetgreen.