Introduction
For many years now at First Round, we've hosted CEO Salons, which are opportunities for founders at companies we've backed to come together in small group settings. There's dinner, discussion, advice from those walking a similar path — and hopefully, a stronger sense of community that can cut through the isolating fog of company building.
In February 2020, Sitka CEO Kelsey Mellard walked through the doors of our San Francisco office for what turned out to be one of our last in-person salons before shelter-in-place set in. As the founder of a rapidly-growing, seed-stage healthcare communications startup, Mellard's plate was packed. "In addition to launching new clients and growing the team, I was in the thick of planning our annual April retreat," she says. "We've always been distributed, so every year we vote on what city to meet in, and fly everyone out for four days of work, bonding and strategy setting. In previous years, I'd just fly in early, hit up Costco for snacks, and generally manage all of the logistics myself, but given the size of our team now, we needed to grow beyond that — and I was frankly biting off more than I could chew."
Enter Mike Wang. With a background in education and design, Wang currently leads strategy at ASU, transitioning from Minerva Schools where he built a new, hybrid online and place-based university from the ground up as the Global Director of Student Experience. But when Mellard met him, Wang was in between gigs and moonlighting as an experience designer for that February First Round CEO dinner. "It was almost Valentine's Day, so Mike had curated this amazing agenda with an eight-course interactive feast, with drink pairings and vulnerable conversations to boot," says Mellard. "He did such an incredible job of both facilitating and structuring the event — and bringing an unexpected, creative format — that I knew I had to bring him on to help me design Sitka's retreat."
The pair set to work. After three weeks of planning, all the elements were coming together — an incredible Airbnb in Austin, clear learning outcomes and objectives, meticulously designed experiences. But as March started and COVID-19 fears grew, it became all too clear that the retreat couldn't continue as planned. "As the founder of a healthcare company, there was no way I'd ask anyone to fly. We thought about canceling or postponing," says Mellard. "But it was such an important moment for our team to convene. And even though we're already distributed, it's such a weird time in the world — coming together even just virtually felt important."
If you're debating whether or not to have your team offsite this year, get it on the calendar. Even though we can't convene as we normally would, that just means we need to rethink what it looks like — not skip it altogether.
What followed was a flurry of activity. Wang and Mellard retooled the entire retreat, transitioning it into a collection of virtual experiences and getting creative on how they could make it just as engaging, all with only a few weeks to go. "The scope quickly started to expand when we went virtual," says Mellard. "I leaned on Mike to help me rethink the entire experience. Eight hours on Zoom sounds like agony, so I wanted to make it fun and collaborative. Above all, I wanted to not make it feel like work, which is really hard when there's only one mode of working right now. So we plotted and planned, putting on a four-day online retreat — and somehow earned rave reviews from our team."
We love this story for a few reasons. It's a tale of adapting to the unexpected. But it's also a case study on how to execute effective offsites — virtual or otherwise — a topic we have yet to sink our teeth into here on the Review. Offsites and team retreats often sit at one of two extremes: focused on strategy at the expense of relationships, or filled with forced-bordering-on-cheesy bonding activities. The same holds true for virtual offsites, plus the added downsides of marathon-all day Zoom sessions where everyone's glued to the monitor and stuck in their chairs — all while they're trying to juggle their personal life, whether it's interruptions from kids, pets or roommates at home.
In this exclusive interview, Mellard and Wang come together to share the tactics, purpose-driven agenda and behind-the-scenes process that enabled them to pull off a successful virtual offsite. Don't expect a laundry list of icebreaker questions or tips for more engaging slide decks, but rather an in-depth look at how to avoid a go-through-the-motions, one-off team meeting. This duo serves up their guide to leading a thoughtful, carefully-designed session that sparks important discussions and sustained change in all the months that follow.
From high-level planning and shaping the schedule, to practical execution tips and advice for what comes afterwards, it's an essential document for any startup founder or people leader tasked with bringing the team together virtually.
PLANNING: A FRAMEWORK TO SET INTENTIONS
As we settle into the new normal of working from home (or living from work as some have taken to calling it), all of a startup's regular milestones now need to be conducted remotely: product launches, performance reviews, strategic planning sessions, board meetings, and so on. Offsites may have been paused or put off initially, but as many startups embrace remote-first policies and plan to stay out of the office for at least the rest of the year (or even well into 2021), there's no reason to hold off any longer.
Team retreats offer up a venue for discussing important topics, brainstorming new strategies and deepening relationships — activities that are more important than ever in a constantly changing world.
For Mellard and Wang, the first step is thinking deeply about what the team should experience. "I had these ideas and I knew what I wanted out of the offsite, but I didn't know how to get people through that experience necessarily. That's where Mike came in," says Mellard. "Because of his background in curriculum development and experiential learning design, he thought about this as a four-day Sitka course, something I wouldn't have done."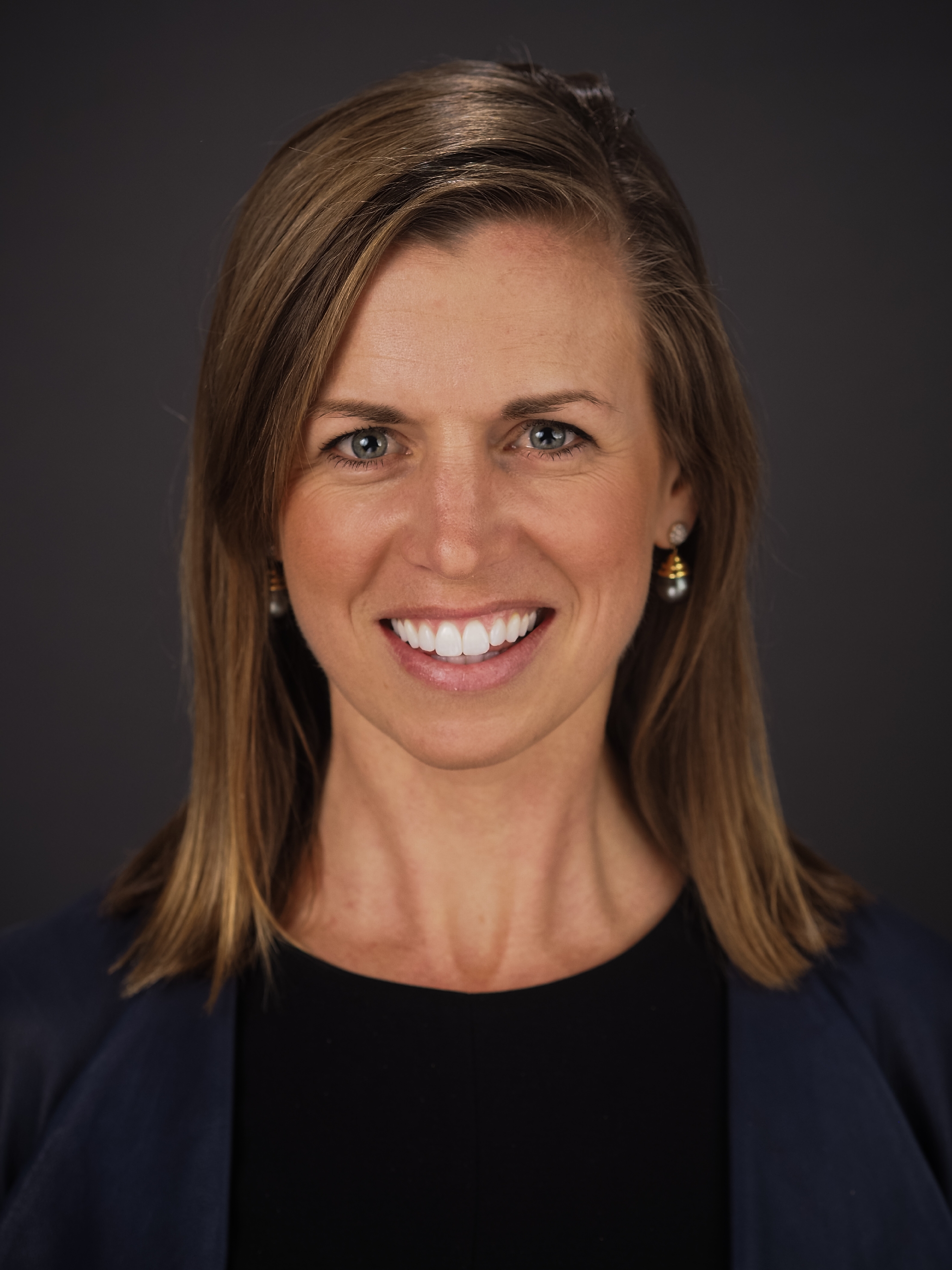 Write chapters, not books
Wang's approach to translating Mellard's vision as CEO goes more than a few years back — and the inspiration comes from an unlikely source. "I went to Georgetown for undergrad, and the Jesuits' focus on cura personalis — the idea of taking care of the whole person — was deeply formative," he says. "It informed my thinking during my time at Minerva, where we were building a new university from scratch and rethinking the entire student experience."
That required a return to first principles. "At Minerva, we ended up banning lectures. They're a great way to teach — but a pretty lousy way to learn. Good for the product builder, but bad for the end-user. Same goes for events," he says. "Big retreats are an easy way to convene a large group, but a bad way to facilitate connection."
If you take a first principles approach to designing your team offsite, what would you do differently? If you thought about your retreat like a 3-credit university course, what would your employee outcomes be? What might the pre-requisites and upper-level courses be?
That's the mental model Wang brought to bear when planning Sitka's offsite, translating it over into a startup context. "When thinking about talent development, it's critical to design holistically for the 'whole employee,' because each component — from skills to physical well-being to social-emotional health — is all connected in an integrated system. Rather than focus on the narrow, discrete offsite looming on the calendar, take a step back to think about the broader employee experience," says Wang.
"To borrow from the Jesuits here, what does your team need to grow as a whole person? How do you think holistically about their professional development, mental well-being, and sense of belonging, and also the strategy, goals and culture of the organization?"
His first pointer for other startups looking to get started on bringing this mentality to their next offsite? "Start with the big picture. Look at the word 'event' itself. It often carries a very tactical or operational connotation. But if you return to the actual definition, it's about something momentous, noteworthy, of importance. It shouldn't feel rote or perfunctory," he says. "Retreats often seem like events you have to do, a box to tick on your annual checklist. Here's how I like to reframe it for founders:
If you hold team offsites twice a year, picture the next 3 years. Rather than writing 6 separate books, how can you create one book with 6 chapters?
Use this experience design framework:
With that broader philosophy in mind, Wang cautions against getting right down to the brass tacks of which session will go where. "Run through a framework of laying out your objectives and outcomes, design principles and program theme before you even start delving into the details of pulling together the actual schedule," he says.
While this may seem like a big upfront, process-heavy investment, it's one worth making. "It's the difference between, 'We want this to come across and this is how we're going to achieve it,' versus 'Let's do a panel here.' Offsites and retreats often end up letting content take the reins and drive the agenda," says Wang. "Leaders want to share this slide deck or hear these updates, and then suddenly realize, 'Oh shit, that's three hours of us talking, let's throw in a break here.' It ends up turning into something the leadership team plows through, but all the attendees are thinking, 'Get me out of here,' and secretly scrolling on their phones."
If your offsite consists of several days of teams just presenting slide decks with a few breaks peppered in between, something's failed along the way.
The framework steps outlined below build a broad scaffold of objectives that you can then map to specific sessions. "This is by no means new — it's the OKR-ification of experience design. But too many skip over this process. They want to focus on getting the most people possible in the room, or covering the most ground with a jam-packed agenda. The metrics are off, so to speak," says Wang.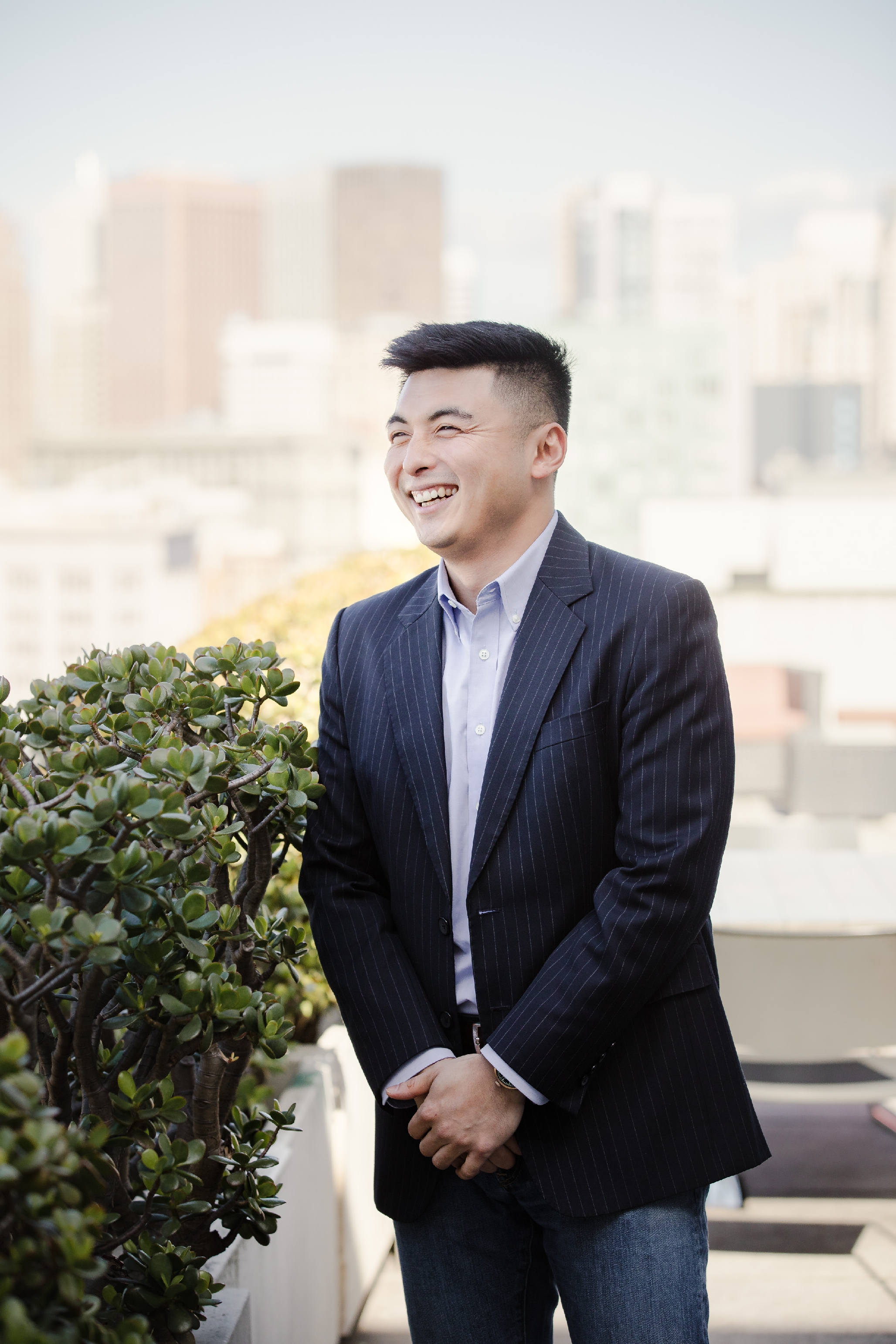 Step 1: Map objectives & outcomes
"Companies implement goal-setting and OKR processes for their business operations — why not apply this approach to the design of their employee experience and precious retreat time? By taking an outcomes-based approach, founders can avoid defaulting to a traditional set of archetype retreat experiences and center what their teams need and want. Ask yourself: What do we want people to feel? What do we want them to know? And how do we map that to what we're trying to do at this offsite? What do we want them to leave with?" he says.
For Sitka's virtual offsite, Wang split this work into task- and team-focused outcomes allocated at the individual, team, and company-wide level.
Task-focused:
Align with and buy into the mission
Co-define a company identity and values
Align on 2020 company objectives and strategy
Foster mutual understanding around departmental priorities, challenges, and problem statement areas
Acknowledge organizational wins and reflect on lessons learned
"The task-focused portions are what we wanted employees to leave the retreat knowing, defining, or gaining clarity on. These types of sessions tend to rely on asynchronous prep beforehand, and as a result, offer an opportunity to leverage 'flipped classroom' style learning that creates space for live discussion and constructive debate," says Wang.
Team-focused:
Help make employees to feel seen and understood on an individual level
Create a space for employees to feel empowered and able to contribute by bringing in their whole selves
Feel comfortable within the company and space created (foster mutual understanding and interpretations of norms and behaviors)
Facilitate play and wonder
"The team-focused portions of the retreat were more anchored on what we wanted employees leaving the retreat to feel. These often were outcomes linked to emotions or sentiments be it about one's self or about each other," says Wang.
Step 2: Anchor on design principles
To further flesh out these objectives for the team, Mellard and Wang collaborated to distill a set of design principles to inform the approach of the retreat design.
Here, Wang explains why: "Two fancy, intimidating words in academia are 'curriculum' and 'pedagogy.' Curriculum is what you teach (the content) and pedagogy is how you teach it (your approach). These two elements obviously inform each other in a kind of iterative 'chicken or the egg' framework," says Wang. "While most of us tend to focus on the content of a retreat, it's critical to concurrently define your approach — the design principles, or your 'pedagogy.' These will inform the decision-making process of how you structure the experience, setting up guardrails for what you might say no to, tradeoffs you might make, and priorities to stick to."
Check out the full list of Sitka's offsite design principles below: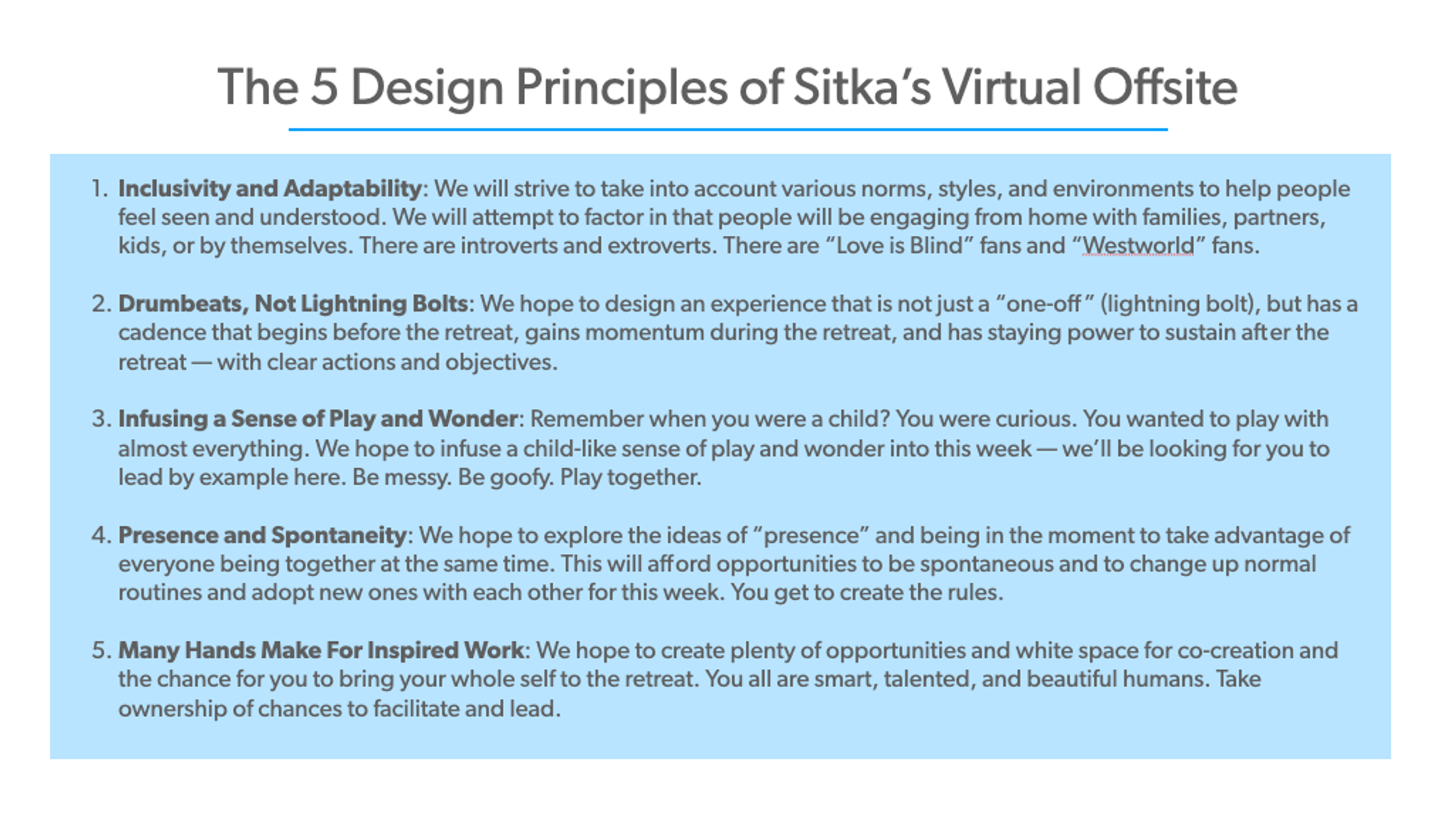 Step 3: Define a theme
"We selected 'Regeneration' as the theme for the offsite, and threaded it through everything we did," says Mellard. This was one of our most impactful decisions." Wang digs into why it works: "Themes are similar to a science of learning concept called 'chunking.' For example, if you're trying to remember the number 231776202013, it might be hard to grasp all at once, but if you see the numbers and think Michael Jordan (#23), American Revolution (1776), Current Year (2020), Apollo spaceship (13), you can more easily grasp the number," he says.
"The same applies in experience design. When building a disparate group of experiences, it might be hard to grasp the meaning, but if you weave them together with themes — both for the broader retreat and each day — it helps employees internalize and build affinity towards the meaning and intentions."
Team offsites can often devolve in a random grab bag of sessions and speakers. Sketch out the throughline that connects each entry on the schedule so the message isn't muddled.
CRAFTING THE SCHEDULE:
The next step is to translate these outcomes, principles and the overarching theme into the details of the event itself, taking on the session design. "Create checkpoints along the way," says Wang. "As you're putting together the schedule, ask yourselves, 'Hey, we meant to show recognition here. Does that work? Does that not work? Does it make people feel included? Are we doing it in a one-off way?"
Here's an example where asking these questions helped Mellard and Wang realize they were drifting off-course: "We were designing the evening experiences and naturally wanted to go over the top every night with amazing, unique moments. We got to a point where every night was some version of a collective dinner or event. We checked ourselves and asked if we were being inclusive of the actual contexts the team was in — parents who need to care for their children, partners with loved ones who didn't know other employees, and so on. As a result, we pared down the 'big experiences' by 50%, only doing two nights instead of four. The 'more is more' impulse is tempting, but our principle of adapting to and including the needs of the team kept us on track."
Sometimes you need to decide to invest in more wood and fewer arrows. Paring down the schedule can be incredibly powerful.
Here's how the Sitka team stitched together the actual schedule: "We started on a Monday and wrapped on a Thursday. Wednesday afternoon and evening were a more open slate. We did group meals and a cooking competition. We had self-reflection exercises, group presentations, CEO remarks, an unconference — all kinds of different formats," says Wang. "You really can't stick to the same formula day-in and day-out if you want to keep people's attention on Zoom."
If you're a founder with only a day to spare for your offsite, Wang recommends opting for several, smaller-group breakout sessions, along with a mini-hackathon or unconference format where the team can work together, whether it's on company goals or team communication strategies.
If you've got several days, take a look at this draft of the offsite agenda Sitka used.
We'll dive into some of the key segments (and what makes them impactful) below, looking closely at how Mellard and Wang married objectives and design principles across multiple sessions:
Play and wonder
"Surprise and joy seem absolutely critical to me right now," says Mellard. "Our days are a monotonous meld and everything's both stressful and blending together. Inserting moments to disrupt that pattern, make it feel special and insert some levity seemed essential."
Here's a sampling of how they infused play and wonder into Sitka's offsite agenda:
Send an interactive surprise. "We sent everyone 'Regeneration kits' as curated packages in advance of the event, with instructions not to open beforehand. We included everything from gummy bears and a kombucha starter kit, to a bag of coffee and a chalkboard to write on," says Mellard. "Don't feel like you have to break the bank here — we spent about $50 per person. As a capstone for the event, we also sent a package to arrive at the end of the week. That included a Sitka-branded bandana — which now doubles as a face covering — and a set of branded envelopes and cards." Wang adds on: "The kombucha was a big hit — and it's something that has outlasted the retreat itself. People have continued to share their kombucha drinks and creations, so it's been the gift that kept on giving. For the chalkboard, we had everyone on the team write out their intentions and individual goals for the week as a visible reminder — we stole this one from Woody Paige on ESPN's Around the Horn."
Get in costume. "One of our employees is battling a terrible condition and has been quite sick, so I asked her if she were to plan a party, what would the theme be? And she said 'Under the Sea.' So that's what we did," says Mellard. "I sent everyone these crazy 'Under the Sea' themed hats and we all showed up on Zoom wearing them to surprise her. Even beyond that specific situation, incorporating a theme can help break people out of their shells and loosen up after a long day of planning. We can't change our work-from-home environments, but small moves can help it feel less stale."
Create something together. "We held a cooking challenge on one of the evenings. We split into groups of three, creating breakout rooms on Zoom so each group could cook together live," says Mellard. "Creativity loves constraint. Everyone had to cook with the same ingredients, but there was no recipe to follow — the only mandate was that the three-course meal had to 'remind them of home.' Mike and one of his friends, who is also a chef dropped in on each group to share tips. Then, everyone presented their creations and we held a team-wide vote before we ate together, judinging on creativity and presentation."
Schedule free space and play time. "We held two 'blank space' happy hours across the four-day event without any formal agenda. This allowed for everyone to contribute and take initiative. People gave how-to lessons on Go and led games of Werewolf over Zoom, which was a blast," says Mellard. "It's a game we've played in-person as a team before, but there are plenty of other options and ideas out there now, from trivia to virtual escape rooms."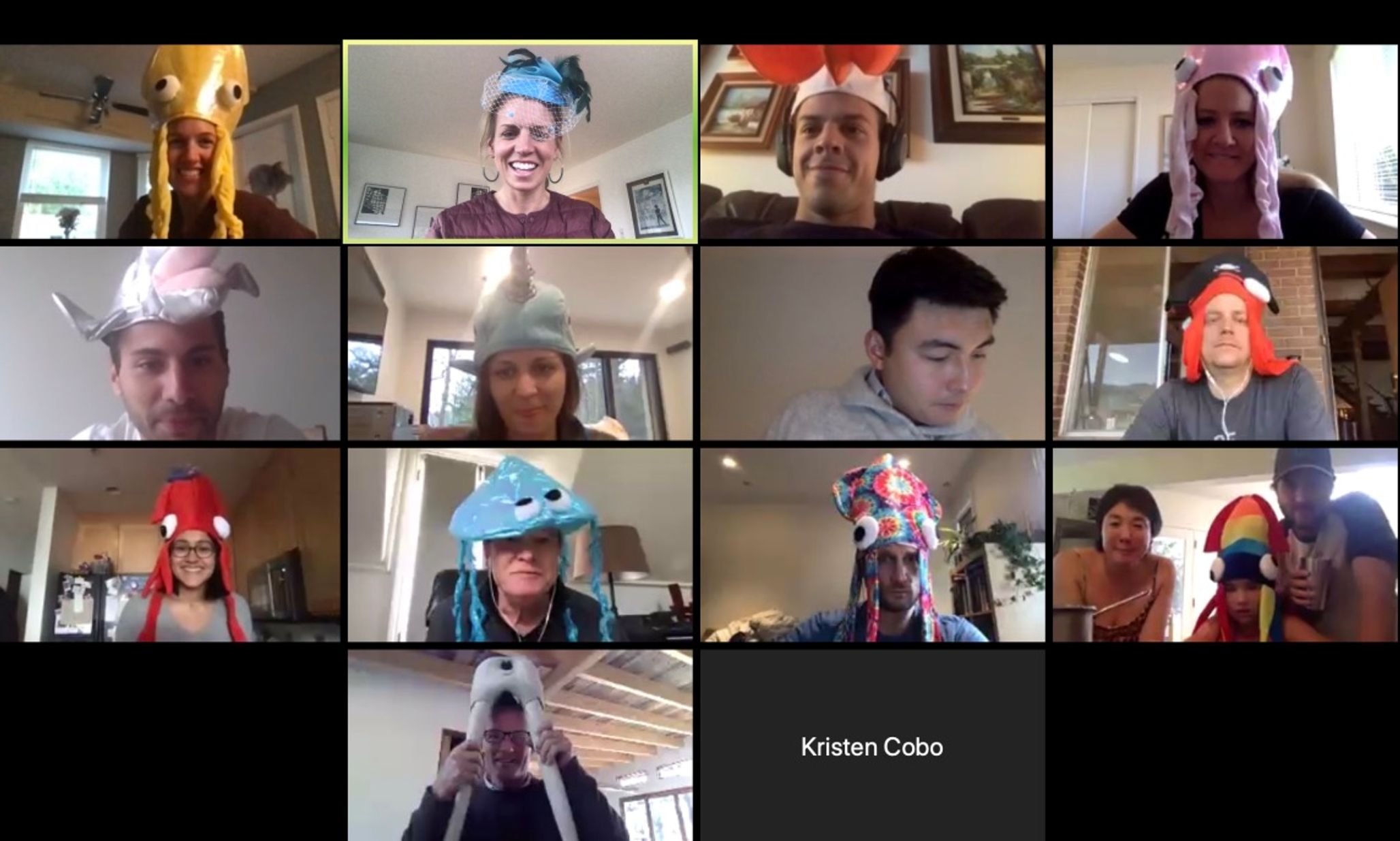 Inclusion of families:
"Inclusion of families was a top priority for me," says Mellard. "Right now, kids are seeing their parents work up close, in a different way. I want the kids of Sitka employees to have a good association with their parents working, that work is cool for their parents and not just a necessity. So I wanted to look for ways to consciously include family members, given that we're all at home together."
Here's what that looked like: "The cooking challenge night was open to family members. We also held a communal dinner one night, where everyone ordered takeout from a local restaurant and then hopped on Zoom, with families joining in. We had a magician join as a surprise, and the kids loved it. And so did the adults, frankly," Mellard laughs. "Then we blocked off the last evening for private mealtime with whoever you were sheltering in place with, and the company picked up the tab. I wanted to create a balance of getting to know each other's families and carving out the space for private time as well."
Improving communication and empathy for other teams:
Another goal, of course, is to make sure the team continues to gel in this ever-shifting environment. "Building empathy across departments and working on our communication skills was a pillar of what I wanted to achieve. At the time of the offsite, we were at an influx point where we were growing 600% in terms of the number of providers on our platform," says Mellard.
"And that comes with excitement, but also a lot of friction, tension and uncertainty. This is exacerbated when you can't go to an office and actually see what other people are working on. It's easy to create a terrible narrative about someone else or a different team, just because you don't understand where they're coming from or know what's on their plate."
Offsites are a key opportunity to course-correct and build the healthy team habits — the ones that will prevent corrosive behaviors from taking root.
Here's how that showed up practically in the schedule:
Welcome warmups. "We started with dyads, which are rapid 1:1 conversations to build trust and develop a norm of playfulness. Questions ranged from 'If you were an animal what would you be? And how do you know you're not a squirrel?' to 'If the world would end tomorrow, what is something you would regret not sharing?'" says Wang.
Getting to know you: "Building empathy and communicating effectively is rooted in self-awareness and emotional intelligence," says Mellard. "We used the "True Colors" or color communication assessment, but there are so many options out there, from SDI and StrengthsFinder to Enneagram. These aren't meant to be crystal ball projections of character, but helpful frameworks to develop a common language and spark discussion around styles and preferences. They create a shared language and a different level of perspective of how we all work, process and relate to each other — something that's harder to pick up on when you're working virtually."
Read-me: "We had another session where team members shared their user guides. We had silent reading time where you read everyone's from your team and then could discuss or ask clarifying questions. After the offsite, we created sessions and spaces — including in our new onboarding process — for people to follow-up and read these documents across the company and continue to update them," says Wang.
"A day in the life": "One afternoon, we held an 'Unconference,' with problem definition and design sprint sessions to help departments share out focus areas they are tackling in 2020. The goal was to both solicit ideas and facilitate empathy around team priorities and challenges. Each lead worked with their team to tell their department's story — what a day in the life of a Sitka engineer is like, for example, covering the cadence of their meetings, what problems fall into their lap, what they see as their biggest challenges and opportunities, and how other teams can help."
Presence and gratitude:
"Another goal was to examine our existing routines and create new rituals together. I wanted to hold space where we could stay present, reflective and grateful for each other. This is an area where Mike's skills as a facilitator and experience designer really shine," says Mellard.
"As humans, we all hunger for connection — to feel seen, heard, and understood — but often don't have intentional spaces that encourage these behaviors," says Wang. "In the workplace, we rely on retreats to create new settings that might develop habits and behaviors, outside of our regular operating cadence."
To achieve that goal, there was a single line in the closing session section of Sitka's offsite agenda: Create a space for acknowledgements and appreciations for each other. While this seems simple, it ended up being profoundly powerful for the team.
"On Friday morning, we all hopped on Zoom, put some music on in the background, and then spent 90 minutes heads down on one exercise: Writing one line about every other person in the company and what we enjoyed about working with them. Then, Mike collected all of these notes and rounded it up in one email for each person. So then every person got to open an email with an amazing lineup of points of gratitude from their colleagues. It left people in tears," says Mellard. "I was really unsure how that was going to go over, to be honest."
Wang agrees. "I was worried, but hopeful for this bit. It hinges on trying to get people to show up in a way they might not even in a normal professional setting, let alone on Zoom. But because we did it in rapid fire — you only had about a minute to spend writing for each person — it felt like a task that you could bite off and be successful at. In the feedback we got afterwards, many said this was their lasting takeaway from the offsite, that they wanted to get better at expressing gratitude for others. It was an incredible high note to end on."
Editor's note: The First Round operating team tried a lightweight version of this exercise at a recent team meeting and we *highly* recommend it. Here's how we ran it. With 15 minutes left to go in the meeting, we sent a Typeform link to our 15-person team, with the following prompt: For each teammate, please spend one minute answering by writing a line or two in response to the following questions: What's something you admire about this individual? What's something this person did recently that you appreciate? Why are you grateful to count this person as a teammate? When you come across your own name, please use the minute to reflect on what you're personally grateful for. Answers are anonymous. After they're all in, the meeting owner will round up the lines for each individual and share them in a private email.
This is a practice the Sitka team plans to carry forward. "As part of the surprise packages we sent to each team member for the event, we included journals in every box, in case individuals want to weave gratitude and reflection into their everyday routine," says Mellard. "We also included three blank cards and envelopes with stamps, so team members can send snail mail to each other in the months to come, whether it's just a note to say hi, or a thank you note for a project they worked on or a company value they lived up to."
Arm your team with different sets of tools to express gratitude for each other — it makes an enormous difference.
Co-creation and spontaneity:
"We wanted to steer away from the concept of 'voluntold' and generate true excitement to participate and lead activities," says Mellard. "For example, during one of our end-of-day sessions, we carved out optional time for anyone at Sitka to organize a 'skill share,' or lead an activity. The intent was for classes to pop-up based on inspiration and anyone can join if they feel inspired. Examples could include playing a board game, 1:1 coffee or tea meetings, hosting a cooking class, co-watching a show together, going on a walk 'together,' performing an instrument, Zoom karaoke."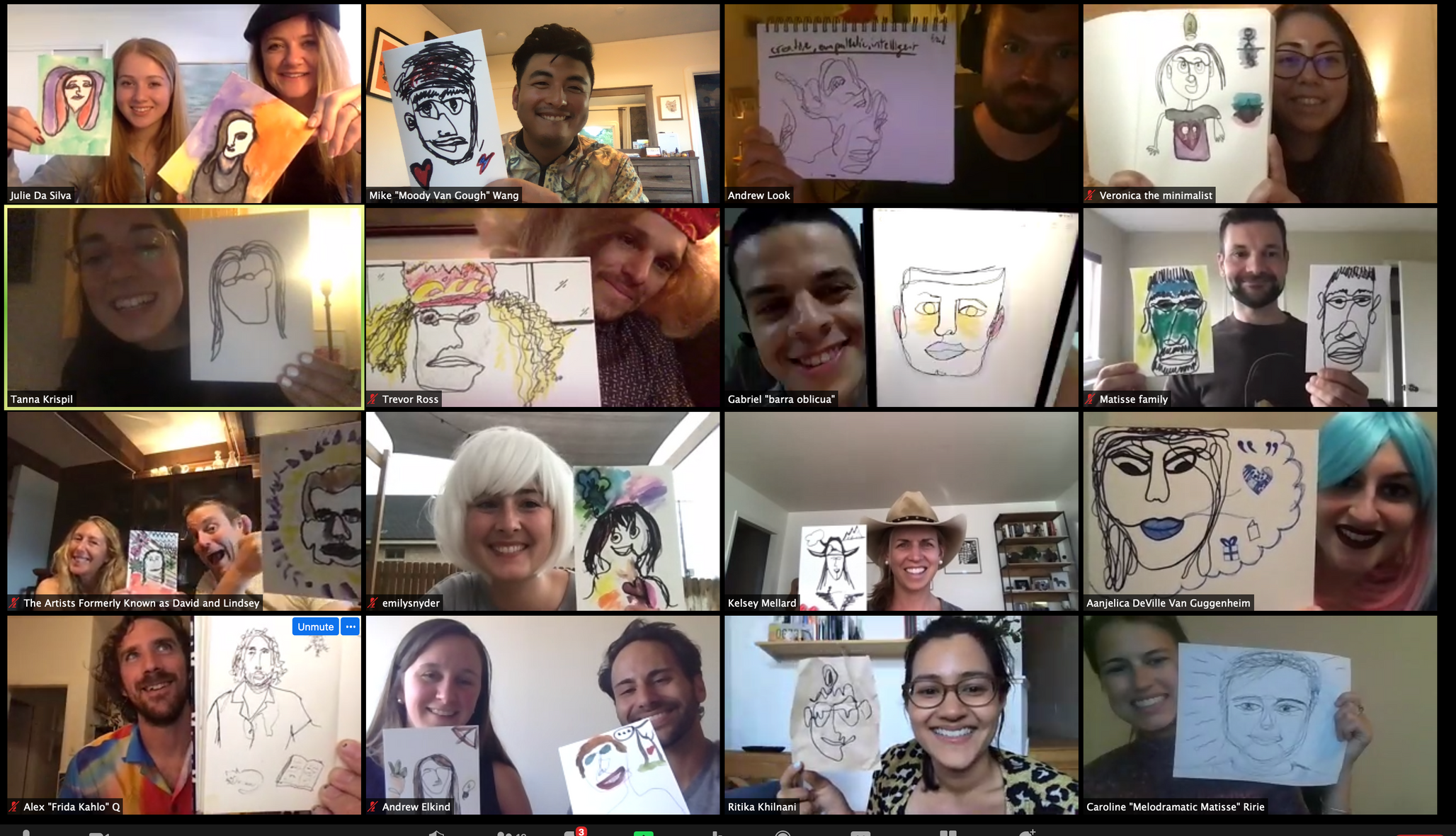 Wang points to another agenda item. "We also started each morning with an optional morning ritual. 8:30AM, no formal agenda. Team members volunteered to become a lead and facilitate an activity to center the group — be it meditation, a reflection exercise, a stretching routine, a fun bonding activity — before the start of the day," he says.
There are benefits for leaders as well. "There's a common adage to 'build with, not for.' The final product will always be better when it's co-created and co-owned by your users — in this case your team. Some of this can be attributed to the IKEA effect, but in the end, your employees have the best sense of what their colleagues and the company culture might need. And if they're inspired to invest, and given the opportunity and resources to step up, they'll do a better job than you in addressing those needs."
Create opportunities for others to pick up the reins and take things on. It doesn't need to be a one-person show — let your team step up to the plate.
EXECUTION: PRACTICAL TIPS
What follows are the tidbits Mellard and Wang found most impactful as they ran sessions during Sitka's virtual offsite:
Facilitation matters. Think cruise director, not train conductor.
Founders and people leaders tasked with running the team offsite should consider bringing on an external facilitator. "In addition to helping with all the logistics and planning, Mike and I traded off facilitation duties, which was critical. It's so much work and energy to facilitate all day for several days. And the team doesn't want to hear from the same person all the time either. Bringing him on as my partner in crime made my life a lot easier," says Mellard. "It's some of the best money I've ever spent."
Here's Wang's perspective on what it takes: "As an outsider coming in, you're trying to pull out authentic and vulnerable moments of people who don't yet trust you fully. Initially there are those nerves — are they going to look at me and just think I'm the cruise director for the week? But I think people actually want a cruise director. They value a coach — someone who appreciates the nuance of interpersonal dynamics and can nurture an experience. It seems like a very tactical role that we downplay or overlook," he says.
Even with the best-laid objectives and strategies, you still need the spirit and facilitation to keep it engaging. Wang returns to the touchstone of education: "Think of the best professors you've had. They don't drone on the entire time, pointing at a set of slides. They regulate the energy of the room, calling on the right mix of people, giving everyone a chance to be heard and artfully cutting off those gunners who try to dominate the airwaves," he says. "When you just say, 'Anyone have any questions?' the loudest people in the room will speak up. Instead, ask individuals directly: 'You said this last time and it was really impactful, but I haven't heard from you in a while. What do you feel?'"
When it comes to offsites, you can't just run the train. You have to be ready to both leave room for serendipity and be willing to jump in and pull things out of people.
Welcome white space and get comfortable with silence
"If you look at Sitka's offsite agenda, you'll see there's tons of white space. We did that quite intentionally, and tried to carry that through in the sessions themselves. Especially over Zoom, there were a ton of awkward pauses, which seem to hang heavier in the virtual world for some reason," says Mellard. "While it's uncomfortable in the moment, our company is better now as a result. We're more okay with letting them play out, as opposed to jumping in."
Wang explains further: "Typically you hear, 'Alright, we're doing this now, then this next. Anyone have any questions? No questions? Great, let's move on.' We've all been at those events. They're well-run and polished. But there's another path to lean into," he says. "'Alright, anyone have any questions? [Incredibly long pause.] People are fidgeting, throat clearing. Suddenly participants are thinking to themselves, 'Is this not a well-run event?' But then, seemingly out of nowhere, there's a question. Someone who's been chewing on something or is normally a bit unsure of themselves pipes up."
Dead air is sometimes just people processing and getting the courage to say something — the best facilitators fight the urge to fill it.
Mix up mealtime.
At a typical offsite, breaking bread together is a critical focal point, with lunches, dinners and happy hours injecting both much-needed breaks and opportunities for mingling into the schedule. Virtual offsites necessarily require a bit of reimagining.
"The biggest thing here is variety," says Mellard. "Some days we did lunches on our own, giving everyone extended time to make it for themselves. Another day we had 'open lunch tables,' where you could choose who to virtually have lunch with, while a different day we had pre-assigned lunch Zoom breakout rooms to facilitate a focused conversation. We did communal dinners as a team where families were invited, and we also sponsored everyone to have a private dinner with their families, organizing a system for DoorDash delivery or reimbursement."
Make sure the (virtual) show runs smoothly.
"There's a lot more coordination that has to happen virtually, it's not as simple as posting the agenda on the whiteboard for everyone to see in the conference room," says Mellard. For starters, she advises planning a virtual offsite as if it's an important in-person event. "Have a run-of-show document, down to each minute. More tactically, we made calendar invites for every single one of the sessions, and even the coffee or email check breaks throughout. Everything had its own time and it's own Zoom meeting ID," she says. "If we were doing breakout groups, we had it all organized beforehand so we could all join the main session and then seamlessly get split off into our separate rooms."
THE FOLLOW-THROUGH: SUSTAINING THE DRUMBEAT
"As the event took shape, we kept repeating one of our design principles: Drum beats, not lightning bolts. A drum beat is something you consistently return to, versus a shock-and-awe campaign where you bring everyone together and it's over in a flash. Continuity matters more than stellar set pieces," says Wang.
When it comes to mapping your employees' experience, opt for drum beats over lightning bolts. Drumbeats are about continuity, consistently hitting the same beat. Lightning bolts are flash-in-the-pan one-offs that usually don't have a lasting impact.
The Sitka team is heavily investing in keeping the beat going. "This is where most team events fall flat. Even if you have the most momentous, energizing week-long retreat, everything can slip away if you don't intentionally try to sustain it," says Wang. "It's not like running a marathon where you cross the finish line and you're done — there's all this space left to travel on the other side."
Tactically, here's how the Sitka team is carrying the baton forward: "We have four different leads taking charge of the major takeaways from our offsite in April. And they're leaders sprinkled throughout the departments, which is important. The load of 'extracurricular activities' needs to be carried evenly. Don't put it all on the People team," says Mellard. "Also be sure to pare down your list. You don't want to have so many priorities and new initiatives that you execute on all of them poorly."
If you don't review the work product or revitalize the energy you had going until the next retreat, you've squandered the capital you invested.
Here's a quick rundown of how that's been working so far:
The Monday morning ritual: "The morning ritual flex space from the offsite really resonated, so we've made an effort to work that into our regular cadence. Now every Monday, we have an hour of morning ritual on the calendar. It's optional, and now it's more programmed. There's quiet journaling time for 15 minutes, with question prompts and gratitude exercises," says Mellard. "This is an example of an unanticipated boon from the offsite. If you would have told me five years ago that we'd have 'journaling time' at the company that I run, I would have definitely busted out laughing, and made a joke about how 'That's so California.' But I can't tell you how grateful I am for this time, and how much the team seems to appreciate it." Wang takes a step back. "In this shift to remote work, every company needs to reexamine the spaces they've established. For example, All Hands is one way for everyone to convene. But this new cornerstone of Monday morning rituals is a different touch point for kicking off the week. It takes about half an hour of pre-planning for whoever's leading this initiative, and you can rotate responsibilities."
Sustained inclusion of families: "We so appreciated getting to see and include everyone's families that we created a Sitka Littles program, which organizes activities for the kids of employees. Even the team members without kids find it fun," says Mellard. "We look for small ways to keep it going. For example, we sent each kiddo a Sitka summer series package, with toys and gifts such as Legos that aligned with discovery and building."
Onboarding: Another big hurdle is that new teammates won't have this same, shared foundation. "If someone joins two weeks later, how do you get them up to speed on the language, goals, and empathy that your team just forged? After the offsite, we got to work on overhauling our entire onboarding process to include entirely different materials and activities." One habit they're hanging onto? "We've always set every new hire up with a 30-minute 1:1 with everyone in the company. It's a big investment, but it's something I'd like to sustain for as long as possible, it's so important for forging those relationships," says Mellard.
TYING IT ALL TOGETHER:
Wang leaves us with a cooking metaphor: "If you've done all of your mise en place, cooking is the easy part. That's why chefs on cooking shows are seemingly able to make the recipe in 10 minutes. They don't show the three hours of chopping and prep that happened beforehand. Offsites are the same way. You need to do so much prep to set expectations, establish context and provide some constraints. You can't just drop your team into the kitchen and expect it to come together."
To continue the cooking analogy, Wang emphasizes that the best chefs feel comfortable deviating from the recipe. "Every company is different. Look at the makeup and DNA of your startup. Is your team more on the shy side? Is everyone really proactive and eager to jump in? Dig into what has formed the culture thus far and try to meet people where they are," he says.
"If you've never had a conversation that's even approached vulnerable territory, maybe starting out with gratitude journaling would be too aggressive. Our template and process from Sitka's virtual offsite is hopefully helpful — but it would be a mistake to just replicate it. Adapt it to make it relevant to the time and the place your startup is occupying right now. If you're early-stage, there are more foundational cultural and values discussions to be had. If you're later-stage, maybe it's important to center discussions about cross-functional collaboration or how silos are starting to emerge."
Above all, leave space for your team to surprise you. "One of the things that I was most unsure of going into this virtually was how people were going to transition from their home life into this team atmosphere we were trying to create," says Mellard. "But everyone was so ready and willing to engage. When we did our morning rituals, people moved their laptops to the floor and joined in group planks. When we threw a crazy under-the-sea party with goofy hats, people brought their most spirited selves," she says.
"In the end, people are craving connection right now, but so much of our identity and day-to-day life is absorbed in work. As leaders, are we doing all that we can to create that space for belonging and connection in our workplaces, even if it's virtual? If you've held off on planning your team offsite this year, rethink that — it's an invaluable company ritual that I think we need now more than ever."
Image by Getty Images / Westend61. Photos courtesy of Sitka.