Chief technology officers at high-growth tech startups typically have three completely different careers in the span of only a few years:
Engineer – The role of technical founders typically starts by defining and building the product. You're in the code all day long.
Manager – One morning you wake up and realize your whole day is meetings. You find yourself managing 20 or 50 people, buried by one-on-ones and constantly recruiting.
Executive – You finally manage to bring on a fantastic VP of Engineering or technical leadership team. But now you're confused. How do you continue to move the business forward with same momentum?
This article is about successfully making the transition to that final phase.
"I don't think the huge amount of change in the CTO role gets enough recognition," says Twilio Co-founder Evan Cooke. "Almost every founding CTO starts out wearing many, many hats — engineer, product manager, salesperson, customer service — but eventually you hire great people to fill those roles. That's when it gets hard. You can't win just by focusing on recruiting and architecture now. It gets complicated."
There's not a lot of help available either. While there are plentiful resources (books, talks, workshops) to help people become better engineers or managers, later-stage CTOs have no one to turn to but each other. As a result, they end up relying heavily on others' experience because the answers are nontrivial and not widely known, and the right thing to do hinges on which stage your business is at.
At First Round's recent CTO Summit, Cooke set about liberating this knowledge for the audience of technical leaders, walking through the unique situations facing later-stage CTOs like himself and offering advice for surviving the role's biggest pitfalls.
The Later Stage CTO
In his experience, Cooke has seen a number of problems faced by leaders making the transition to later-stage CTO:
They under-communicate critical technical challenges to the non-technical parts of the business, and don't do enough to get the entire company on the same page about technical issues and roadmap. They unintentionally leave people in the dark.
While they may not have said "no" enough when they first started, they now say it too much. They focus too much on delivering against their plan and not enough on adapting to the needs of the business.
They fail to transition into an environment that requires long term planning and more predictability on staffing, quality and delivery.
They make poor senior hiring decisions. The skills needed in great product contributors don't necessarily translate to recruiting managers and executives.
Finally, they fail to make effective use of their time — which they ironically probably have much more of than they did during other points of company growth.
"These are just some of the things that are challenging as you make your transition to CTO," says Cooke. "But at the same time, they're really just symptoms of the same root causes."
Cooke broke down two of the most serious root causes and the opportunities technical leaders at later-stage startups need to navigate. Here, he provides a cheat sheet for not just surviving this sticky phase, but thriving all the way through it.
Root Cause 1: You don't know your fellow leaders well enough.
"There's several reasons this happens. Either you're so heads down shipping your product or it can feel there are too many senior people to meet with, especially as the company grows," he says. "It sounds obvious, but you have to actively prioritize these discussions."
Management teams start to come together in more formal ways between Series A and Series B funding rounds at venture-backed startups. Suddenly, people are elevated to represent different departments and functions within the business from marketing to HR to product. "One of the challenges I faced as our business grew was not realizing that this change had happened and setting up these meetings and building these relationships too late," Cooke admits.
So what should you do to make the most of meeting with your peers on the leadership team?
Communicate the Needs of Product and Engineering
The engineering and technical organization can start to seem like a black box to other parts of the organization like sales and marketing as a company grows. What used to be common knowledge and shared between functions of a company is often lost without an explicit effort to support those communications.
As a technical leader, you have a unique opportunity to be an advocate for the product and engineering team within your company. Something as simple as communicating how the product and engineer teams set goals, prioritize work, and manage risk to other leaders can have an immense payoff — sales can better inform customers, marketing can better manage timelines and product and feature slips, the finance team can better understand budget requests, and the HR organization can design better ways to build a recruiting machine for and empower product and engineering employees.
Understand what they need from you. 
"If we know what other leaders on the team need, we can do a better job of communicating the information that's relevant to them," he says. "We can also do a better job when someone asks us, 'Hey, is this feasible?' instead of saying, 'No' too soon. Instead, you can say, 'Well, here's what that would take, what do you think?'"
Perhaps the most interesting byproduct of going out of your way to get to know others is that your own goals will become much clearer, Cooke explains.
As a CTO, you're likely focused on what you can do to help the business overall. "Knowing what key people in your organization need to be successful is one of the most meaningful things you can do to impact the company," he says. "For example, meeting with the CMO to proactively support an upcoming user conference means I can help find speakers or line up customers to attend. When I meet with our chief revenue officer, I can learn about the sales cycle and attend important customer and partners meetings to help the company meet our numbers. At Twilio, I found an opportunity to support the legal team and help develop and execute the IP strategy."
You won't know about many of the most critical challenges at your company unless you build the right communication channels.
Know What It Means to Be a Good Executive
There are several resources in this area that Cooke has found especially helpful. One is an essay that Peter Drucker wrote about the eight different attributes of the effective executive. Generally speaking, the best leaders in these roles know how to do the following (the five most important traits):
They find the right problems to solve. They don't just surface all of the ones they see.
They know how to put challenges in the context of the business' success to explain why they're crucial and need solutions.
They know how to build a concrete, feasible plan for tackling these problems.
They know how to communicate to various teams and the company about what is being done and why it's important.
They are execution oriented and turn the plan into action.
"A truly great leader is someone that can not only figure out the impact of a potential decision, they can fully understand the impact of that decision on all the people who will be touched by it," says Cooke. "This was a very profound thing for me when I thought back to all of the different failure modes I experienced in our business."
Refining your own perspective on what makes a great executive will help you find the best way to communicate and prioritize your and your team's work, but it's also extremely useful in hiring other leaders into your company.
"Hiring senior-level positions is incredibly hard," says Cooke. "Having a solid definition of what makes a good senior manager or executive can make a massive difference to your company. It will end up shaping what happens in the future." Some of the characteristics that Cooke suggests you seek out in interviews with executives include:
The ability to abstract complex problems and situations and identify what's truly important and actionable.
Sensitivity to interpersonal dynamics and human psychology — this is immensely important for technical leaders.
Humility. He or she clearly articulates lack of knowledge on unfamiliar topics and seeks to give rather than take credit.
And, perhaps most importantly, unquestionable integrity. Any doubt that arises during reference calls should be taken very seriously.
Root Cause 2: You misunderstand the needs of your company.
As an example, Cooke points out that as a company enters the growth phase, the shift in focus for the leadership team and board can be very confusing for CTOs. Board meetings that used to involve hours of product and engineering discussions instead start to focus on sales and marketing or strategy.
It can feel like technology issues aren't being prioritized or that you're being marginalized. The reality is that the important problems faced by the company have changed. Your job as a technology executive is to understand and support that transition.
To get a better sense of priorities outside of his area of expertise, Cooke developed a framework:
As you build a company, you're essentially generating predictability where it didn't exist.
He cites this definition of 'startup': "A business or company that doesn't know what its product is, who its customer is, or how to make money."
If you compare that with a large public company that regularly releases analysis and projections, you see the stark contrast. That business has to know how much revenue and growth it's going to generate several quarters in advance.
"So as you're actively building a business, one of the most helpful ways to think about it and what's most important is whatever is going to create more predictability," Cooke says. "Let's say we want to generate growth. That means we need to lock down predictable revenue. In order to have predictable revenue, we need predictable sales. In order to do that we need predictable customer acquisition and retention. But to do that we first need a predictable product with predictable performance that we deliver predictably. But it doesn't stop there. In order to even start doing that, you need to predictably hire and retain employees."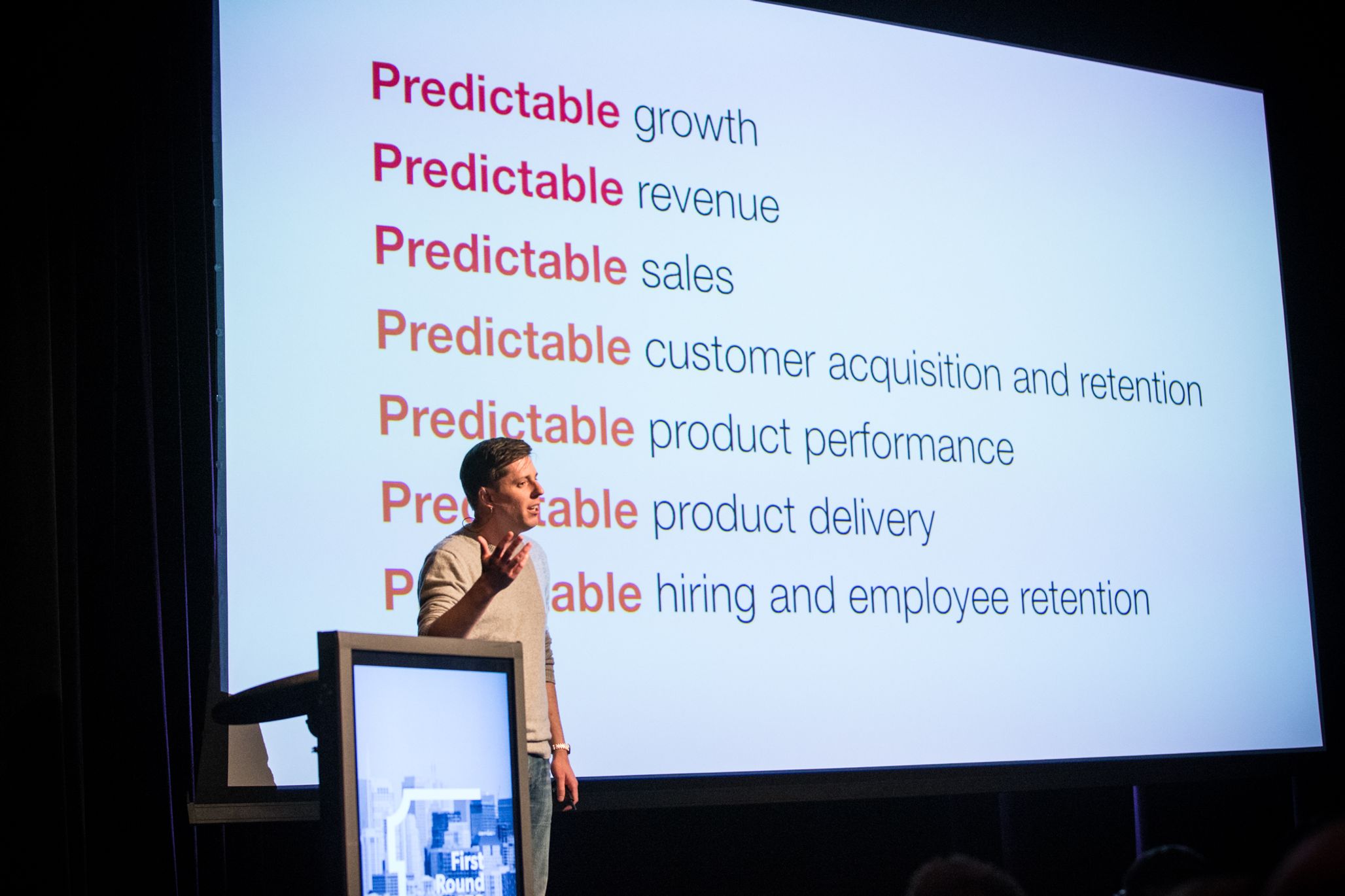 Seeking predictable growth became one of the key tools he used to connect his engineering mindset to the higher level concerns of the company at Twilio. "It occurred to me that sales or marketing could actually be the right thing to concentrate resources on for the business because that may be the thing to generate the most consistent long-term returns."
Get to Know Your Board of Directors
Cooke highly recommends the book Startup Boards by Brad Feld and Mahendra Ramsinghani, not just for engineering executives, but anyone who aspires to leadership at growing companies.
"It's one of the best overviews of what a board's duties are, what the company's duties are in respect to them, and how those relationships evolve over time," he says. "For example, your board may start out focusing on customer discovery and product development, but then the conversation will migrate to sales and marketing and corporate governance as you hit growth phase."
Having this global picture of what's important to the business overall is hugely helpful in prioritizing the needs of product and engineering. So even if you can't be present for board meetings, you can make a point of getting that information through other routes — by asking people who were there, by incentivizing them to share the takeaways of these meetings with the broader company through an all-hands or internal blog post, etc.
Having access to the insights that come out of board meetings informs technical leaders about the challenges they're not only facing in the present, but that are coming down the pipe in the future. That's how you can determine whether you need more headcount, or how to structure your teams so you can handle accelerating workload or a diversity of products at once.
Succeeding Through Transitions
Keeping focused on the true needs of the business and building great relationships with your fellow leaders is essential for helping technical leaders stay effective. Success in the early days means something different than at the growth stage of a company. As the organization changes, your goals and your expectations on your role must shift as well.
"If I have one takeaway, it's that technical roles and especially technical leadership roles change dramatically over time — and you can often feel like you ended up where you began," Cooke says.
Just as the role of a technical founder can start in the code, later-stage CTOs may find their biggest impact back in the code. In his article titled #define CTO, Stripe CTO Greg Brockman described how his role evolved from an Engineer, to a Manager and back to engineer after he hired a VP of Engineering. This is the right path for some while for others it's becoming a public voice for the company like Dr. Werner Vogels at Amazon.
You probably started with no direct reports and a lot of direct decision-making responsibility, and you find yourself back there again. My message is: That's OK and is actually a sign of success.
As Cooke concludes, "What's most important is to think about how you can get to know what's vital for the company, get to know the peers who can give you that context you need, and shape your own role — and how you're effective in that role accordingly."
More reads on Engineering