At the start of 2013, Percolate Co-founder Noah Brier spoke to the company about its values and how it'd keep its culture intact through fast growth. By June, the startup had doubled its headcount to 60 people. When Brier referenced the presentation mid-year, he realized that half of the people in the room hadn't heard it. From then on, he knew he had to plan as much for his future employees as he did for his current team. That meant thoughtfully designed onboarding.
With Percolate, Brier has built a marketing platform used by over 400 clients, including global brands such as Unilever, GE and MasterCard. Over nearly five years, the company has brought on more than 300 people across six offices. Brier's creative chops from Fast Company and BusinessWeek have helped him build this team — and are arguably most evident in Percolate's carefully crafted employee onboarding process.
"Here's what we've learned: your first week at a company has an outsized impact on how you feel about the organization, how you get yourself ramped up and how effective you will be," he says. "It's the foundation of your experience, capacity and emotional connection at work."
At First Round's CEO Summit, Brier outlined the four principles that Percolate abides by when onboarding new employees. To show how they manifest in practice, he explains the company's entire onboarding process in detail, from the moment employees sign their offer letters to when they finish their first week. For fast-growing startups that stress the importance of talent, here's a blueprint to help integrate and motivate your newest employees.
Before jumping into the day-by-day onboarding plan at Percolate, it's worth covering the key tenets that guide it. These ideas are embedded in how and why the company rolls out its onboarding process the way it does.
Write it all down. For six months in 2013, half the people at Percolate had not heard Brier speak about its values and lay out the year's kick-off plan. He fixed this by designing a thorough onboarding program that'd get new people acquainted with the company and its culture as quickly as possible. Key here was writing everything down. Nothing scales better or faster than words. The average adult reads two to three times as fast as she listens. Plus, documentation is a ready resource, while people aren't always available.
Distribute decision-making. For Brier, culture is how you make decisions, and the first exhibit of your culture is onboarding. "It shows your shared set of values and how they help people make decisions that are in the best interests of the company," says Brier. "You can't scale a company without trusting people to make decisions without you. If you're going to do that, you need to provide a framework for making decisions, because not just any decision will do. You want them to make good ones." The new hire is introduced to our values through the entire onboarding process. From the Day 1 Document to the office tour to department specific meetings the new hire learns just how our values inform decision making.
Make onboarding everyone's responsibility. If culture is ultimately a framework for making good decisions, then there's a big return on giving resources to onboarding, when employees start to learn how those decisions are made. "The goal is to give them as much exposure as possible to good decision making in their early days," says Brier. "That's where shadowing and creating time for observation becomes critical. And you want to involve as many existing employees in demonstrating these decisions as you can."
Be thoughtful by design. This is one of Percolate's values and means carefully crafting every interaction with respect for whomever is on the other end. "Our third hire was our VP of Design, so we're a very design-centric company. It's continued to be an important piece of what we do. More than just the graphics and aesthetics, it's about being conscientious about the experience that customers and employees have," says Brier. "The best way to convey our deep care for design is to involve everyone in creating that experience. Internally, onboarding is our first — and perhaps most impactful — way of achieving that goal."
If marketing is the outward manifestation of your brand, then culture is its internal embodiment. That begins with onboarding.
An Onboarding Plan: From Offer Letter to First Friday
At Percolate, the best way to internally articulate its culture, guided by good design and crafted by everyone, is a structured onboarding plan. Here, Brier lays out the process his company uses for new hires, from the moment they agree to join to the end of their first week. The company is constantly refining its process, but this has been its plan over the last few years.
Offer Letter Signed
Before the employee walks into the office, Percolate provides a lifeline and branded swag for the employee. This gives support to the new hire and demonstrates its brand and values. "Within 48 hours of receiving the signed offer letter, each hire receives a welcome email, establishing a point person to answer any questions and gather basic information via a 'Welcome to Percolate' survey. This assists us in preparing for the employee's arrival," says Brier. "In parallel, we send a welcome package — including a t-shirt, coffee mug, granola, tote bag and handwritten 'congratulations' letter."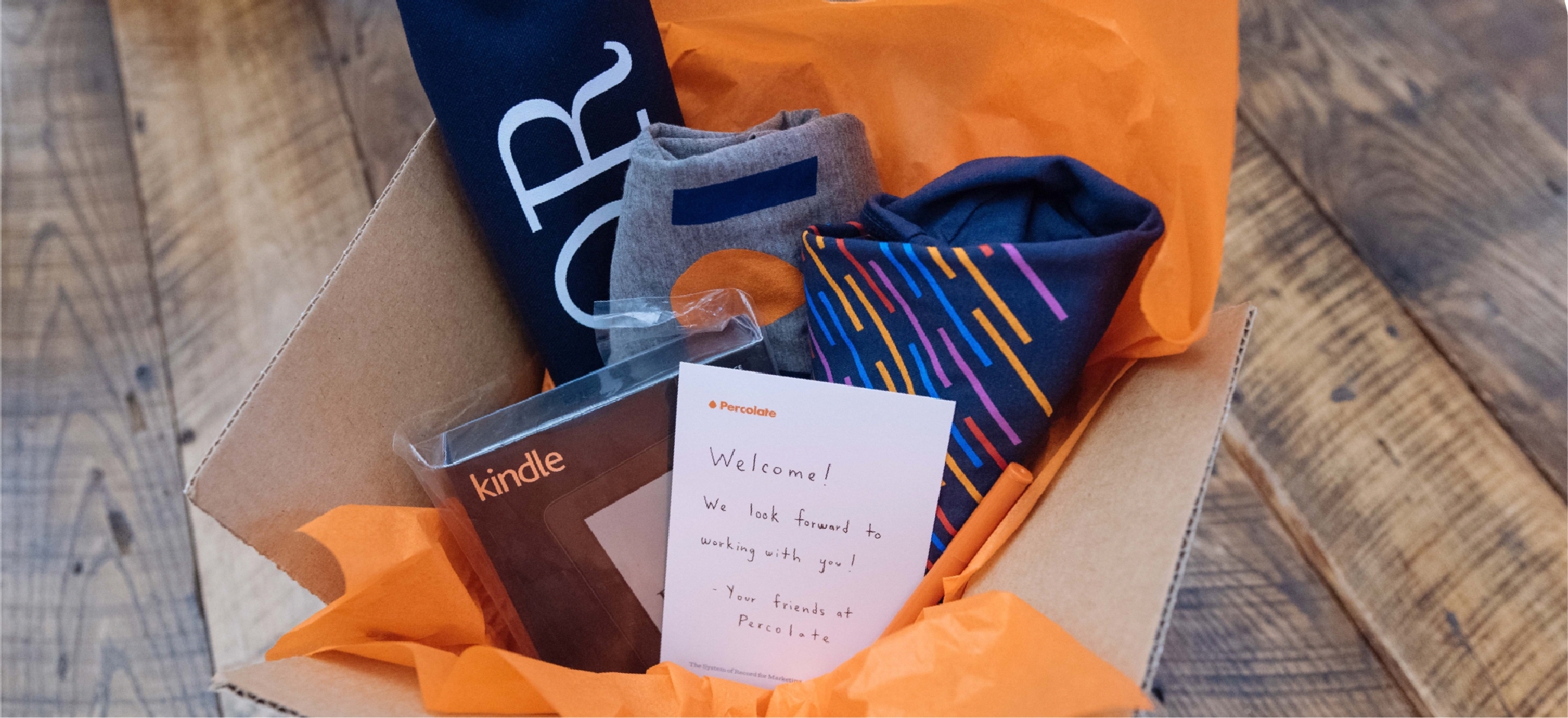 Most notably, each new hire receives a Kindle. "That's linked to a core idea that we are a learning organization. It's our responsibility to help encourage people to continue to read and make themselves better," says Brier. "They can read whatever they want but personally I find the Kindle to be a pretty amazing device for continuing to find new ideas in the world.
Two Weeks Before Start Date
Each remote new hire — who's based outside of New York — is provided with travel and accommodation details that have been arranged and purchased. Brier explains, "We bring everybody into New York. At our size and footprint, I'm not sure this will continue forever, but for now, we get everyone in to spend their first week in NYC."
One thing that Percolate learned early on, especially opening new offices is that you have to export culture. "It's the only way it works. The first time that we tried to open an office outside New York we tried to do it without sending anyone from New York (our headquarters at the time)," says Brier. "That was a challenge. We learned that you have to export your culture by sending people who are already steeped in the way the company works out to new places. And not just regular people — but your best ambassadors — to make sure that culture continues to be built in the right kind of way."
The Friday Before The New Hire Arrives
The Friday before the new hire starts, they get access to their email and a very full schedule for her first two days at work. "I know there are different schools of thought about onboarding schedules. Generally, we try to over-schedule instead of under-schedule for new employees," says Brier. "In my own personal experience, it's a weird feeling to show up on the first day and not having any work or idea of what to do. So we fill those days as much as possible."
In summary, here's the key information that's delivered to new hires before their first week:
Practical instructions, including email login, arrival time and FAQs
Day One document (more below), a digital embodiment of Percolate's culture
Email introduction to a "Percolator," an employee who will reach out to welcome the new hire and act as another point person for questions and guidance
People Ops onboarding calendar, which outlines the first two days of meetings and Asana tasks for their first week
Default to filling new hires' calendars. Don't leave them with the feeling that you're surprised that they showed up.
First Monday
New Digs. Percolate sets up the desks of new hires so that there's no need to search for supplies. Standard issued items, such as a computer, monitor, notebook and pens, are laid out. "You walk in the door and you've got a desk full of everything that you need to get started," says Brier. "One of the things that I've seen done poorly is when new hires need to wait until 2 o'clock to get their laptop. Obviously, that's the first thing everybody wants to set up and get going."
An employee's workspace is an opportunity to reinforce its strong design aesthetic and place in a broader community. In addition to items in Percolate's orange hue, the company uses the products and services from fellow First Round Capital-backed startups, such as Poppin which provides stylish office products and furnishings.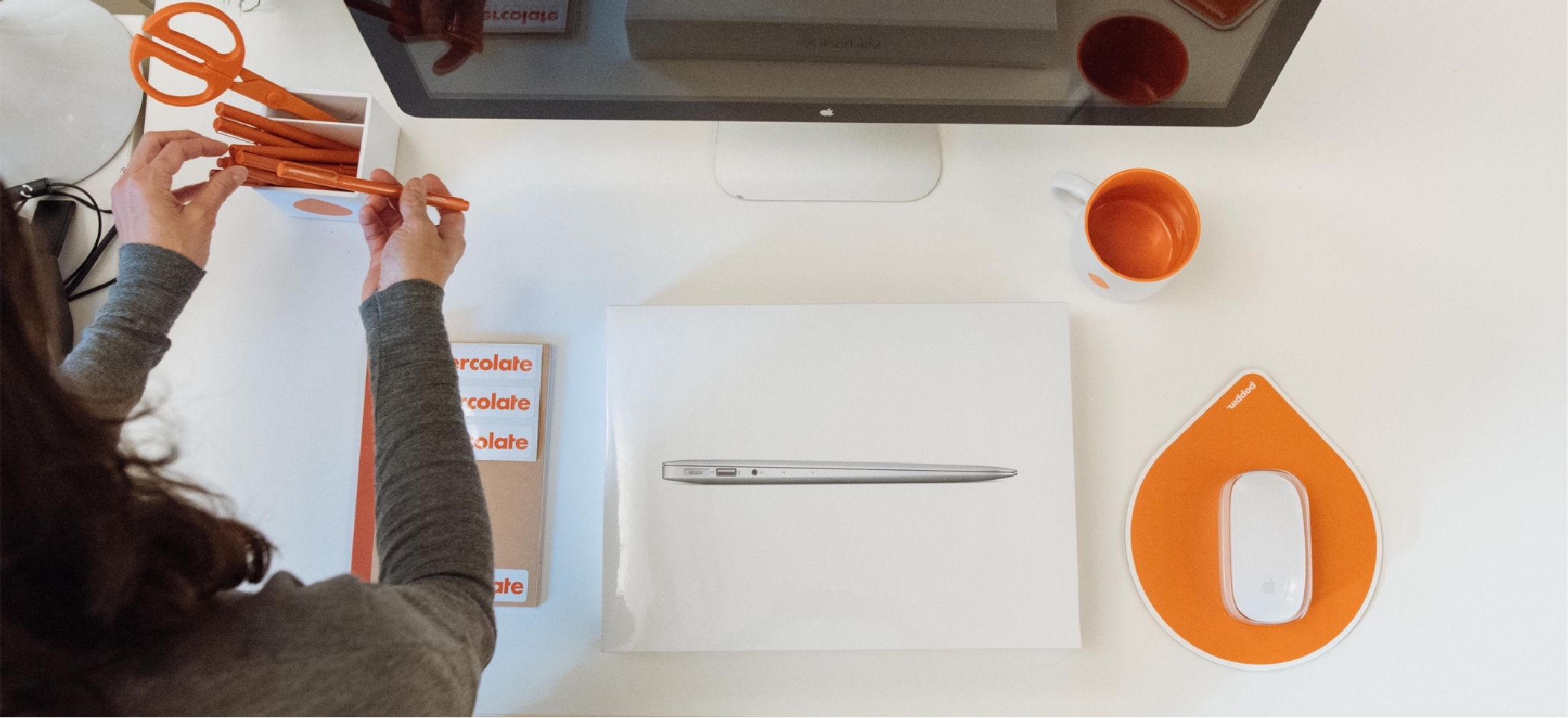 Introductions. Every Monday morning, Percolate has meetings for both the business and product teams. These weekly kick-offs are an opportunity to do a quick introduction of new hires. It's meant to be fast, not comprehensive, so that faces can start to become familiar.
Everybody gives a brief introduction, so the focus shifts around the room, but it's not unwieldy or too lengthy. "You just say who you are, where you from and what college you attended," says Brier. "One of our VPs is a huge college basketball fan and likes to guess the mascot, which most of the time he nails."
Headshots. Not every company does professional headshots, but it's an important detail to Percolate. "It's something we do and people seem to really appreciate it. We have a photographer, who takes headshots for everybody," says Brier. "It's important to be a part of a community, and one key to achieving that is appearing to be part of the tribe. So, if you go view a few Percolate employees' LinkedIn pages, you'll find they share a very similar headshot."
Day One Document. Six months after founding Percolate, Brier wrote the original version of Percolate's detailed documentation of the culture of the company. It lives in Google Docs and has evolved in the hands of his employees. "The Day One Document is a prime example of our belief in writing everything down. I think we've done well by over-documenting everything. We find that words scale well, which is essential as people spend less time with you individually, if you're a founder. With a document like this, your team can asynchronously learn and engage."
So what's in a Day One Document? "There's a lot going on, and it's as defined by what it is as by what it isn't. It is not your HR read-through of your benefits," says Brier. "It's our living, breathing document that covers all aspects of our culture, from where the company comes from to our point of view on meetings. Mostly it's about our culture, ideas and methodology. We try to focus on explanations, not rules. In fact there are just three listed rules at Percolate."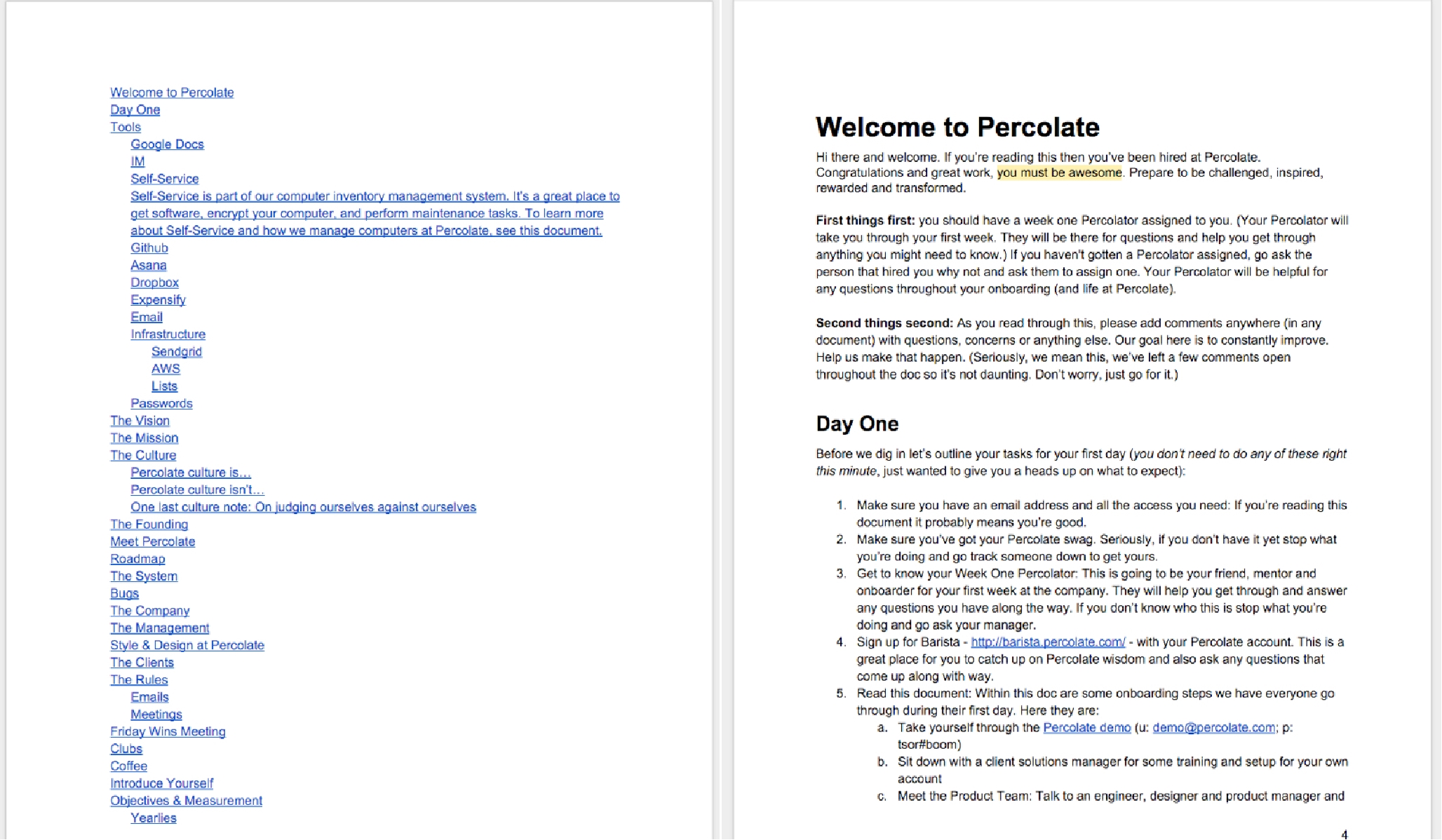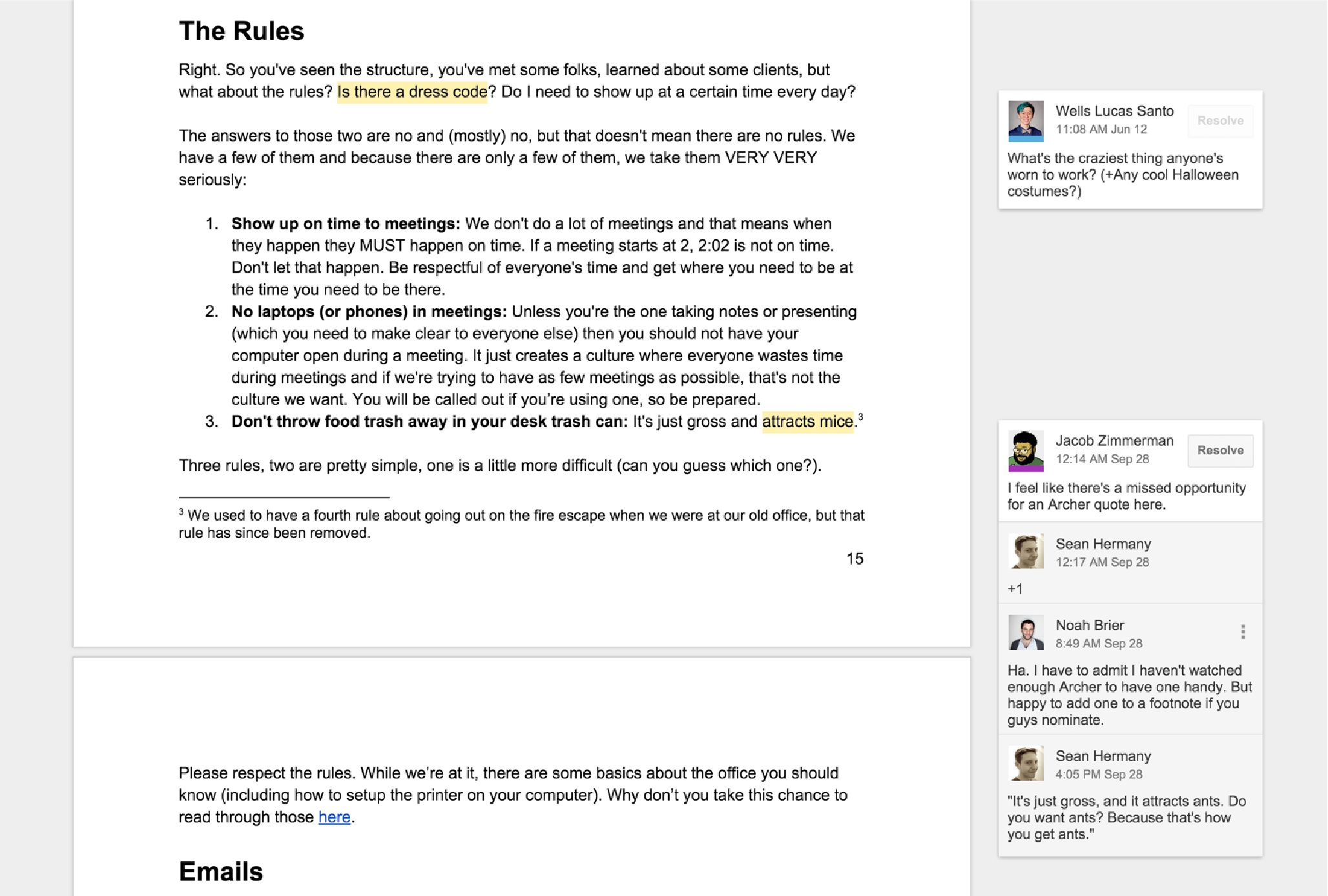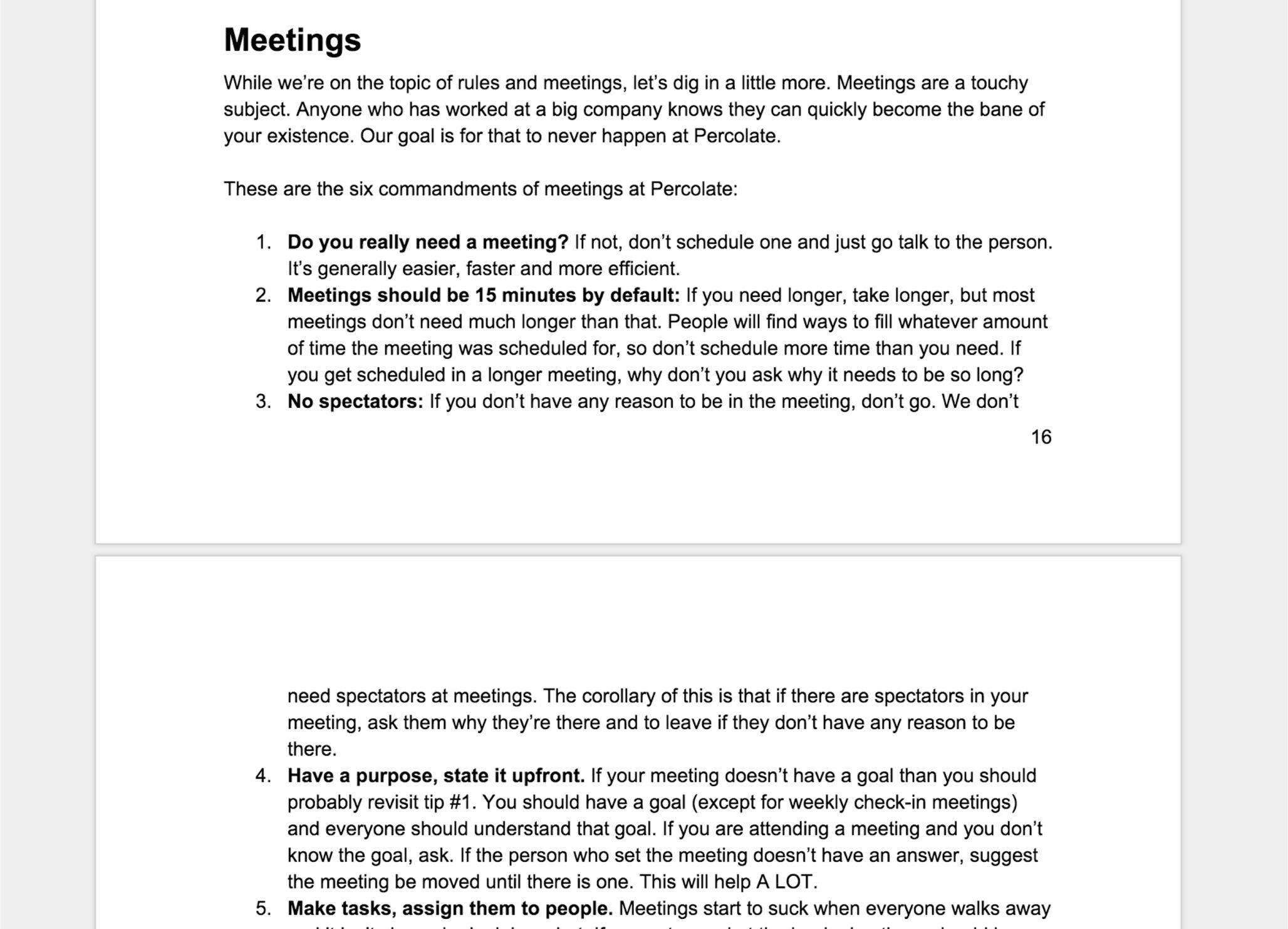 Introduce Yourself Email. As outlined in the Day One Document, a hire sends an "Introduce Yourself" email at the end of the first day. It's a scripted greeting to the company from the new hire sharing a bit of background and trivia. "Everyone who starts with the company sends one out. It also includes a photo and a link to three questions on Barista, Percolate's internal Q&A platform. The idea is that it's not about just giving information, but starting an exchange with your new team," says Brier.
As Percolate uses Google Groups, the "Introduce Yourself" emails live on as an archive of — and inspiration for — every introduction sent by a new hire. "People go back and read them, for guidance, perspective or pure entertainment," says Brier. "Early on, we encouraged people to share embarrassing photos for fun, but when we hit about 150 people, we thought it wise to move away from that prompt. So, we told people to include any snapshot, but embarrassing photos kept coming. Apparently, everyone was inspired by the old way. You can't totally control these things, but it works pretty well as a nice way for people to get to know each other."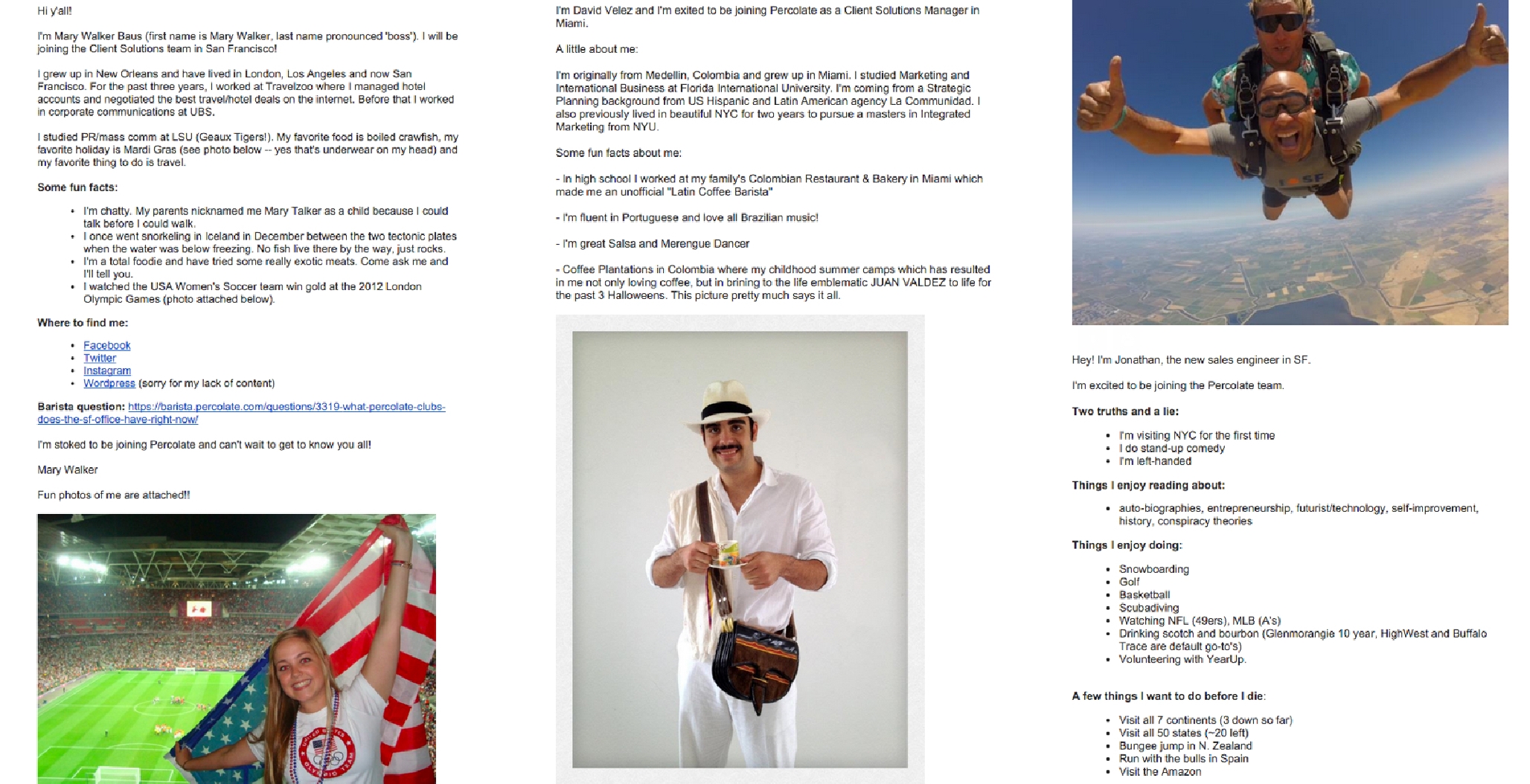 By The End of The First Week
After the first day, Percolate slots in departmental deep dives so that new hires get broad and meaningful exposure to the motivations and responsibilities of each team. "Every department presents throughout that first week," says Brier. "That is something that I think is pretty important regardless of your position in the company. Whether you're an engineer or a designer, you get exposed to all of the other parts of the organization."
There may be a few familiar onboarding meetings in this list, but here's a few more specifics on how Percolate approaches new hires' meeting with each of its groups:
People Operations. As this is the first group to interact with the new hire, this team typically provides an overview of its role, the facilities and general office culture. In a separate meeting, the team walks through benefits packages and enrollment.
IT. IT answers initial setup questions for all hardware and software given to the employee. They outline and offer support for any future technical problems.
Sales. Percolate's sales team shares how it's structured to most effectively make deals.
Design. The design team explains how it implements Percolate's brand via its mission: to create the best suite of products for marketers through a start-to-finish design process that inspires a collaboration. Given Percolate's strong design culture, the group deconstructs each part of its mission. "One of those is 'start-to-finish.' We ask our designers to do everything from research all the way up to visual design," says Brier.
Marketing. As a startup building marketing software, this meeting covers not only how Percolate brands itself, but also how and why it serves marketers.
Product Management. In this session, PMs explain the structure of the product team and Percolate's approach to developing software. "Even if the new hire doesn't need to know the technology stack that we use, we want all employees to be exposed to our technology," says Brier. "In this meeting, we introduce the concept of the manager's versus the maker's schedule to educate every new hire on how to work with engineers. We get granular: don't interrupt engineers, especially if they have headphones on."
The comprehensive tour of each department reinforces Percolate's principle that onboarding is everyone's responsibility. This visibility also demonstrates how decision-making is distributed throughout the organization, and how each department presides over its purview. "Ultimately, these departmental deep dives are not just to show what each team does, but to expose the core philosophy of each group, and how it fits into the company's overall mission."
In-Between Time
In addition to meetings aimed at educating new hires about each team, Percolate schedules sessions to integrate new team members by jumpstarting relationships. Regardless of how casual they may seem, the company schedules them so as not to leave them to chance.
Coffee Break. Between the meetings with each department, new hires are trained to use Percolate's espresso machine. "If you name your company after a coffee product then it's a requirement that you have good coffee products around. People tend to not necessarily know how to use it," says Brier.
Walkabout. In between each session, a new hire is walking from room to room throughout the office. So each hire is assigned a "Percolator," the new employee's buddy for the week. To foster cross-team collaboration, the Percolator must be from a different department than that of the new hire. "This person checks in on you, takes you to lunch and introduces you to everyone. When we were small, Percolators would know everyone's name," says Brier. "Now that we've hit a critical mass, we've transferred the role to our office manager, who miraculously — regardless of how many people we add — continues to know each person's name."
Percolator lunch. During the first week, Percolators take new hires to the office's favorite neighborhood restaurants to enjoy lunch and casually learn more about Percolate's culture.
Time with the CEO to Conclude Onboarding
As the last of the big onboarding meetings, Brier takes the newest members of Percolate through the history, philosophy and culture of the company. He shares how the organization thinks about product-market fit and how that connects to its vision to build the system of record for marketing. Brier explains why the company documents everything and the new hires' role in adding to that story.
"This presentation is probably 40 or 50 slides, but really it takes two hours. The goal is not a drawn-out monologue, but to spend time with them," says Brier. "One of the things that I've realized as a founder is that when your company is really small, the percentage of time everybody gets to spend with you is pretty high. If you're five people, everybody conceivably gets 20% of your time. That's a lot harder at 200 employees. But founder connectedness is always paramount — especially at the beginning."
Admittedly, much of what Brier explains will have been touched on in some way between when the hire signs the offer letter to when she finishes her first week. But his goal is not to be original, but to be resonant. "When it comes to your message — and certainly mission, vision and values — repeat yourself until you think you sound like a broken record. Then start repeating yourself some more. That's a good way to think about what your job is in building a culture and running a company."
As you grow the company it's important to remember that your time with people doesn't scale. Focus on founder connectedness.
When Brier delivered his message about onboarding at the CEO Summit, he had just finished a quarter in which Percolate hired over 75 people — nearly a person a day. The company grew its headcount by 30%. So before onboarding, a significant contingent was unfamiliar with the company, let alone anything achieved the quarter before. That's exactly why Percolate has developed an onboarding program to help immediately instill its history, culture and values in its new workforce. From an intriguing "Introduce Yourself" email to a well-designed new desk to the "Day One" document, Brier has made sure his new hires' first impressions are impactful ones.
"Yes, remember that culture is the internal manifestation of your brand and that nothing scales better than words. But if you only take one thing, don't forget about founder connectedness, because from your perspective, you'll always feel more connected to your team than they will. Just sort of assume they're less connected to you than you think they are," say Brier. "And that goes especially for the employees you've not yet hired. When you're growing fast, plan for them just as much as much as you're planning for your current team. They may not know their onboarding has started, but you must."