The new year always presents a twofold opportunity: to reflect on the past and then draw from those insights to shape our future. Every January, the Review's tapped into this duality to make a tradition out of both looking back and gazing ahead. In what is somehow the seventh installment of our annual retrospective, we're revisiting the thoughtful individuals and bold ideas that shaped company-building in 2019. (If you're curious to see how this collection has evolved over time, check out previous editions from 2018, 2017, 2016, 2015, 2014 and 2013.)
In the past 365 days, we spoke with the sharpest minds in tech who generously shared in-the-trenches tactical knowledge from their fields, from how to size stellar engineering teams to the emerging design role that most startups are missing. While we can appreciate their brushstrokes of wisdom individually, it's only when we step back and consider them in summation that the full painting comes into focus. In addition to unpacking the "how" behind their hard-won achievements, the leaders we've met are also opening up more about the not-so-glamorous side of entrepreneurship.
Whether it's tips for dealing with the emotional monsters that accompany startup life or perspectives on dealing with outright founder failure, the advice operators shared on the Review this past year underscores a simple theme: The true account of entrepreneurship isn't the success story — it's the work-in-progress. It's about what happens when things aren't going up and to the right. It's about learning how to take care of yourself not just as a founder or a leader, but as a human (which was a theme in our recent State of Startups report as well).
So in this year's edition, we're not just celebrating the bottom line or the finish line, but the more meandering startup path. We're hopeful that the Review has played a small part in your own journey. In the next year, we'll continue to bring you stories that matter, the ones that will help you navigate the ups, the downs and everything in between. Without further ado, here are the standout pieces of advice we heard in 2019 — presented with hopes that you can apply them to make your next decade even brighter.
Let's start off with a prime example of all the pages in between the bookends of starting out and attaining success. Earlier this year, we shared a lengthy (even for us) deep-dive into the inside story of how Looker got built. Here's a small taste:
In 2012, Lloyd Tabb sent First Round partner Bill Trenchard a 216-word email pitching his new data analytics startup. Fast forward to 2019, when Google Cloud announced its intent to acquire the company for $2.6 billion. In that time, Looker went from a single customer to more than 1700, from a small team to a 700-person company.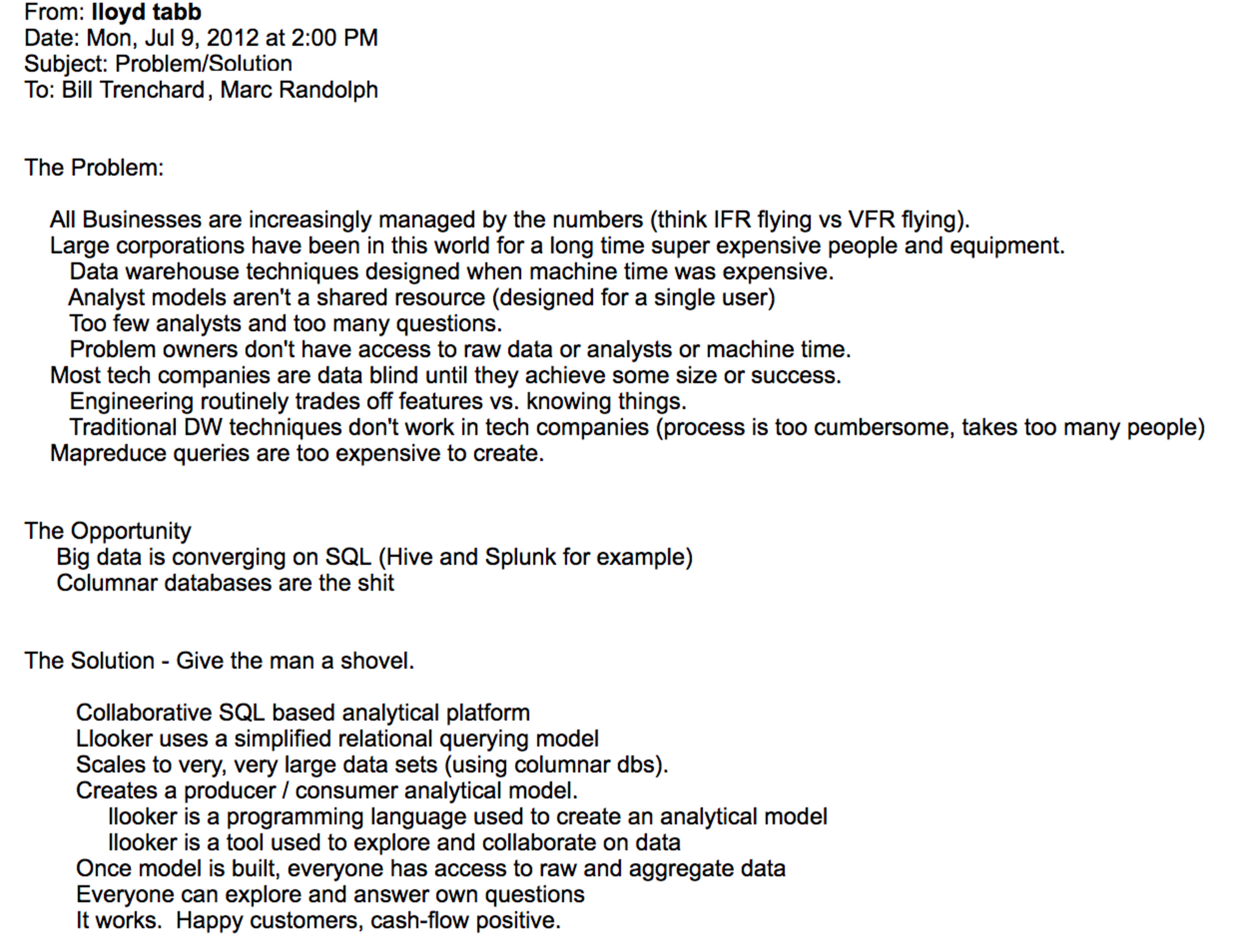 Drawing from his experiences starting and scaling Looker, Tabb offers up two key pieces of advice:
Don't raise seed money too early. "We waited almost a year to raise money, until we knew it was a venture business — not every startup is, and you don't want to get locked in," says Tabb. This also has the added benefit of making fundraising easier. "It goes from how good you are at pitching yourself to simply saying 'Ask the people who are using us for their opinion.'"
Decide not to decide. The Looker team was unsure how best to deliver the product to market. They explored customization-heavy, consulting models and self-serf SaaS approaches. "Conventional wisdom says you need to lock in a business model early on, but we decided not to decide," says Tabb. "As founders, we often feel like we have to have the answer to everything. When you don't know something, resist the impulse to plow ahead and wait to see what works."
It's easy to get locked in on a certain path, one you can't climb your way out of, whether it's fundraising too early, committing to a model prematurely, or rushing into a decision. You don't get a lot of do-overs — so tread carefully.
Read Looker's founding story in full for more lessons learned on everything from standing out in the market and scaling sales to nailing customer success and hiring a winning team.
"What would happen if we all talked more openly, even just to our friends, about the emotional rollercoaster of work?" asks Molly Graham (of "give away your Legos" fame). As she puts it, startup players are fighting to survive and for people to give a shit about their company, which brings on a cycle of anxiety, fear and euphoria that's completely normal. But without knowing that's how everyone secretly feels too, feelings of isolation also get added to the list as well.
Here's a tactic this Chan Zuckerberg Initiative, Quip and Facebook alum has personally used to weather the ups and downs: Give it two weeks. "If you slept on it and you're still anxious, that doesn't mean you should grab all the Legos back. It's not a sign from the startup gods that you should send that angry email," says Graham. "Instead, observe any emotion you're having to change around you, acknowledge it and then move on. Do that every day and if the emotion is still the same after a two-week period, then you should consider doing something. But more often than not something that feels all-consuming in May will be gone by June, and you'll be grateful that you didn't act."
Over the years, we've found that interviewing is a skill almost every hiring manager and leader can get better at, given how crucial it is to hire well. That's why when we hit the publish button on this article, we hoped it would be one that you'd want to save and return to over the years. And we were blown away by the response. After trending on Hacker News and being read far and wide by hundreds of thousands, we were glad to see that getting folks to share their go-to interview question — and crucially, why they ask it — seemed to resonate.
We'll highlight a handful of our favorites below, but be sure to check out the full list.
Among the people you've worked with, who do you admire and why? Slack's Jules Walter finds that directly asking about a candidate's values isn't as effective, while asking her who she admires provides a telling glimpse into the qualities she's striving to cultivate herself.
What are you really good at, but never want to do anymore? When VSCO's Bryan Mason asks this question, he's amazed by how often people answer saying they never want to do exactly what he's looking for.
Tell me about a time you made a mistake or failed at something. What did you learn from this experience? Can you give me two other examples? Corley Hughes (alum of Glossier, the Chan Zuckerberg Initiative and Product Hunt) has found that asking about failure just once isn't enough because everyone has a canned answer in their back pocket. Those who can point to three different examples are the true constant-learners.
After 10 years at Eventbrite and seven years at Airbnb, Lenny Rachitsky and Nels Gilbreth have seen it all when it comes to annual planning, whether it's the team still working on the plan three months into the year or the group that rushed to finish, only to abandon it six months later. Fortunately, this duo pooled their learnings to develop the "W Framework," a step-by-step process for yearly and quarterly planning with plug-and-play templates (like this one) and callouts on common pitfalls.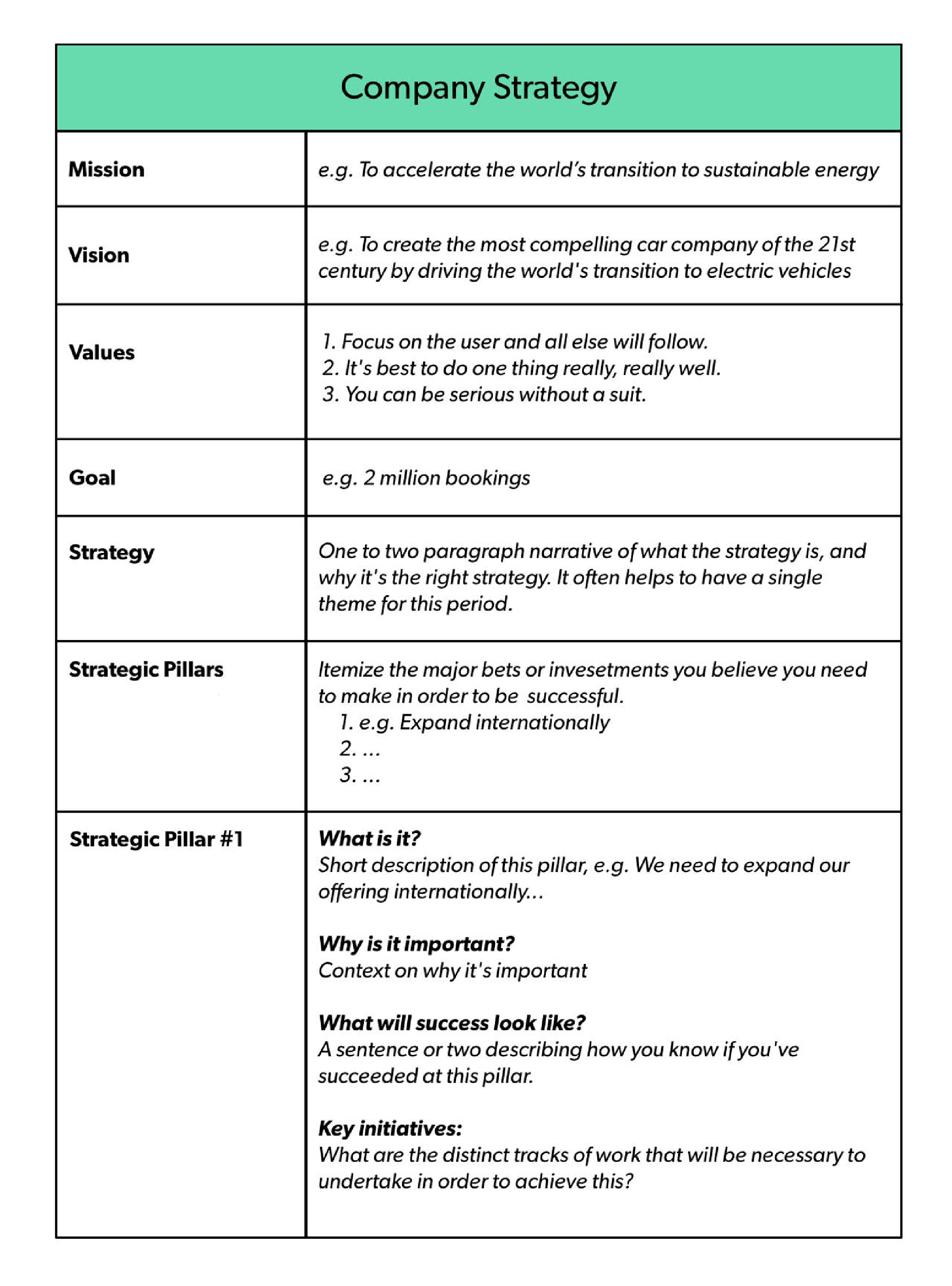 Here's a pointer to get you started: Your plan needs focus — likely more focus than you might feel comfortable with. Put your resources behind a small number of bets (we're talking three to five). Rachitsky and Gilbreth have come to believe that the bet you're worried you put too many resources behind is the one that ends up succeeding. They advise cutting the good ideas if they aren't perishable (can be done later), strategic (don't directly support this plan's strategy), or differentiating (set you apart from your competition).
Pinpoint your highest-impact bets, then go all in. Bold ideas need bold resourcing.
Jeff Wald has counted Fred Wilson as an investor, raised over $60 million and sold his startup to ADP. But he's also seen his company crash and burn (leaving him bankrupt and depressed), been forced by his board to get a coach and dealt with a messy co-founder divorce. Opening up about failures like these may seem trendy, but Wald's hoping to add more depth to the conversation.
For starters, there's a distinction between failure and vulnerability. Talking about how your startup went bust isn't the same as delving into how you felt or failed personally as a leader. Additionally, most stories of failure are confined safely in the past tense, buttressed with follow-on successes.
It's one thing to bring up how you've failed in the past, especially when you've since attained success. Talking about issues I still struggle with and showing any kind of weakness — present tense — feels more daunting.
Wald's ready to go first: "I struggle with imposter syndrome and worry about not taking chances and the risks necessary to go big," he says. "I'm insecure about what I can accomplish and that stops me from really trying sometimes. And from avoiding marriage to not starting a company without a co-founder, I still have uncertainty attached to taking a leap into the unknown. So that's what I'm working on now, present tense."
When Gloria Lin left Stripe to start a company, she didn't have an idea or a co-founder. Before she eventually paired up with Joel Poloney to start Siteline, Lin "dated" six different potential co-founders over the course of a year, running one of the most thoughtful processes we've ever seen to explore startup ideas and find a partner in parallel.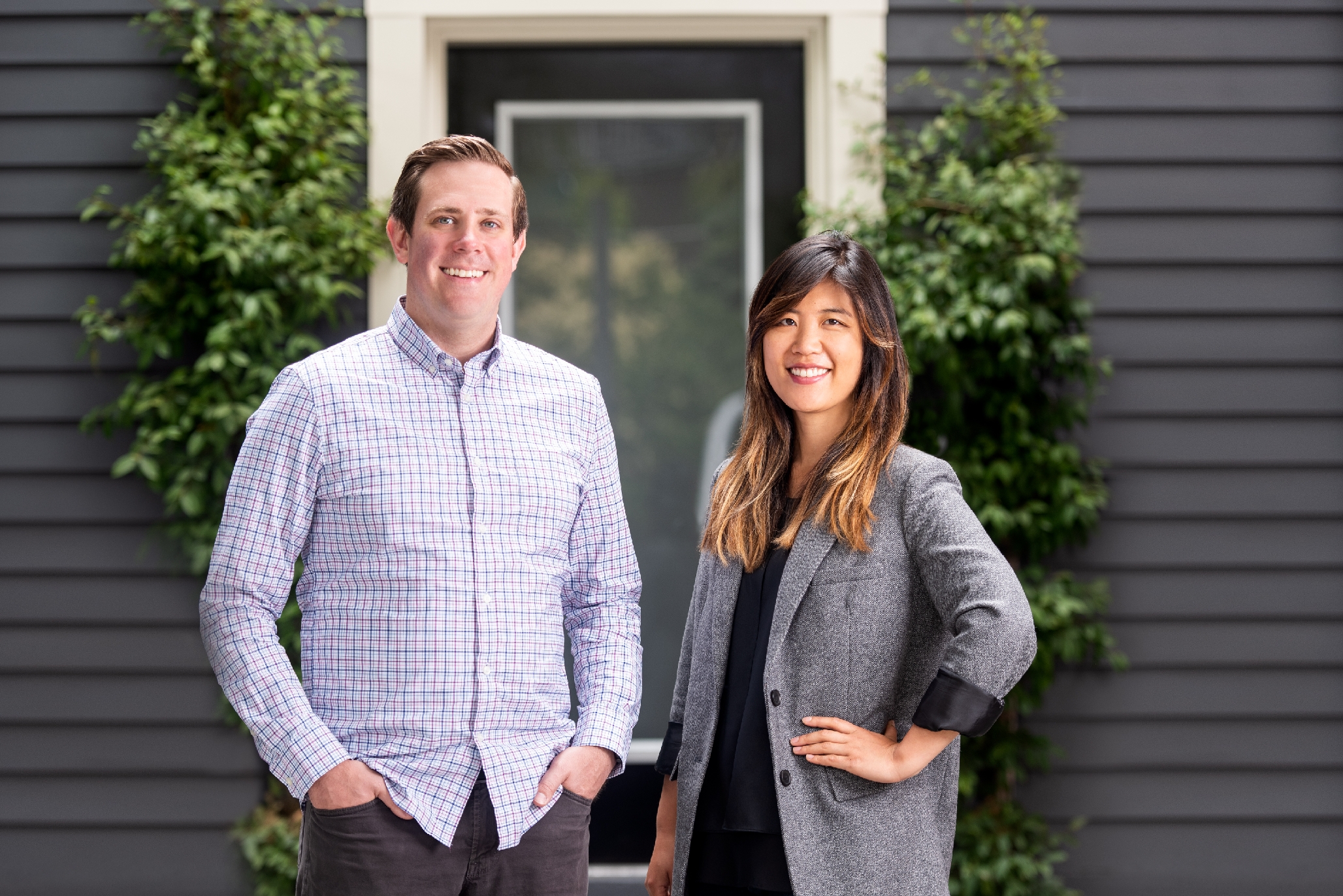 Out of her detailed five-step framework, we were particularly enamored with the co-founder questionnaire — 50 questions spanning across six categories that Lin and other fellow founders have used to probe co-founder compatibility more deeply. "I'm convinced many co-founding pairs fall apart partially because they didn't understand each other's motivations and fears at a deep level," she says. Here's a small sampling of those questions — download the PDF below to see the list in full.
What makes you gritty? This is one of Lin's favorites. She looked for examples, stories and the thinking behind them.
How important is diversity & inclusion? Concretely, how would you put that into action? Lin found that more tangible suggestions here signaled a co-founder took it more seriously, while those who said they cared but stayed generic revealed they hadn't put in as much thought yet.
What would you want your role to be before we reach product/market fit? What would you want your role to be after we reach product/market fit?: "You might start off leading sales but then quickly have to give away your Legos to someone else — I was looking for people who were very comfortable with that," says Lin.
Nikhyl Singhal makes for a perfect product sounding board: He co-founded three startups, helped launch Google Hangouts and Photos, and grew Credit Karma's product team from 10 to 75 people in four years. When he's advising founders and product leaders, he always finds himself dishing out the same piece of advice: The ability to right-size your product team for the challenges your company faces is a secret weapon.
In a masterclass on building product teams, Singhal shares plenty of advice on pitfalls to avoid, who to hire and what the founder's versus product leader's role should be in every stage, from what he calls the "drunken walk" of the early years to throes of hypergrowth. (He also provides an excellent definition of product/market fit that's well worth your time.) But perhaps most helpful is this handy chart that summarizes everything neatly:
Esther Perel has decades of experience working as a couples therapist and organizational consultant for Fortune 500 companies, in addition to being a bestselling author, TED Speaker and podcast host. So when she agreed to share her wisdom on the Review this year, we were hanging on her every word. In addition to diving into the root causes of conflict (and her bonus PDF guide on setting up a healthy co-founder relationship from the jump), Perel made a simple observation that stood out: When we disagree or try to give negative feedback, we often resort to our very worst impulses, which turns small spats into full-on warfare.
To mitigate this tendency, Perel shares three practical tips:
1. Pay attention to what's working. Keep a daily list of the positive things your co-founder does for one week. Elevate what they're getting right, instead of focusing on what they're getting wrong. What do they do for the company that you appreciate? What would you be unable to accomplish without them?
2. Stop talking in categoricals. We have a tendency to confuse our experiences and feelings with facts, using "You always" or "You never" statements. Instead say, "You probably don't, but it feels like you do this all the time."
3. Start the 10 second shot clock. Research highlights that when people are in conflict, they don't listen to more than 10 seconds of someone's argument before building their rebuttal. Try to keep it short and ask them to reflect it back to you.
After over a decade of leading teams, Facebook VP of Product Design Julie Zhuo released The Making of a Manager, the manual she wishes she had at the start of her own journey. We were struck most by a single observation from the book: Posing probing questions to the people you manage — and to yourself — is the best way to level up as a leader. Here are two steal-worthy inquiries from Zhuo's own toolkit:
Would my reports gladly work for me again? When a manager takes on a new role and members of his former team also make the leap with him, that conveys a great deal. In anonymous surveys to track team health, some companies explicitly ask the question, "Would you work for your manager again?" If your organization doesn't do this, simply reflecting on the question can be useful.
Do all of my 1:1s feel a little awkward? It isn't easy to discuss mistakes, confront tensions, or talk about secret hopes, but no strong relationship can be built on superficial pleasantries alone. Uncomfortable truths need to be spoken in order to be addressed.
Can you say with confidence that each report would want to be on your team again? If you aren't sure that the answer is yes, it's probably no — much like how if you have to ask, "Am I in love?" you're probably not.
Managers should view performance reviews not as a chore, but as an opportunity to make an outsized impact by applying a bespoke approach, says Lenny Rachitsky. (You might recognize his name from Tip #4 — we highly recommend signing up for his newsletter if you haven't already.) Rachitsky's seen the benefits of this approach firsthand after developing his own performance management framework at Airbnb. Here's a sampling of his excellent advice:
Spend enough time preparing. It should take three to five hours to prepare for conversations, every six months. If you can't find a dozen hours to focus on your report's career throughout the year, that generally means you have too many reports — or that you shouldn't be a manager.
Paint a picture of what "killing it" would look like. Work backwards from what the perfect next six to 12 months would look like. Ambitious people want to know not just how to get better, but how to blow it out of the water.
Make sure you have a follow-up plan. Ask your report to list five to seven concrete actions they want to work on over the next six months and add them into a simple spreadsheet. Then schedule a monthly check-in to step back from the day-to-day.
Use this template from Rachitsky's framework, and get more detailed step-by-step advice for making the most of it.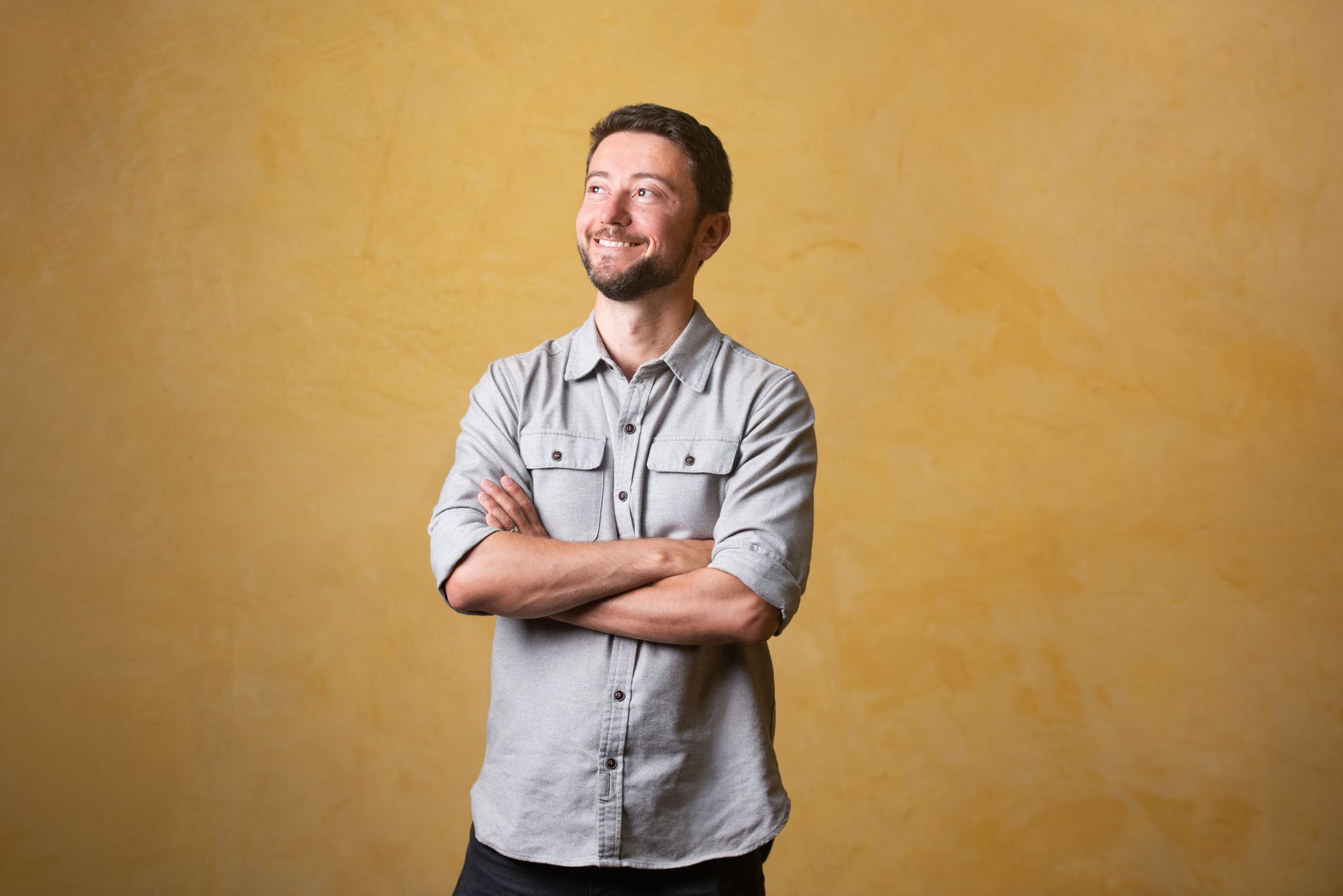 Punit Soni cut his teeth as a product leader at large companies such Google and Flipkart before venturing out on his own to co-found Suki. After making the leap from big to small, he discovered that the hardest part of startup hiring isn't convincing people to join — it's finding candidates who share a founder's mentality. "Every time I find someone who clears those hurdles of humility, tenacity, passion, and financial preparation, it's better than adding 10 employees who don't feel that way," he says. To suss that out, Soni spends most of the interview trying to convince candidates not to join. It's about whether the candidate will be happy with his startup, not the other way around. "You need to make sure they're making the right decision for themselves. It's almost as if you're their friend, not the CEO of a company trying to hire them," he says.
When Humu's Liz Fosslien took her first job after college, she felt the pressure to become a work martyr: someone who works through late nights and weekends, all while silently suffering anxiety and its insidious side effects. Since then, she literally wrote (and illustrated) the book on managing emotions at work, which pushes back against unhealthy norms with helpful strategies such as this one: Remember that "enough" can't be "when you feel good," because feeling good is a moving target.
Fosslien picked up this nugget after reaching out to a coach as she was feeling overwhelmed organizing an event. The coach asked her "When will you know that you have done enough?" The answer of "When the event has gone well" seemed obvious to Fosslien, but her coach laughed and reminded her that most of the event actually wasn't in her control, once potential wrinkles such a speaker getting sick, rain, or the caterer not showing up were accounted for. "She reminded me that enough has to be a metric that is within your control," says Fosslien.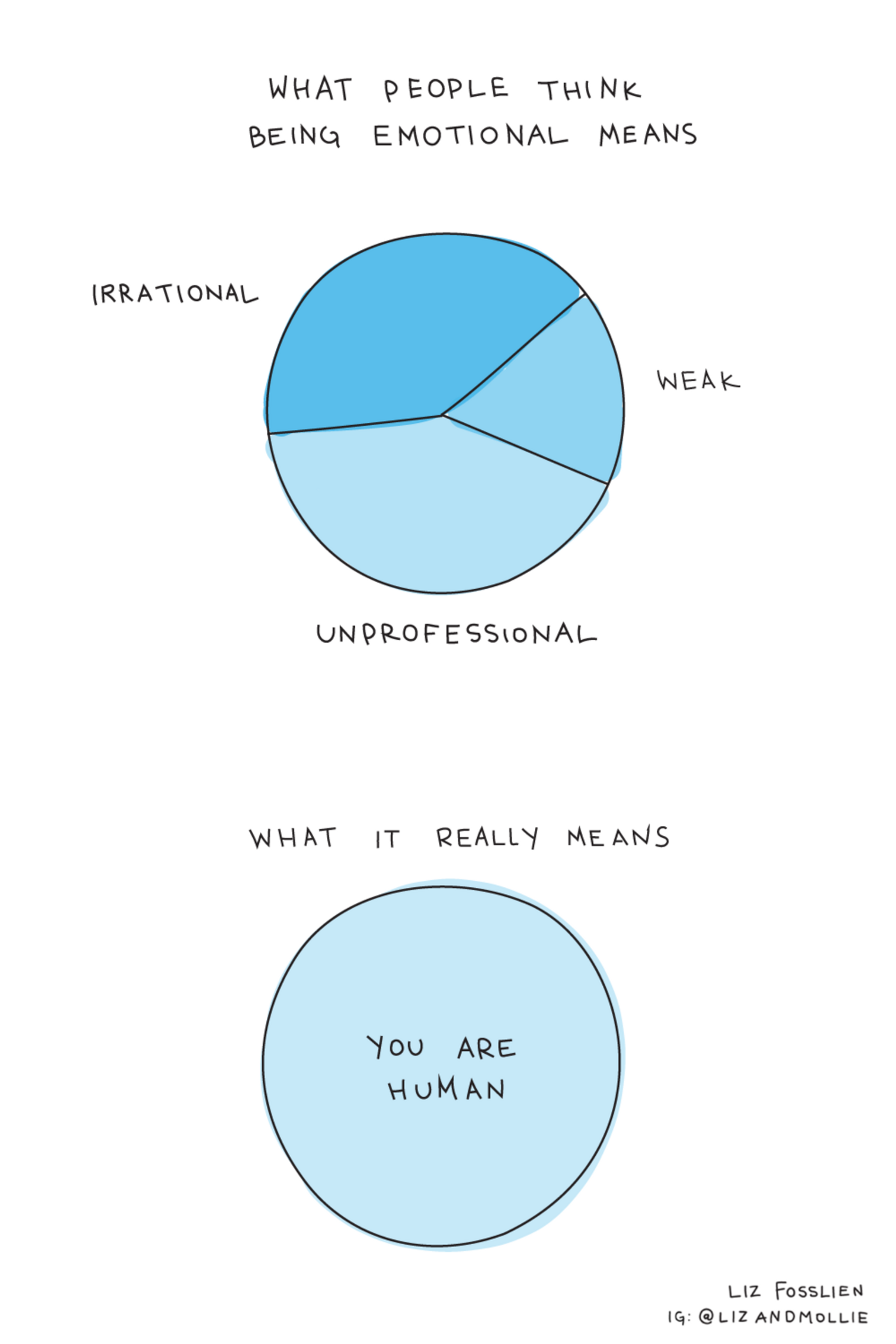 After seven cohorts, 981 pairings and close to 2,000 participants, our Fast Track mentorship program has become one of the most impactful things we do here at First Round. Here's something we've noticed over the years: While every mentor has experience and wisdom in spades, it's not always clear how to most effectively share it with their mentees. To help out, we asked some of the most experienced mentors in our community to share their best tips for being a better mentor. We've spiked out a couple favorites below, but check out the full list.
Ask about the clones. Imagine you cloned yourself. What would you always have your clone do and what would you never let the clone do? Clover Health's Matt Wallaert asks this question to better understand the outcomes his mentees are after, which he views as the bulk of a mentor's work. "It's not my job as a mentor to say what's right for someone or try to influence their wants. My role is to help define the borders of those wants, to bring them into sharp relief, and then to chart a path in that direction," he says.
Go off script. "Ask an open-ended question such as, 'What's been on your mind the last week?' There's always a layer of general stuff, but remain quiet and wait for the real challenges to come out. Often, they end up being very different — and more important — than the pre-planned agenda items," says Chewse COO Kash Mathur.
Jiaona "JZ" Zhang's assembled an impressive track record that's spanned product-building at Dropbox, Airbnb and WeWork, teaching at Stanford and angel investing in startups like Snackpass. And that experience has shown her it's time to move past building MVPs and focus on creating minimum lovable products instead. Here's why: "If you serve burnt pizza, you're not getting feedback on whether folks like pizza. You only know that they don't like burnt pizza," says Zhang. "Similarly, when you're only relying on the MVP, the fastest and cheapest functional prototype, you risk not actually testing your product, but rather a poor or flawed version of it."
While you can check out her full framework on how to avoid burning the pizza, here's one of her practical tips for putting user love at the (ahem) heart of product-building: To start with the user's why (not the business why), use the statement, Wouldn't it be amazing if this product could...?
Here's an example from when Zhang was working on launching Airbnb Plus:
Don't ask: Wouldn't it be amazing if this product could help Airbnb compete with luxury hotels?
Instead, ask: Wouldn't it be amazing if users had a variety of high-quality options that made their precious vacation time even more special?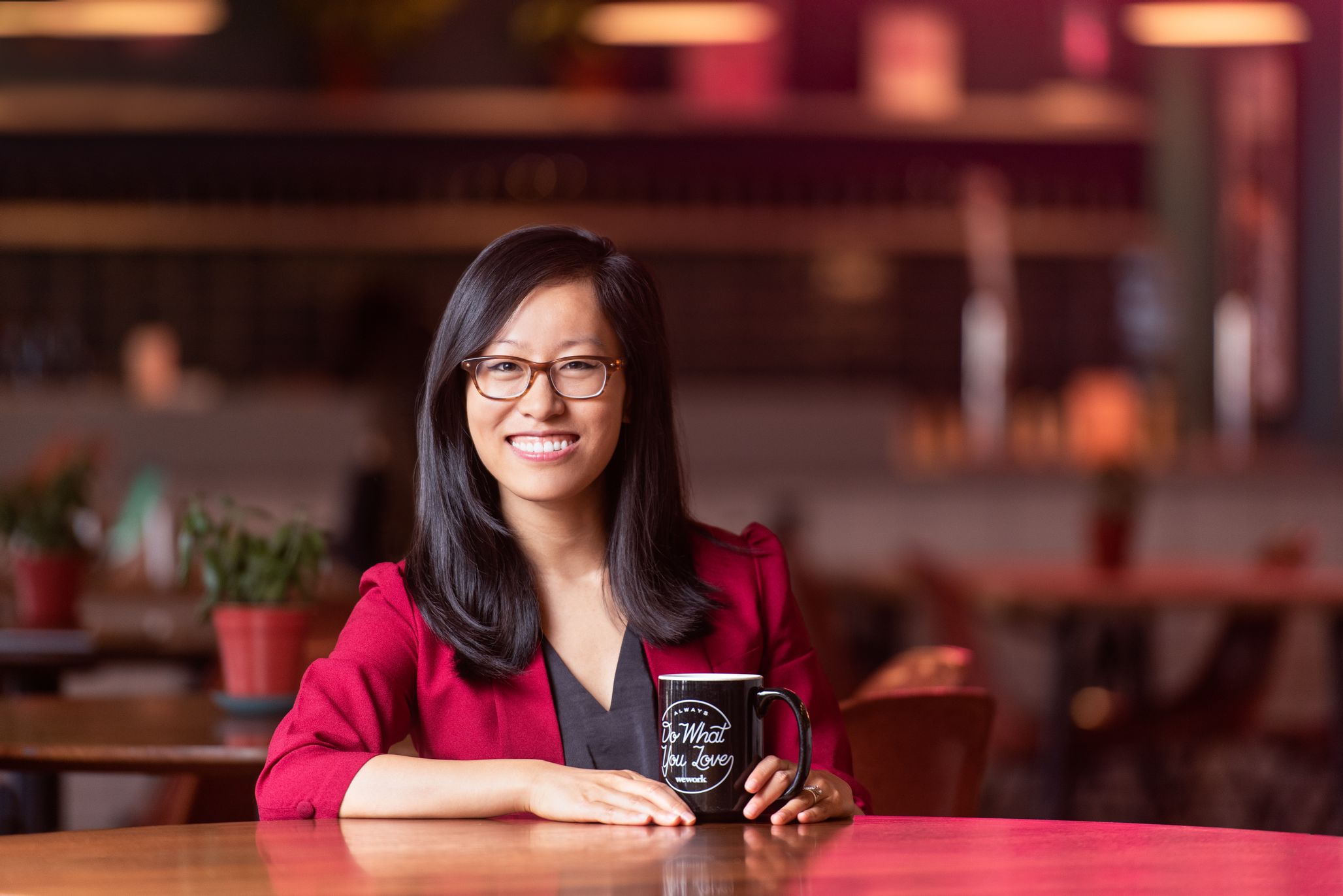 As Greenhouse's CTO, Mike Boufford built an engineering team that grew from one to 60 in its first five years — with zero regrettable attrition. But after years of celebrating this eng leader's version of pitching a perfect game, he reconsidered his approach. "There are healthy and unhealthy reasons for turnover. That's where our focus should be, not simply on deciding whether or not the company mourns their departure," says Boufford.
Aiming for zero regrettable attrition is problematic, because it obfuscates the reasons that people leave — and the reasons they stay. Optimize for healthy behavior, not retention at any cost.
Here are two tactics Boufford relies on to support healthy turnover:
Be a resource. Tell people in All Hands and in 1:1s about the role that you could play in their search. Boufford says that he's well-networked in the New York tech world, and wants to help them get a cool next job, not just a next job. He's also offered to help think through specific opportunities in terms of business models and career alignment.
Open up about your own ambitions. "I frequently tell folks that while I don't see myself leaving Greenhouse any time soon, I also don't plan to collect my gold watch here at retirement. I want to be a founder and start my own company one day," he says.
The most conversation-generating finding from our recent 2019 State of Startups report was around community — nearly 80% of founders we surveyed reported that building one was important to their business, with 28% describing it as their moat. So we were extra thankful for Bailey Richardson's wisdom this year. She's an early Instagram hire, current partner at People & Company and co-author of Get Together, an indispensable guide to building groups from scratch.
And if she had to pinpoint one common misstep in startup community strategies it would be a failure to focus on dedication and repetition. "It's funny because tech companies are obsessed with user retention, but they often forget about this metric when it comes to community," she says. It's not as simple as tracking who's coming. Who keeps showing up and why?
The missing ingredient in many would-be communities is dedication. We put on one-off events or annual fundraisers, but we don't give potential community members the chance to keep showing up or to raise their hands to take on responsibilities.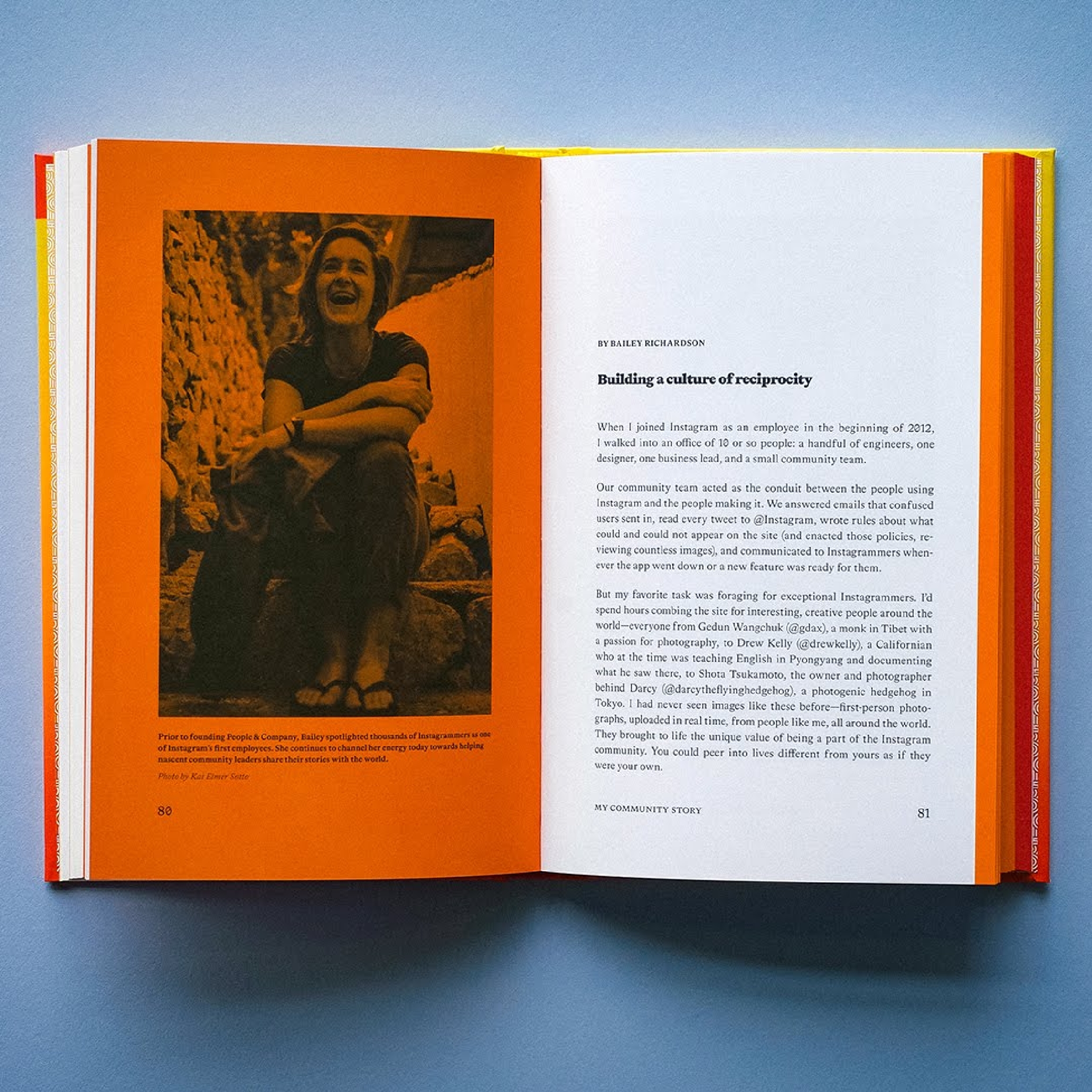 After seven years, Sasha Orloff recently decided to step down as co-founder and CEO of LendUp. In the hiatus that followed, he took 100 coffee chats with founders, CEOs and investors to gather advice for his next play. (Even if you aren't a founder, we think you'll find valuable lessons from the advice he collected on contemplating career transitions, structuring time off and plotting next steps.)
Here's one tactical gem that stands out: Orloff got the suggestion to make three lists: Skills he wanted to build, industries he wanted to work in and his non-negotiables. Afterward, he was able to articulate what he wanted in one sentence: I'm interested in exploring role X in industry Y, and my must-haves are Z. This crisper career thesis enabled him to maximize his network more effectively. "People want to help, but they can only help so much if you yourself don't know where you're headed," he says.
Growth is about optimizing a sustainable experience that nets more long-term engaged users, learning as quickly as possible along the way. But for Dropbox's Angel Steger, it's about velocity — not haste — which is why she recommends adding growth design, a burgeoning new design subset that's still being shaped. "Engineers or project managers are often tempted to rush on the execution in order to ship two weeks faster," she says. "But skipping the detail work growth designers bring can hurt your learning. Muddled tests, poorly defined problems, a lack of data — these are all issues that result from failing to fold in design at the very start of the growth process."
It's not always about launch speed. Clearer experiences make it easier for users to act quickly, which gets growth experiments to statistical significance faster. You might think you're "saving time" by trimming design details, but it can add weeks to the process.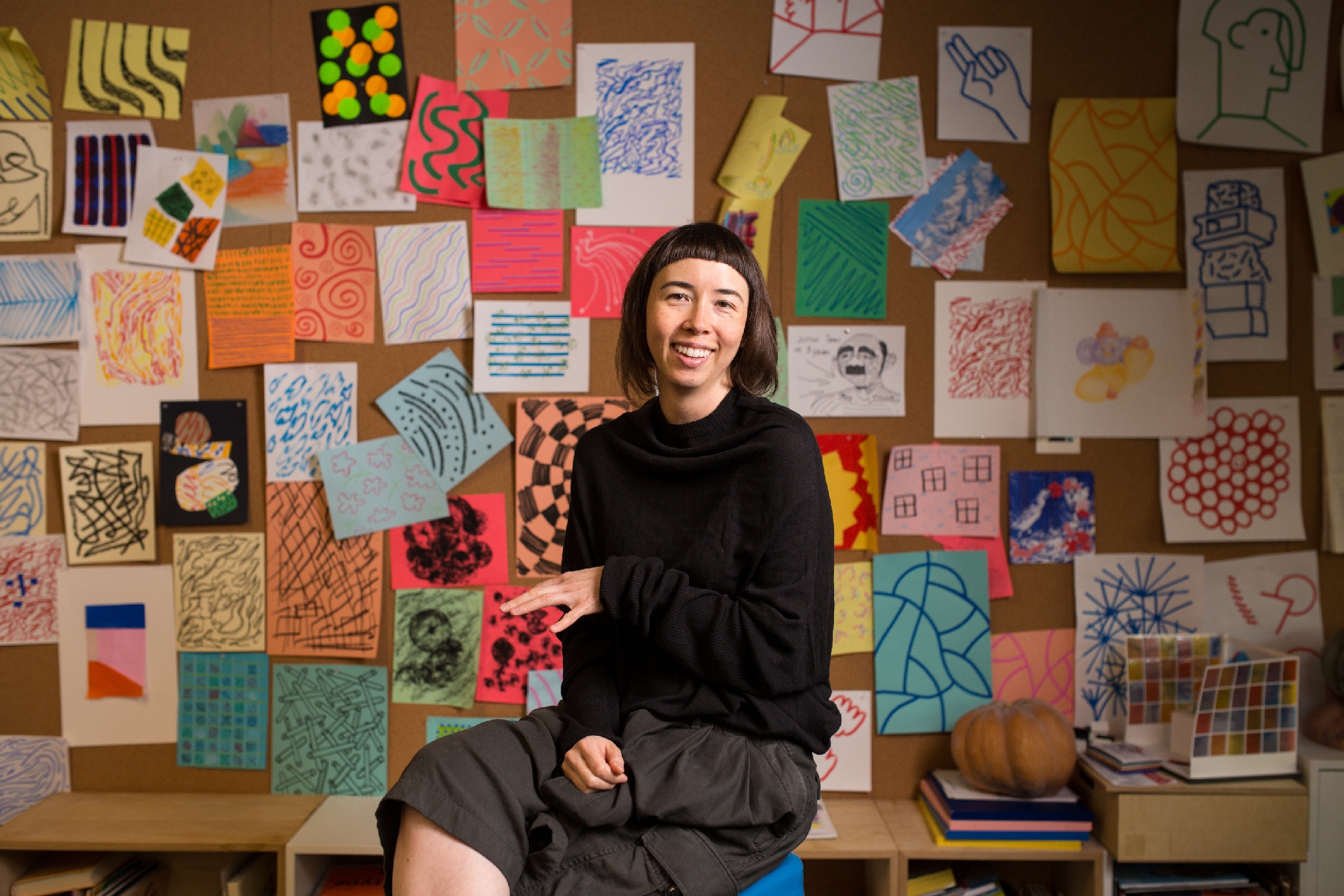 12 years after its first fast-casual restaurant opening in D.C., Sweetgreen now boasts 100+ locations and an app with more than 1.5 million users, all on the heels of unlocking unicorn status. Underpinning these proof points is a guiding philosophy that co-founder Nathaniel Ru calls intimacy at scale. "We want every restaurant to feel like your Sweetgreen and not just a Sweetgreen," he says. An illustrative example: While Ru and his co-founders initially had big plans to expand to L.A., New York and Miami within the first three years, they eventually realized that by saying no to expansion, they could focus on building the brand and getting stronger, not just bigger. They stayed local in D.C. for six years, incubating tactics on everything from building supply chains to scoping out real estate, which allowed them to get the flywheel spinning — and learn from mistakes before entering new markets.
While it's tempting to grow as fast as you can in every dimension, it's the decisions that you say no to that define who you are.
Google and Twitter veteran Karen Wickre has forged a decades-long tech career that rests on the bedrock of a robust network. But she's also a self-described introvert, which is why she penned an excellent book, chock-full of lightweight networking strategies. According to Wickre, the key is to practice a little bit every day — and to do it when you don't need specific help.
If you treat your connections as a kind of personal ATM you use for frequent withdrawals, you'll quickly be disappointed (and overdrawn).
Start by spending 10 minutes a day with these tactics:
Make it a morning warm-up. As Wickre scans her email and the headlines, she'll share a story or two that are of interest to people she hasn't been in touch with, alongside a short note: "This made me think of you. What's your take? And how are you?"
Keep a running to-do list. There's power in simply following up on encounters you've had. After your conversation or meeting, think about that article you said you'd send and who you'd like to intro them to — then jot it down.
Close out the day with gratitude. Send out a couple of "thinking of you" notes to people you've enjoyed meeting or would like to catch up with.
Zainab Ghadiyali's path to tech has been anything but conventional. With a background in chemistry, she started her career in international public health nonprofit work before landing in Silicon Valley. And while her resume is impressive — spanning a rise up the engineering ranks at Facebook, her current role as a Product Lead at Airbnb and side hustle as the co-founder of Wogrammer — she's also no stranger to impostor syndrome. "Unconventional career paths make you more susceptible to impostor syndrome. You might be more anxious about how you might fail or all the ways in which you don't belong because you don't fit the mold," Ghadiyali says.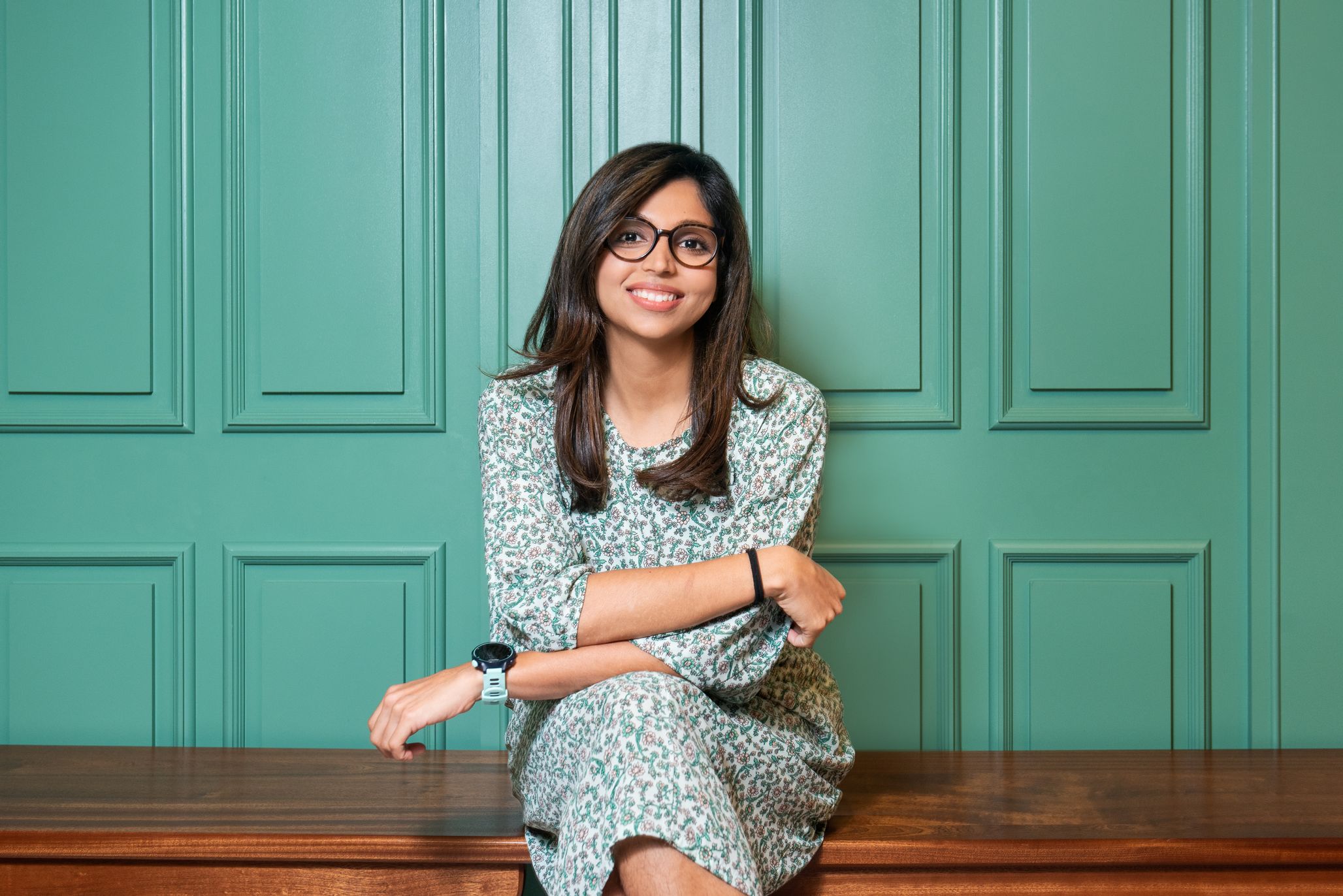 To beat it back, she relies on these words of wisdom she heard from Mary Lou Jepsen: "There are two types of people in this world — those who build sandcastles and those who smush them. I try to surround myself with people who are builders, not smushers."
Below Ghadiyali outlines how you can spot the builders and smushers in your own career: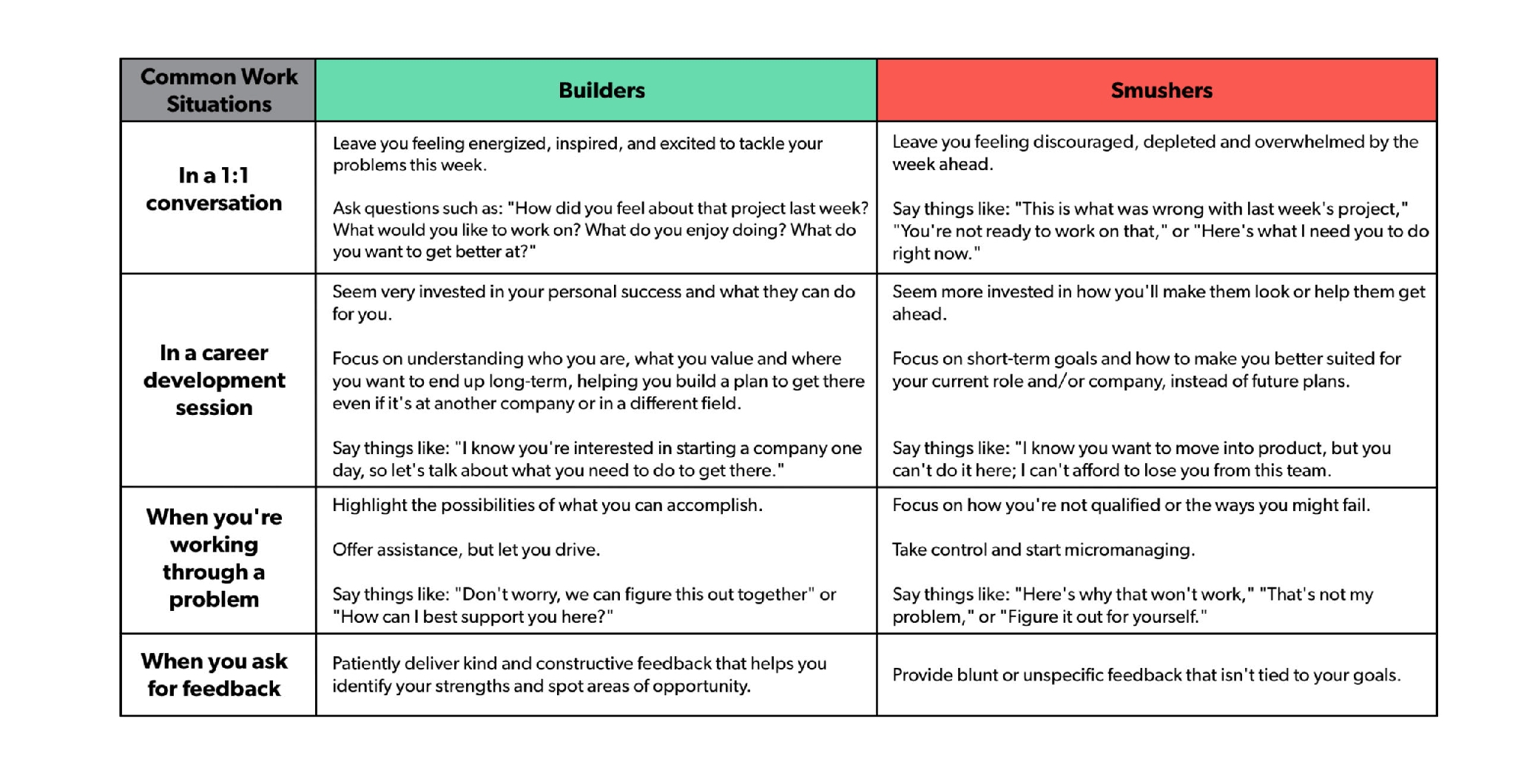 After more than a decade of company building, NerdWallet co-founder and CEO Tim Chen carved out time in 2019 to reflect on the arc of his journey as founder. One of his biggest observations was around meetings. "Our meeting structure got brittle. I waited too long to get more intentional about which meetings serve what purpose," says Chen. "Previously, we would just call an All Hands when we had an important topic. But All Hands are a pretty blunt instrument when you're over 300 people. Now, we start by considering our objectives rather than the forum."
For other founders looking to get even more intentional about making meetings suck less, Chen offers up another tip: Cancel the CEO's favorite meeting. You know the one — the large group convened to give status updates that could've been an email and are only useful to the meeting owner. "I was running a meeting like this for a long time," he admits. "I was reading a book that described exactly this phenomenon and I was like, 'Oh my God. That's totally my meeting.' So, I pulled the plug. Don't waste anyone's time."
Rick Nucci likes to say he's outcome-oriented. But the co-founder and CEO of Guru really means it. Consider the following example: Guru has two Slack channels that every employee commits to reading, #Wins (how the deal was won) and #CS-Wins ( the glowing "after" photo that closes the customer success loop). The practice of celebrating wins isn't unique, but the startup's approach to these channels goes deeper. "Each win announcement is written by the AE who landed the deal or the CSM who led the rollout, and they're about five or six paragraphs long. They explicitly sketch out the line between the customer's problem, what we did to solve it, and how it benefited them," says Nucci. "It'd be very easy for us to dash out a post that reads 'New customer. Had a knowledge management problem. Needed a modern wiki.' Not only would that lead to crickets in the Slack channel, but that approach doesn't help our designers, engineers, marketers and PMs deeply understand the problems our customers are facing."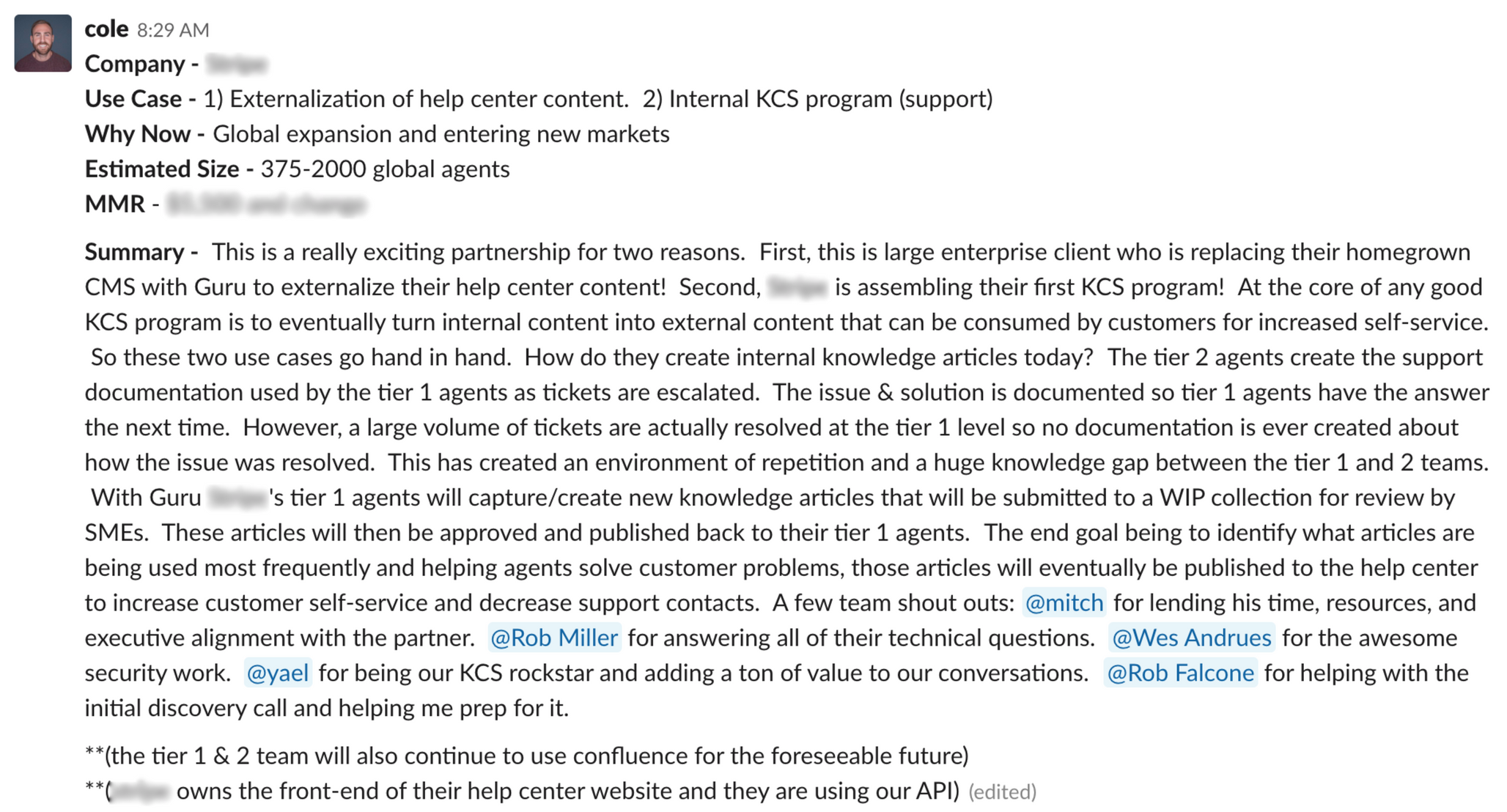 Brian Rothenberg is a firm believer in making learning your North Star. For example, back when he was co-founder of SkillSlate, instead of just going over a summary of the last month's metrics and milestones at board meetings, Rothenberg shifted the content to what they had learned and the new hypotheses they were planning to test in the future. (First Round partner and SkillSlate investor Phin Barnes was a big fan of this tactic.)
Similarly, when he joined Eventbrite in 2013, Rothenberg noticed a familar cycle of shipping buzzy features, hoping for growth, cheering the launch — and then moving onto the next. "There wasn't enough sustained iteration to help a feature achieve adequate adoption or feature/product fit," he says. To break the wheel, ask questions like these: What did we learn? Did we have the impact that we expected? Should we keep this feature at all?
Don't just ask "What did we do?" Chart your progress by also asking, "What did we learn?" Being driven by questions, rather than achievements, unlocks future impact and further learnings.
As First Round's Marketing Expert in Residence, Arielle Jackson helps early-stage founders navigate the search for a full-time marketer of their own, a quest that can quickly go off the rails. "Often founders say they need a marketer because they want to 'grow' or because a board member or investor recommended it. You need to think through the actual issues this hire would tackle," she cautions. To help founders narrow in on the particular flavor their startup needs, Jackson organizes essential marketing work into four main groups:
"I know very, very few people who are strong across all of those buckets," she says. "I'm not sure where this desire to have it all in one package comes from — you wouldn't expect an engineer to be amazing at beautiful front-end UI and back-end systems."
The marketing hire who's equally proficient in product, performance, creative and comms is a rare sighting. If you find one, great. But it's more likely that you'll need to trim your job description and start prioritizing.
Ready to start trimming? Take inspiration from this real-life job description that netted Alma its first marketing hire.
"The conversation around empathy usually stops at 'Be more empathetic!' We need to take it a step forward and recognize empathy as a skill that can be learned," says Andrea Goulet, the CEO of Corgibytes. And she's looking at you, engineers.
Here's why: Commit messages, pull requests, naming, tests, error messages are messages to people, as well as machines. Future readers include colleagues or even yourself, six months later — and failing to show empathy to this audience by clearly communicating your reasoning creates problematic legacy code. "Operating without empathy is directly linked to one of the biggest problems that plagues engineering teams. So don't tell me that it's not relevant to your day job," she says.
Coding is a form of communication. Communication is rooted in empathy. So software engineers have a lot to gain from leveraging empathy. It's not an abstract, metaphysical enigma — it's a skill we need to respect and a muscle we need to flex.
As Duo Security's first product design leader, Sally Carson was tasked with building her function from scratch — and given that design can often be under-resourced while other legs of the EPD stool grow more quickly, she had to get creative to earn the proverbial seat at the table. "User research shouldn't just be something that design does in some dark corner and then reports out on. If you make it a team sport, then the engineers and PMs see the insights for themselves, in real time — you don't have to convince them of anything," she says.
One tactic she used to spread her function's work involved a cinematic twist: Her team hosts a "research matinee" at All Hands, screening a two-minute highlight reel. "Video is a popular format for socializing research findings," says Carson. "But what's often distributed is the unedited footage of an entire study." And no one's going to sit through all of that. Instead, find low-lift ways to elevate the entire org's understanding of the design function's unique strengths.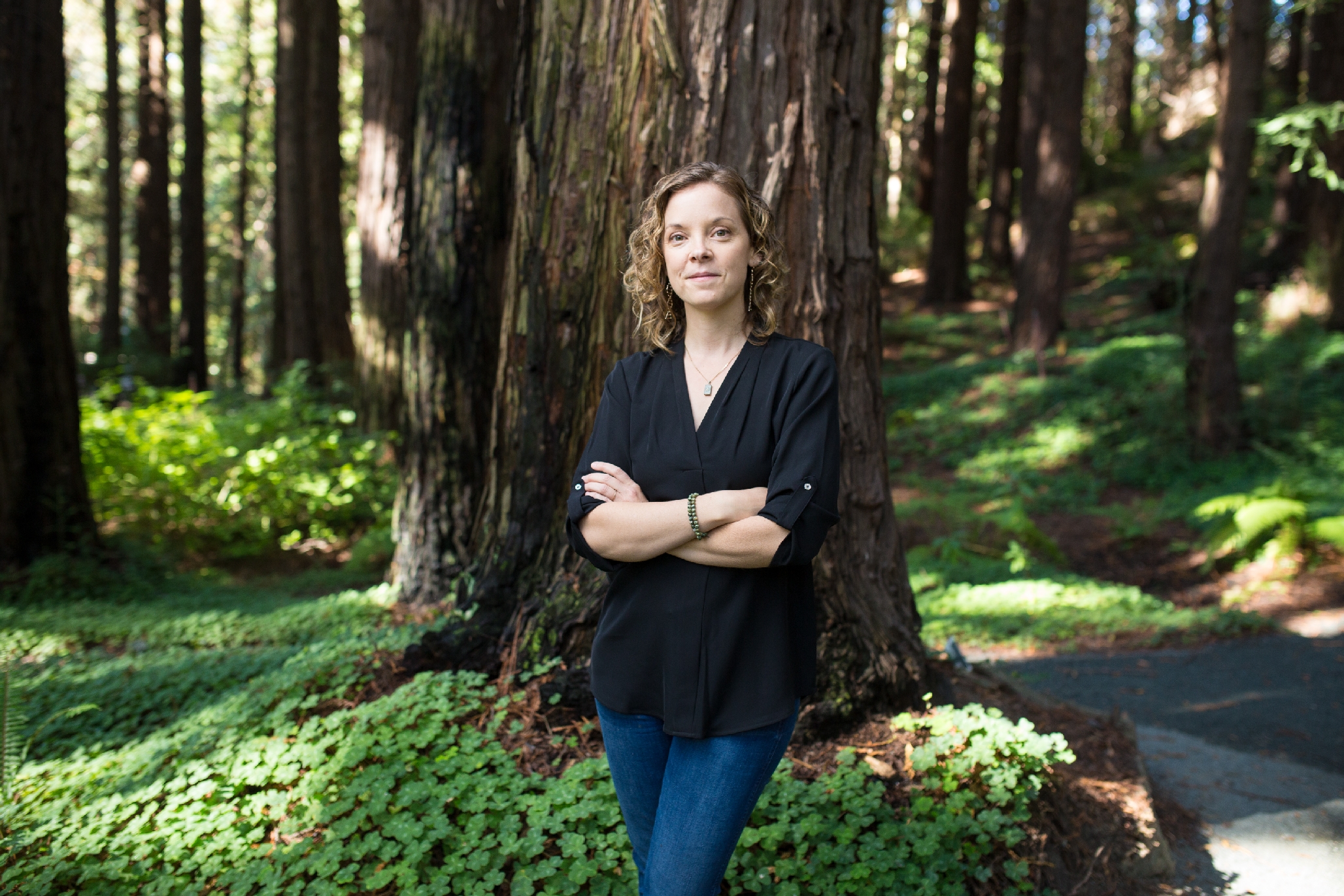 "Leading a sales team is about more than just checking whether reps hit their numbers. Set fair expectations — and make sure reps have a clear pathway to hitting those goals," says Atrium's Karen Rhorer.
We too often present distant goal posts in the form of ambitious quotas, don't give reps any direction on how to get there, and then put them on a PIP or fire them when they don't reach their targets. That's a fundamentally broken approach.
For example, reps may not feel they have much direct control or a clear understanding on how to move the needle. Consider the difference between these two goals:
Goal A: You need to increase your win rate 10%.
Goal B: You need to have a next meeting scheduled for each of your open opportunities and be in touch with at least 3 contacts at each account where you have an active opportunity.
The first is a more common sales goal — the second is more tactical, more clearly within the rep's direct control, and more likely to produce tangible results.
Qualitative research is exploratory and deals in emotions, so it seems squishy and easier to write off. But startups do that at their own peril, says Jesse Caesar, an independent researcher who cut his teeth working with PepsiCo and Amazon. "We build better products and solve bigger problems when we keep real people in mind, and you just can't get that without qual. When it comes to market research, quant can only tell you so much. Data without insight is deadweight." That's not to say quant doesn't have its moments. Both are valuable lenses into the product and the market, but they're tools that do fundamentally different things. Given that founders often aren't sure which to use when, Caesar offers up his guide for selecting the right one: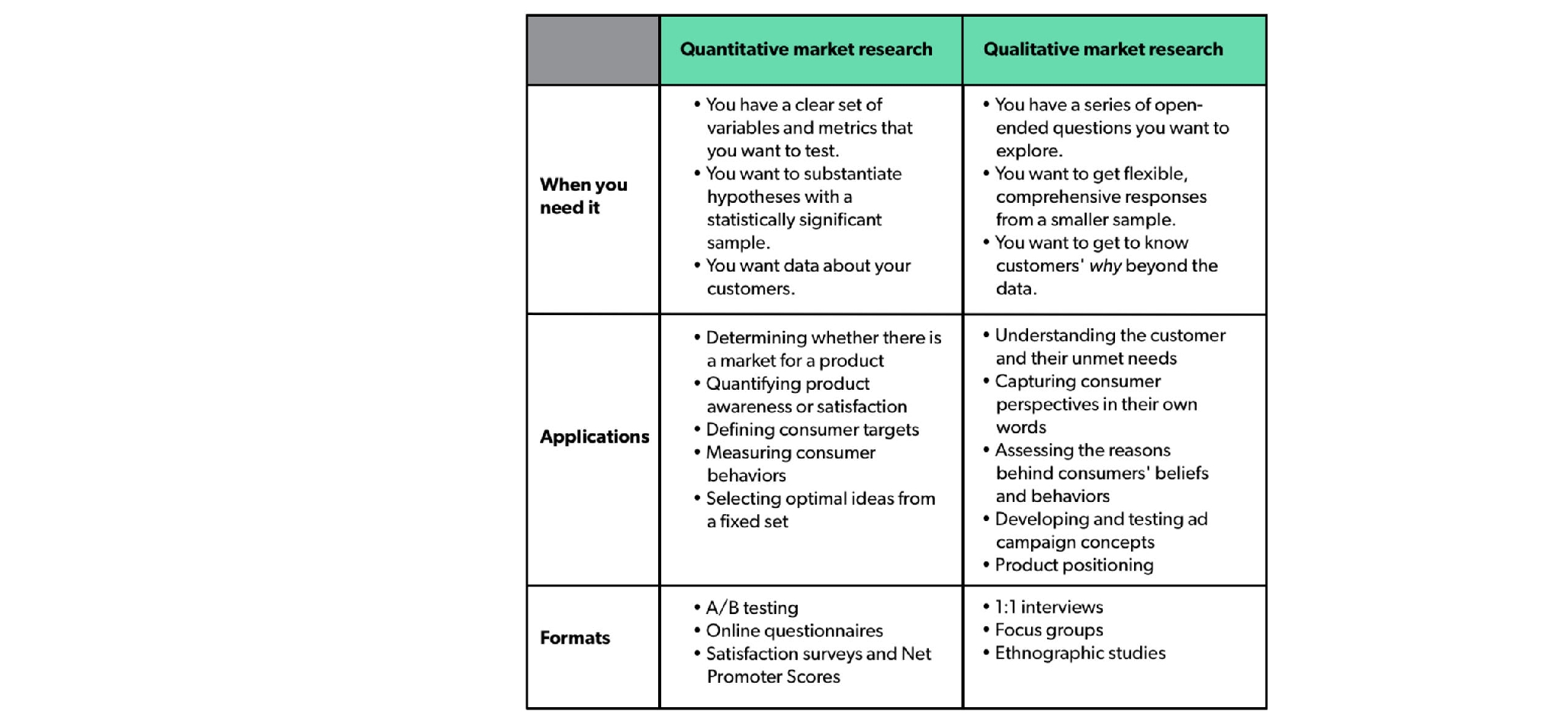 Many great recruiting guides focus on the quality of people on a team, but the quantity of people on a team is as critical to get right. Enter Stripe's Will Larson and his excellent book An Elegant Puzzle: Systems of Engineering Management, which outlines helpful ratios for sizing teams. For example, he argues managers-of-managers should support four to six managers — dip below that and folks may be tempted to meddle in daily operations. Or take this one: Never leave managers supporting more than eight individuals. Referencing Andy Grove's High Output Management, Larson notes that managers should spend about half a day a week on each report. But add up eight hours of 1:1s, team syncs, interviewing and All Hands, and soon half of your week is only in meetings. Limiting your team size not only ensures productivity, but equitable investment in each report.
Employing standard team sizes and using a system to develop teams are like taking the manager's hippocratic oath. It's committing to do no harm, to build a team effectively and conscientiously.
Photography by Bonnie Rae Mills and Brandon Smith. Top illustration by Alejandro Garcia Ibanez, featuring (from left) Karen Wickre, Lenny Rachitsky, Julie Zhuo, Esther Perel and Punit Soni.