When Zola launched in 2013 to reinvent the wedding registry experience for millennial couples, it took a bit for some potential customers to reach the honeymoon stage. "We interviewed hundreds of couples and formed the hypothesis that they no longer wanted traditional items for their registries. We thought they only wanted experiences, cash for their future, and cool gifts from up-and-coming brands," says Shan-Lyn Ma, Zola's CEO and founder. "What we found out right away — through both our NPS [Net Promoter Score] research and the data we collected on the site — was that our thesis was not entirely correct. Couples want it all. We had to change our merchandising strategy very quickly."
Since this realization, Zola's NPS scores have improved by over 50%, surpassing both Amazon's score and the retail industry benchmark. Customer satisfaction has always been a focal point for Ma, who's held executive and senior product roles at Gilt, Chloe + Isabel and Yahoo!. Now she leads Zola, which is now valued at over $200 million and has been named one of the top 25 tech companies to watch.
In this exclusive interview, Ma goes beyond the basics of NPS and zeroes in on how Zola acts on it — specifically feedback coming from detractors. She digs into two key elements that drive Zola's NPS survey outreach efforts and how to bucket NPS feedback by theme. Armed with this information, she articulates what it means to close the loop and with whom. Let's begin.
Early Detractors Are The New Early Adopters
Most startups seek out early product enthusiasts and brand ambassadors to get the lift and buzz to attract more customers. This cohort of champions is often tapped as beta testers who help further refine user experience and even help determine product direction. As "the wedding company that will do anything for love," you'd think Zola would gravitate toward — and double-down on — those users who sing its praises. But you'd be mistaken.
"It's tempting to listen to all the good stuff you get in your NPS surveys," says Ma. "But we know we've learned a lot more by being very focused on the not-so-good comments. We want to really understand the reasons certain couples aren't promoters."
Through this philosophy, Ma and her team have found a counterintuitive truth: detractors are frequently clearer guides than promoters. "When we launched Zola, the feedback that we got from detractors was straightforward: they chose a different registry because we didn't carry enough of the brands they wanted," says Ma. "Only some of our promoters touched on this issue, and when they did, it was less direct. They'd be less matter-of-fact about constructive criticism — and usually only after couching it in some praise: 'We love Zola and wish we could register with just you, but we need multiple registries to get all the things we really want.'"
Zola heard that feedback — especially from its detractors — loud and clear. "We made a list of the top 100 traditional registry brands and went after them aggressively. We added buyers to our merchandising team and sent reps to every houseware and tabletop trade show," says Ma. "A year later, we launched all 100 of those brands. We now carry more than 500 brands and offer more than 50,000 gifts in our registry — including those traditional registry staples like All-Clad cookware and Vitamix blenders."
Since that experience, feedback from lukewarm customers is now one of the primary influences on Zola's product strategy. But one squeaky wheel in one survey isn't enough to divert product plans. Ma and her team have developed a systematic approach to NPS and getting the most out of any NPS detractors. Here are her favorite tips:
Behold the two Ms when it comes to NPS survey outreach.
Zola gets the most actionable feedback from its users — detractors included — when it surveys them monthly and by milestone.
On the former, Zola has sent an NPS survey to a portion of its users every month since launch. "Of course, this establishes a strong feedback loop from the start. But it also allows us to be methodical and deliberate about fixing the detractor themes that arise," says Ma. "We know there's a huge impact on both the customer experience and the overall business if we can move just a few customers a month into the promoter category. To make continual progress, though, we can't jump to conclusions or spin our wheels on any one single piece of information."
A big part of giving feedback the proper weight is cadence. "Quarterly would be too infrequent to track themes over time, and too easy to be distracted by one-off feedback. Weekly would be too frequent from a workload perspective," says Shan. "Every month we write a new survey and sort through hundreds of answers. Monthly is that sweet spot where we're able to stay in touch with our users, and not create so much work internally that it's overwhelming."
NPS in sickness and in health. We've sent NPS surveys every month since launch.
Monthly NPS surveys create a strong cadence, but they can land flat without the proper context. To solicit opinions at the right time, Ma's advice is to do some thinking before you start asking for feedback: "What are the junctures in people's lives — whether it's the time of week, the time of month, or the time in your customer lifecycle — that they're likely to be most responsive to a survey?," asks Ma. "You want to reach out when your customer is ready to give feedback and when they have a good basis for that feedback, not when it's most convenient for you as a company."
For Zola, that means sending surveys at two different points. Their first survey goes out to couples once they sign up with Zola and have had some time to get their registry set up. The second survey arrives in their inboxes a few weeks after the couple's wedding. "Planning a wedding is different from shopping for clothes, which is very distinct from purchasing insurance," Ma says. "When I talk to startups who are thinking about doing something like what we do, I tell them to play with the timeframe so they can really optimize for getting the best feedback."
That's what Zola did until it found its entry points for NPS surveys in its customer lifecycle:

The key to getting it right is looking broadly at what's going on in customers' lives — not just how they interact with your product. "Our couples are in the midst of a stressful life change. We don't want to bother them when they're deep into planning their weddings, and we don't want to send a survey the morning after they've gotten married. They're honeymooning and they still haven't had a chance to think about which gifts from the registry they might want to keep or return yet," says Ma. "So we wait until we see our couples through that entire lifecycle. I must give credit to our Head of Growth, Maya Simon, for figuring out the right survey cadence. While other companies might send an NPS survey after purchasing a product, she figured out that we had to account for a user's full experience to better suit Zola's unique customer lifecycle."
In addition to increasing response rates and limiting the number of intrusive asks to customers, sending NPS surveys at these two key moments also means Ma's team gets more actionable fodder for product changes and enhancements. "It's valuable because we get a sense of what our cohort of recent signups is going through, as well as what our full cycle cohort is experiencing. We can stay ahead of emerging issues that come up early in the lifecycle," says Ma. "Alternatively, we can also track the issues that couples sometimes encounter later in the lifecycle without having to wait for someone to go all the way through the process."
Bucket your feedback by theme.
Each month, Zola gets at least 500 responses (and often hundreds more) from its NPS survey sent out to users at those two critical lifecycle stages. When the responses come in, it's the Growth team's time to shine. "Growth pulls out the detractor comments from NPS results and bucket them based on themes that we've tracked over time," Ma explains. "For example, one asking for zero delivery costs would be deposited in 'Free Shipping' and another expressing an insufficient number of brands would be filed in 'Limited Inventory' and so on."
Once detractors' comments are sorted into themes, Zola's Growth Team tallies them. "We review and categorize feedback from detractors and their comments typically map to a handful or themes that we've been monitoring. What we've observed is that the top two themes tend to comprise more than 50% of the comments, so that's where we focus. But regardless, as soon as a theme arises, we start investigating ways to address it, or what might be causing the issue," says Ma. "It's important to us to track how themes shift over time. If one shows up two or three months in a row, we'll add it to the road map. Other considerations include what the issue is, how time consuming it will be to address, as well as the impact the solution will have on our bottom line."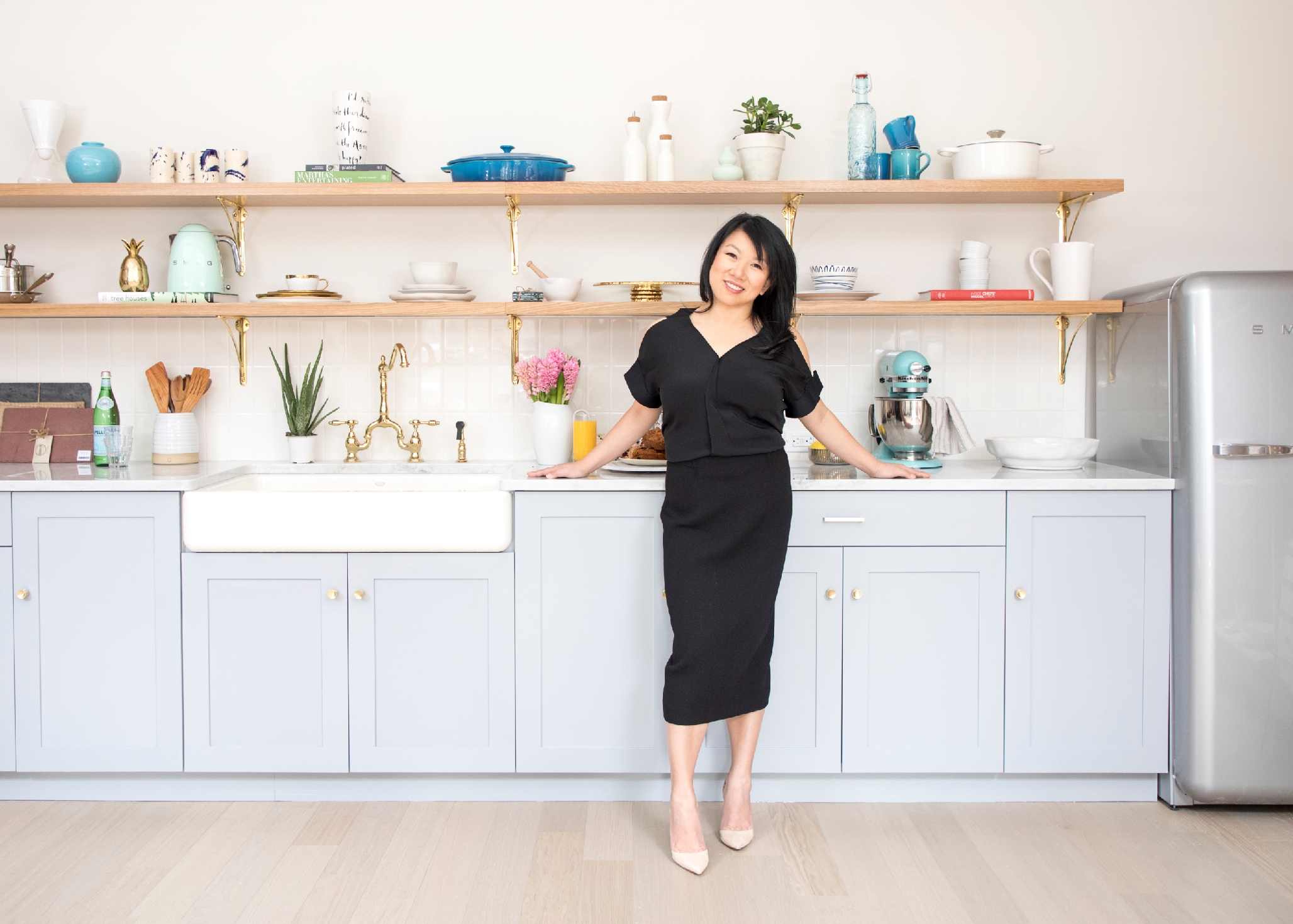 Zola's analysis goes a little deeper than just identifying the squeakiest wheel, though. "The issues that prevent people from picking Zola — the deal breakers — are the most important to us, because they'll have the biggest impact on our core business," says Ma. "One such example came from couples whose older relatives were having a hard time completing registry purchases online. The couple had picked Zola, but their older guests did not always feel comfortable shopping online. So, the team responsible for checkout looked for opportunities to streamline the order flow and ran some user testing with grandparents. The solution — a "Call us anytime" prompt with a phone number — was straightforward, but made a big difference in product adoption and customer engagement."
Other themes that fall outside of our core business are nice-to-haves. These requests require more analysis to prioritize properly. For example, many couples who had a good experience with Zola's wedding registry want to come back when love and marriage inevitably lead to the baby in the baby carriage. "We chose to do Zola Weddings before something like a baby registry because of the survey data," says Ma. "Helping couples build their wedding website kept coming up as the number one theme."
Deeper analysis backed up the story the survey data was telling. First, a long look in the mirror helped Zola understand that offering a baby registry would be outside both its core product offering and its brand promise. Ma's team also took a look at a question they knew they'd get at the next board meeting: "What's the TAM [total addressable market] for baby versus weddings?"
The answer, without a doubt, was weddings.
The questions Zola asks to prioritize different themes can be put to use by any startup. When you break it down, the decision tree looks something like this: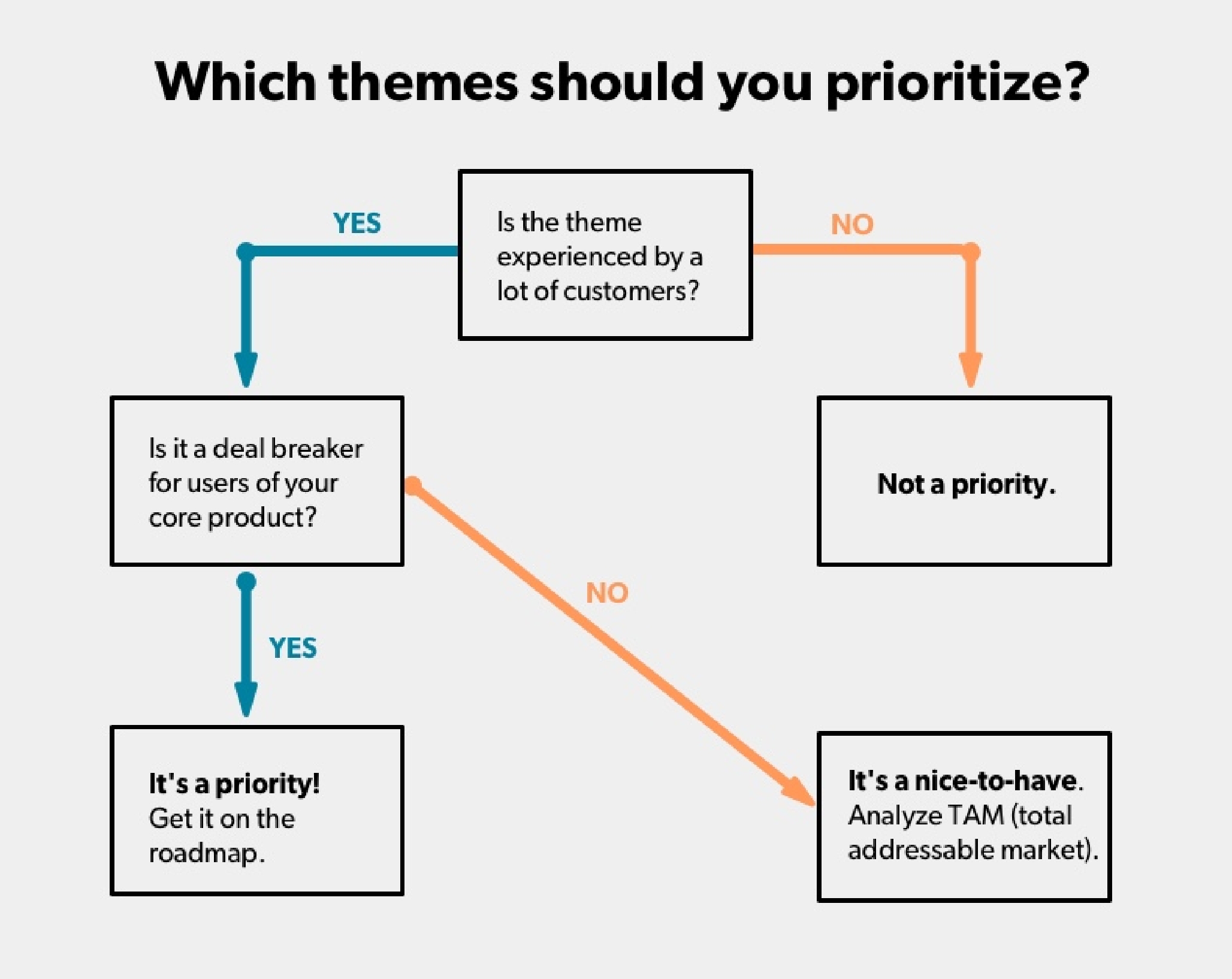 By running it through this framework before placing a big bet on Zola Weddings, Ma's team was able to improve their odds of picking a winner. "For Zola's first three years, we wanted to stay focused on building the best wedding registry possible. But having collected comments from the beginning, by the time we were ready to turn toward wedding planning tools, we already had three years of data on this theme from our users," says Ma. "Given that, we knew it'd be a success if we launched it. And, indeed, it's blown away all of our initial expectations."
Ongoing NPS surveys have also helped refine the Zola Weddings product by removing additional deal breakers before they officially emerge. "Anecdotally, we were hearing things like, 'My family is Indian, but my fiance's family is Jewish, so there's a lot of stress around how we incorporate both traditions into our wedding planning,'" says Ma. "More research uncovered that 40% of couples who've gotten hitched since 2010 married a person from a different culture or religion. We knew these couples could eventually wind up in detractor research if they weren't taken care of, so addressing their pain point became a priority right away. No two weddings are the same, and so the checklist shouldn't be, either."
That research had an immediate impact on Zola's product. "Zola built the first dynamic wedding checklist that goes beyond just the basics, like wedding date. When couples first sign up for Zola Weddings, they're now asked about which faiths and cultures are important to them," says Ma. "Instead of getting a standard wedding checklist, couples automatically get a list of events and milestones that correspond to their families' traditions."
Close the loop to strengthen your circle.
Not all that Zola does to respond to detractors is a scalable product enhancement — at least not initially. But regardless, Zola circles back to each person who leaves comments. It's an exercise not only in closing the loop, but also strengthening its community one member at a time.
"Whether the feedback's positive or negative, our community manager Melissa Trentadue responds to everybody who leaves comments in an NPS survey and says they'd be interested in speaking with Zola further," says Ma. "A personal response shows couples that Zola has acknowledged their input, but it's also a chance to solve problems for couples who express a concern."
For example, a rep will intervene to offer help when customers look like they might be struggling with taking certain actions. Sometimes that means delivering an extra level of service to make sure that the couple stays happy. "If we've identified a lot of the common issues that turn promoters into detractors, why wouldn't we intervene?" Ma asks.
If a customer support issue comes up often enough — and a high-touch intervention is successful — Zola will go back to designing a fix that does scale. "Here's a problem that we noticed frequently soon after we launched: a wedding guest purchases a gift from the registry, but it goes out of stock before the couple is ready to have it delivered," says Ma. "At first, whenever a customer complained about it, we'd go to great lengths to track down a replacement and have it overnighted or, in some cases, hand-delivered."
This level of intervention worked, but it took a lot of resources. By design, that didn't last forever. "Once everyone could see solving that problem reduced our detractors, we found a way to build something similar into the product," says Ma. "The result was an email that we send automatically when an item goes out of stock. The email gives couples a heads up, lets them swap for a different product if they don't want to wait. All in all, it prevents out-of-stock situations from becoming bad customer experiences."
With NPS feedback, what doesn't lead to a product enhancement is still an opportunity to build your brand.
When it comes to NPS feedback, don't neglect closing the loop with your most invested stakeholders: your team. To keep all employees informed and current, the Growth team at Zola presents detailed results from each month's NPS survey in an All Hands meeting. "That means every single month every single person in the company will be walked through the results of our research," Ma says. "Yes, this is about transparency, but more so, it's about accountability. Everyone must know that they're contributing to — and therefore, equally responsible for — our NPS performance and the success of Zola. This way, it's no longer just on the horizon of the product team to address feedback. It's on everyone. It touches every single team."
To reinforce the Growth Team's findings and spur further exploration, all detractor comments are anonymized and distributed to the entire company as required reading. Ma has been known to even ask for coworkers to share what they learned or found most interesting from the report.
But sharing this NPS feedback is not only about informing the broader team of the challenge, but involving them in the solution. That's never a surprise if they've seen the NPS reports. "Shipping cost was a top theme in the comments every month," says Ma. "For bigger projects like this, we'll form an 'operation.' That entails picking five to seven people from different teams to articulate the customer's problem, deconstruct it and figure out how to solve it."
In this case, the team's task was to examine ways Zola could offer free shipping. "This operation involved members from Product, Finance, Growth and Operations to really understand the problem and how different solutions changed our bottom line. Each operation starts by collecting enough data to get a test up and running, then the team makes a long-term recommendation once the results come in," says Ma. "Our initial tests showed us that offering free shipping made sense for the business, and also that customers loved it. It took several months for us to move forward because free shipping was an expensive decision. We had to forecast the impact it was going to have on our bottom line. But, once we gave it the green light, it took less than a month to actually put free shipping into place. This had an immediate impact on our business. We went from trending right along our sales plan to immediately trending above."
Getting to Yes
While fixing the issues that spawn detractors drives a lot of Zola's decisionmaking, the goal is always to get every couple to be a promoter. If you're in the same boat or just getting started, create a habit to survey at least a portion of your users every month. Uplevel this practice by reaching out to those customers at key lifecycle milestones — ones at which they have enough experience to form an opinion and time to share it. Bucket your feedback — especially from detractors — by theme and tackle the top few. There will be those that are straightforward and core to your model that you should fast-track. Lastly, close the loop with your customers — and the rest of the company. Responding to survey comments is an investment in future survey completions, leads to product enhancements and builds your brand. Sharing NPS feedback — good or bad — throughout your organization generates accountability and solidarity.
"Sending an NPS survey to your customers can be a first, low-lift step to developing an ongoing relationship with them. Right now we're testing a 'surprise-and-delight' program where we surprise couples with gifts at random. For example, one of our couples got married, then had a baby, and we noticed a picture of them on Instagram where they were wearing matching Vans shoes. For their wedding anniversary we sent over a pair of baby Vans in the same style," says Ma. "Trace back this fuzzy feeling — and program — and you'll get back to our practice of getting the good and bad from customers via NPS surveys. We learn so much from them, especially from the detractors. Don't neglect them or freak out when you hear one piece of negative feedback. Pay attention and say thank you. They're often the conduit to a better product, and with each of their comments, they'll bring your offering into clearer focus."
Photography courtesy of Zola.