"We care about diversity but we want to make sure we're not lowering the bar, right?"
"If I had a nickel for each time I heard a variation of this pushback on diversity and hiring, I think I'd be a billionaire. That aside, it's just a garbage question," says Aubrey Blanche, the Global Head of Diversity & Belonging at Atlassian. Not one to mince words, Blanche shares her take on how to tackle this common refrain: "My response is always no, I'm actually asking you to raise the bar. A lack of diversity is the first indication that a company isn't a meritocracy. So really, the joke's on you because you've already lowered the bar without realizing it."
And when it comes to raising standards, Blanche knows what she's talking about. Under her leadership Atlassian was able to boost its female technical hires by 80% — and they haven't stopped there. In 2017, one third of Atlassian's technical interns were Black or Latinx. The company also saw a 25% increase over the last two years in employees over the age of 40. A full 13.1% of Atlassian's technical employees now identify as members of underrepresented racial and ethnic groups. And the company has been able to maintain its representation of people of color across the organization as it has nearly tripled in size.
But Blanche is on a mission to raise the bar for D&I not only at Atlassian, but across the tech industry as a whole, challenging leaders and teams everywhere to step up their game. Inspired by her talk at First Round's Founders Summit, here she shares Atlassian's playbook for making meaningful advances on D&I, highlighting the challenges in this evolving field and walking through eight specific strategies for startups looking to join her at that higher bar.
STOCKPILES OF CARING YET A SHORTAGE OF ACTION
For the past several years, D&I has been a hot topic of conversation in the tech world. From the #FoundersForChange and #MeToo movements to the discussions around pay equity and the slew of corporate diversity reports coming out, it's front and center in the industry's spotlight.
"D&I is sort of trendy these days. I think people used to think the entire speciality was kumbaya and drum circles, but now it's gaining a lot more credibility and becoming more widespread," says Blanche. "In fact, Atlassian's recent 2018 State of Diversity in US Tech report showed that around 80% of people say they care about D&I. But the flip side to more people caring is that when progress is frustratingly slow, more people take notice and get discouraged."
That same Atlassian report found that D&I efforts have stalled. There was an almost 50% decrease in individual participation in diversity initiatives year-over-year. Meanwhile, adoption of company-wide initiatives in the US stayed flat, while Silicon Valley companies actually registered fewer formal D&I programs than last year. Meanwhile, less than 30% of underrepresented groups reported having a sense of belonging, representation and high levels of retention at their respective companies.
According to Blanche, there are a few reasons behind the strange combination of the uptick in awareness around D&I and the stagnation when it comes to taking action:
Tired out. "Diversity fatigue is real," says Blanche. "The topic is everywhere and people are tired of talking about it. And much like compassion fatigue, caring hurts. You get frustrated by all this discussion not turning into meaningful action. It's a fight that takes resources and energy, and it's hard to stay committed when you're barely seeing results. That's when you see interest and passionate advocacy getting slowly transformed into passivity and tuning out."
Overwhelmed by complexity. The sheer number of issues that need to be addressed is daunting. From sexism and racism to ableism and ageism, the fight for D&I is a battle on many fronts. Matters can be complicated further by internal disagreements over what to focus on. "Trying to address them all at once is obviously not a recipe for success, but people don't know where to start. And the feeling that you can't make an impact as just one person or one company can lead you to stop taking action altogether," she says.
Engaged in the wrong conversations. According to Blanche, when it comes to discussing D&I, we're setting ourselves up to be disappointed. "We're worried about representation and neglecting distribution. We're over-indexing on getting underrepresented individuals in the door and under-indexing on including them once they're here. But most of all, we don't really have a shared understanding of what D&I even means," she says. "People have really strong, often negative reactions to these words. We recently did an anonymous survey, and one of our employees said: 'I'm a white man, and I always feel like I'm on the wrong side of diversity.' But there's no right or wrong side. I read that comment as a fundamental misunderstanding of where we're going and the definitions that we're using. If we didn't have any white men at Atlassian, we'd have the same problem in reverse. They need to stay here, I just want to bring more people on board."
Given these obstacles, it's easy to feel a little discouraged or hesitant to take on D&I initiatives. And while confidence in the industry's ability to solve these thorny, systemic issues may not be at a high, for Blanche, this is all the more reason for startups to double down on their D&I efforts. "Good investors know that investing in a down market is the way you want to play it," she says. "But in all seriousness, it's important for companies to realize that it's not enough to just care about D&I. Without dedicating time and intention, you're only reinforcing the pattern of mediocrity in the industry. You can passively comply with inequality or you can take action."
Caring without action isn't caring. It's complicity in lowering the bar.
For startups looking to move past simply talking about D&I, here are eight strategies from Blanche's experiences at Atlassian to help make sure caring deeply is coupled with acting quickly.
1. DON'T JUST JUMP ON THE BANDWAGON — FIGURE OUT YOUR WHY
Before a startup does anything on the D&I front, a deeper examination of motives and goals is required. "You need to know why D&I initiatives are critical for your business. If your answer is 'I don't want my company to implode from a scandal,' that's not good enough. You need to find something aspirational," she says. "You don't start building a product if you don't know your why. Diversity is not a box to check off."
For the team that doesn't know where to start, there's the more obvious, research-backed truth that diversity drives value. "From the use of male-sized crash dummies during the testing of airbags to the issues for people of color in Google's facial recognition software, there's overwhelming evidence that if you don't have diversity on your team, you're going to miss something," says Blanche. "That's because balanced teams are better at problem identification. They see more problems, they hold each other more to account and they're also a lot more uncomfortable and challenging, but that's what pushes us to be great."
But to go beyond a general passion for social justice or the chance to drive shareholder value, teams looking to find a more specific why can connect D&I efforts back to the company mission. "At Atlassian, our mission is to unleash the potential of every team. And to state the obvious, the teams that we serve around the world are really diverse. So we can't serve our customers and sell them amazing solutions if we can't figure that out on the inside first," says Blanche. "We need to look like the teams we're serving. We have to get it right if we're serious about achieving our company mission."
The next step is to infuse that driving force into D&I goals. "International diversity matters a lot at Atlassian. We're an Australian company, based in Sydney," says Blanche. "So our long-term goal is to have each of our offices reflect the diversity of the communities we're in. And that looks different in different places. For example, when I first joined and I started talking about supporting the Latinx community, I had a lot of puzzled Australians staring back at me, because that's not a community or even a term that they're super familiar with. So for us, it needs to translate globally. As another example, Intel's goal is to hire, retain and advance underrepresented groups at market availability. At a surface level, it may seem confusing for companies to have different D&I goals, as though it's this messy movement where we're not on the same page about what we're trying to achieve. But I would argue that all companies are different so their goals should be different."
You can't have a cookie-cutter approach to D&I, it's not a one-size-fits-all situation.
2. THROW SPAGHETTI TO MAKE SMALL TWEAKS
At the core of Blanche's approach to solving for D&I is the thesis that exclusion, discrimination and harassment in the industry is a systematic problem, which means a data-informed, systematic approach is required to interrupt it. "There's not one training or a single program — there's no silver bullet. This is a 10- to 20-year problem, you can't solve structural racism by throwing together a year-long program with a few targets," says Blanche. "It's about taking a step back to rethink how you engage with your people and how you respond to their experiences."
When she first joined Atlassian three years ago, Blanche's hunch was that a system based on using research to make little tweaks to what the company was doing could change outcomes in really big ways. As a former political science researcher, this instinct is deeply ingrained. "I don't know how to solve problems without Google Scholar," she laughs. "Remember that while best practices and research are starting points, they may not work for you. When I was interviewing at Atlassian they asked me if I knew all the best practices. And I said, 'I know what they are supposed to be. But I'm going to throw empirically-validated spaghetti at the wall and see what sticks.' And they hired me anyways."
Blanche applied this approach to removing biased outcomes from the end-of-year review process. "When I joined, individuals would write their own reviews, and give them to their managers and then managers would do an evaluation. But we saw that women's ratings were skewing slightly lower. And that's because there are a few things wrong with this process," says Blanche. "Research points to a confidence gap for women, as well as a potential anchoring bias for the managers. So relying on the research, we compressed that cycle, changing it so that individuals and managers had to write their reviews at the same time. And it actually changed the distribution of ratings at Atlassian, so we were able to correct the problem."
3. CHECK — AND MAP — YOUR PRIVILEGE
To further the impact of D&I efforts, take the time to explore the advantages that current team members have that may not be extended to others. "To be a good ally, you need to understand what got you here, what you earned and what you didn't. Think about what you have and what you can deploy for other people," she says. "Or at the very least, think about how you're making unconscious assumptions about what it means to be 'qualified' for a role and whether they actually map onto capabilities."
As an example of how to approach this mental exercise, Blanche recommends an insightful Medium post from Jason Ford, an Austin-based entrepreneur who mapped his privilege in great detail. But she also shares her own story: "I'm a Mexican-American woman, but you wouldn't know that from looking at my face — I don't get confused for the janitorial staff at work," she says. "Furthermore, I was adopted by a middle class White family when I was three. That meant I had the money to go to Northwestern, which got me into Stanford, which got me into fancy tech jobs. So I didn't exactly earn all my achievements, even though I worked really hard."
Mapping your privilege means recognizing that talent and potential are equally distributed, but opportunity is not.
But for Blanche, this isn't cause for getting upset with more privileged colleagues who aren't immediately on board with D&I work. "This is a really emotional issue. If you're already in Silicon Valley, and you've built your whole career on the belief that everything you've achieved is due to your own hard work and brilliance, it's almost an attack on yourself to accept the idea that you have some advantages that have nothing to do with your own abilities," says Blanche. "And while it may be easy to minimize that, it's incredibly important to have empathy for these people. It must be a somewhat terrifying feeling. Mapping your privilege is emotional labor, going through it can be like moving through the stages of grief. But it's okay to say 'I worked hard, I'm smart, but I also know that I benefited from these pretty messed up systems.' All of those things can be true at once — you just have to reconcile that in your own mind."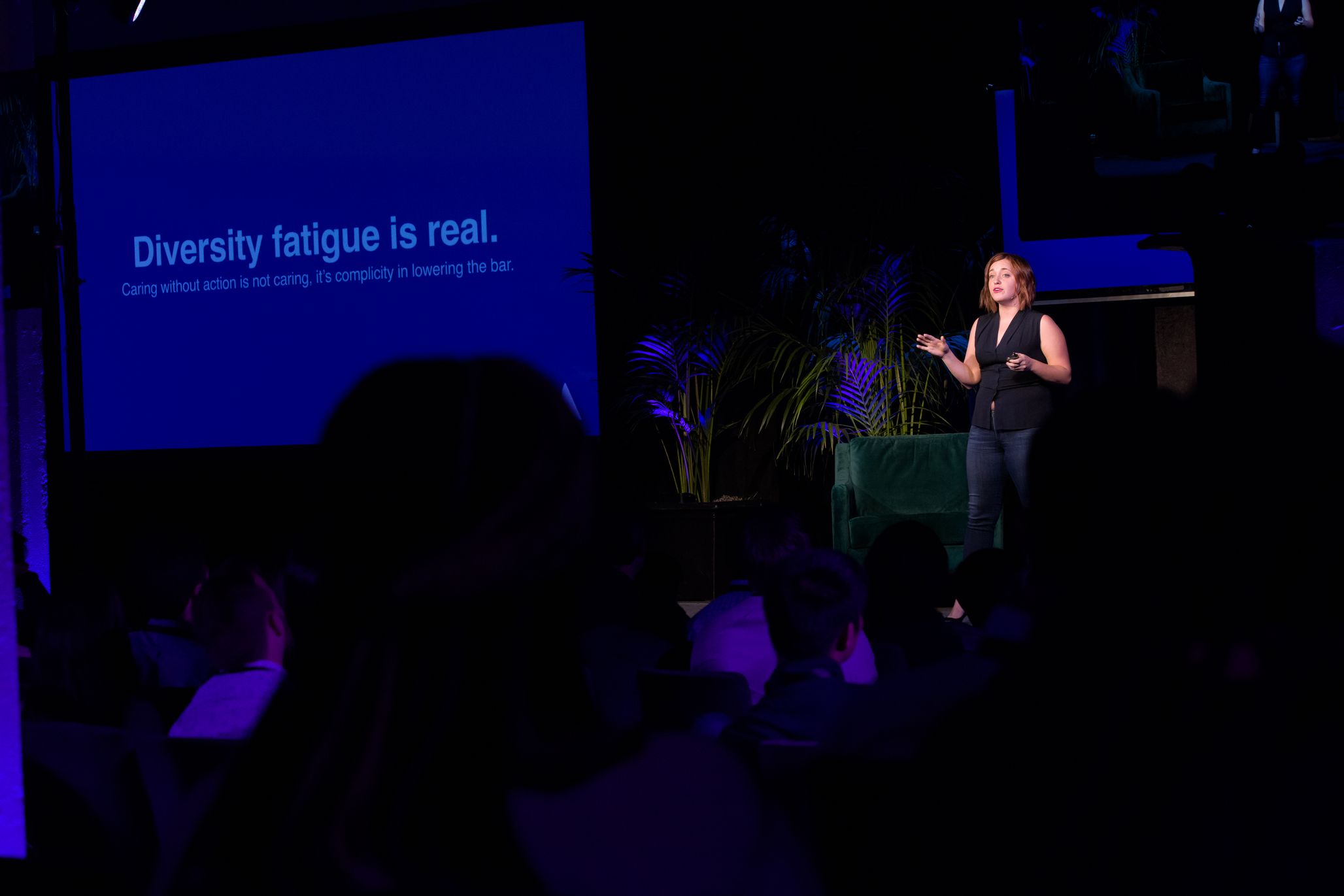 4. DIVE DOWN TO THE TEAM LEVEL
Reporting is becoming increasingly important in the D&I field. But for Blanche, the industry needs to change how it approaches data by looking at the diversity of teams, not just the company as a whole. Here are the issues she sees with reporting at the company level:
Representation without distribution. "Corporate level aggregate reports don't actually measure diversity — they measure representation. It doesn't matter if 30% of your company is made up of women if they're all in marketing or HR and the men are in engineering," says Blanche. "What matters is that each team is diverse, that underrepresented groups are distributed across the company, not stuck in stereotypical silos. That's because the team level is where you're really going to feel the impact of diversity. You need to be experiencing a diversity of perspectives in your day-to-day work to make better decisions and arrive at better outcomes."
Not sensitive enough to see the needle move. Corporate level aggregates are also not sensitive enough to measure year-over-year change. "If you're a more mature company like Salesforce, you would actually have do something pretty illegal to move your representation of Black employees one percentage point in a year, based on the employee size and the sheer number of open roles they have at any one time," says Blanche. "So when you see those 'Google barely makes any progress on diversity' headlines you need to remember that the numbers are moving in the right direction, but it's just going to be very slow at the company level. That cut of data is not sophisticated enough to capture what's happening beneath the surface. For example, if you take a look at our latest report at Atlassian, you would see that we improved our hiring of women across levels and functions and we maintained our representation of people of color across the organization while we nearly tripled in size. And no one is going to stand up and cheer for maintaining current levels. But because we look deeper, you'll also see that on the average engineering team, there were more people of color than there had been a year ago. So that means that more people are having the experience of working with colleagues who are different than themselves. It's hard to feel like that's progress, but it is."
Comparison among companies is messy. When the focus is only on company-wide metrics, it makes it hard to see how a startup is tracking against others. "There's no apples to apples there. Moving up one percentage point at Google versus at Slack are wildly different things, simply because we're talking about a very different number of humans," says Blanche. "Or if you look at a company such as Yelp or LinkedIn, about 70% of their staff is in sales. So they will be competing in a very different talent market than Atlassian, which is mostly R&D and engineering out of Sydney. It's a very different set of challenges, so a company to company comparison isn't incredibly informative for me. Instead, I want to look at an Atlassian engineering team and see how similarly sized engineering teams are doing at Twitter or at Facebook. It's all about being able to compare units of the same size. And the size of a team is pretty consistent across organizations, averaging six to 12 people, so that makes it easier to glean insights."
The next step is to use these team level insights to affect change in meaningful ways. "At the company level, we saw that 14.6% of technical employees were women in 2017. But when I looked at the team cut of the data, I saw that across all of our smaller teams developing software, two-thirds of them had only one woman. From that insight, we realized that they were probably feeling pretty isolated from being distributed so broadly," says Blanche. "So we created groups and programs for women to connect across teams. For example, we started a coffee date program, where you would get assigned to have coffee with another woman in the office every few weeks. There's no agenda, no expectations, it's just a way for you to create organic connections and sense of community that may not happen in your everyday work. We also started these mentoring rings, which are eight to 12 person peer mentoring initiatives that run for six to 12 weeks. It's a more structured approach centered on getting women the insights they need to advance."
No matter which datasets you're looking at, however, even a self-proclaimed recovering social scientist such as Blanche believes it's important to recognize that data is a double-edged sword. "When we focus so much on the numbers, it can stand in the way of progress. Focusing on recruiting is solving a symptom, not tackling the root cause or the source," says Blanche. "I heard this analogy somewhere that really resonated with me: If the canary in the coal mine stopped singing, the miners' response wasn't to throw 50 more canaries down there. It was to realize that the environment wasn't safe. By focusing only on the numbers, we're not asking companies to do the hard work of changing their culture to be more inclusive."
Most company-wide aggregate stats don't actually measure diversity — they measure representation. It doesn't matter if 30% of your company is women if they're all in HR, and the men are in engineering.
5. UNPACK INTERSECTIONALITY
For Blanche, it's also important to avoid the trap of thinking that diversity equals women. "I think we've all seen this. A leadership team says 'Oh shit, we're not very diverse,' so they rush to put a woman on the board. And I get it, it sounds really easy to start there," she says. "But the fact is that when you start with the notion that diversity equals women what you actually mean is diversity equals straight, White, cisgender and economically privileged women, because that's what ends up happening. And obviously not all of us are all or any of those things."
Instead, start talking about axes of diversity that move past gender. It's a great way to turn what could be an "us versus them" conversation into a discussion about "we," where everyone feels included. This is why Blanche spends a lot of her time talking about intersectionality and the importance of highlighting invisible or layered identities.
"Intersectionality sounds like this big fancy word, but what it really means is that we all have layers. We all contain multitudes so we need to embrace that," Blanche explains. "Women isn't some blanket group. It's incredibly diverse. When you focus on gender parity only, that leads to the erasure of queer women, people of color, those with disabilities, veterans, you name it." And Blanche knows this firsthand. "You might look at me and just see a woman," she says. "But I'm also Latina and mixed race. And I came out as bisexual in college. I have long-term disabilities. So I get what it means to have an invisible disadvantage or have a layer of my identity ignored."
So Blanche is making a concerted effort to shine the spotlight on other groups at Atlassian. "It might actually be folks who have autism and have different needs in the way that collaborate with their teammates. Or maybe it's looking at age. We've seen a significant increase in the number of Atlassians who are joining us who are over 40, another group that isn't always given the resources they need to succeed in our industry," she says. "If you're not sure what to do in this area, my advice is to hire a Black woman. I mean this totally seriously. A Black woman's experiences in your company are the best litmus test of what your culture is."
6. BRING MORE PRECISION TO YOUR RECRUITING EFFORTS
A lack of diversity often stems from the inherent bias that lurks within a startup's recruiting process. By improving the tools to identify it and mitigate it, leaders can make more progress on the quest to stamp it out.
At Atlassian, Blanche and her colleagues worked to standardize how they interviewed and evaluated candidates, making sure everyone was assessed against the same technical bar. They also got rid of the practice of looking for "culture fit" by focusing on values instead. "I'm totally allergic to this concept of culture fit. It's actually just an intractable morass of unconscious bias," says Blanche. "Whenever you hear that someone is a culture fit, just push back a little bit to find out why. Because usually you get some form of 'Um, he rowed crew?' as a response. And liking the same beer or going to the same school is not the same thing as culture, and it certainly has nothing to do with job qualifications."
To go even deeper, Atlassian used these three additional tactics:
Recognize that unconscious bias requires mitigation, not just training.
A huge issue in the evaluation process is unconscious bias, which Blanche describes as a set of patterns in human decision-making that comes from the ways we neurologically process information. "That's incredibly boring," she admits. "But what it really means is that when we encounter folks from unexpected or atypical backgrounds, we're not very good at evaluating them."
As a remedy, Blanche recommends action-oriented training sessions to help interviewers interrupt their own biases. "We rolled out an actionable specific unconscious bias training to our hiring community that was designed to give them behavioral strategies they could use to become more objective evaluators," she says. "The goal was for them understand that any evaluation will be subjective, but it's about being more conscious of that throughout the process."
But it's not as easy as holding a single training session, which many companies seem to be doing these days. "If you think that training alone will solve this, please don't roll it out. You need a comprehensive bias mitigation program to really help," says Blanche. "If you're not sure where to start, Project Include has fantastic resources."
Don't pay some fancy consultant to do unconscious bias training if you think it will fix people's brains. That's not how neuroscience works.
Take the time, not the easy shortcut.
Blanche often hears another kind of refrain as pushback against D&I efforts: "We're growing so fast, we don't have the time to look for underrepresented candidates. If a White male engineer comes in, we're going to grab him because we just want someone who is good at coding."
But for Blanche, it's a really poor way to think about hiring, especially for early-stage companies. "If you're only looking at filling technical skills in the short-term, then you're actually doing your company a disservice. The marginal add of one person fundamentally changes the culture, and when you're working in high-risk, high-reward situations, making a shitty hire is both expensive and dangerous — it could literally kill your company," she says. "You need to see if that person can grow in the role at the same rate your company is growing. Because if the answer is no, then you've just hired a very expensive deadweight. It will cost you over time because getting rid of people is expensive. There's the cost of rehiring but there's also the second-order effects of causing other people to leave or depressing engagement. You can find underrepresented people with the right skills. It does take time, but it's worth it."
Spot skills in non-linear experiences.
"When you look at candidates and think you can't hire someone for a product manager role because they don't have any product management experience, that's a problem," Blanche says. "People don't have career paths, they have growth paths. We need to get better at thinking for others about what useful skills they've gained from unusual, non-linear experiences. So at Atlassian, we try to get at those behaviors during the interview process in a way that's agnostic to your background. Maybe you got your project management skills from a previous role or maybe you got it from coaching and organizing your kid's soccer team."
7. REVAMP JDS AND SOURCING TO GET A RANGE OF APPLICANTS IN THE FUNNEL
But even with the right recruiting tools and interview system in place, it's all meaningless if underrepresented candidates aren't applying to open jobs in the first place. This is something Blanche ran up against at Atlassian.
"In 2015, we had put all this work into redesigning our recruiting process for our graduate program and when we opened up the job applications, we received zero female applicants in the first few weeks the application was live. It was a big 'Oh no' kind of moment for us, because it's hard to hire people who don't apply," says Blanche. Realizing that Atlassian wasn't attracting a balanced set of candidates in the first place, their recruiting team worked to update their external branding and leaned on the network they had built with local groups and communities to balance their candidate pool. But beyond that, here are three more advanced techniques she used to help broaden the applicant pool:
Spell out your commitment to fair hiring practices.
Blanche is an evangelist for Textio, the augmented writing platform that gives real time feedback about both the gender balance as well as the overall impact of job ads. And the tool's data shows that job listings with strong equal opportunity language fill 10% faster on average across all demographic groups.
"What we found at Atlassian was that adding an equal employment opportunity (EEO) statement to our job ads both improved the balance of our candidate pipelines as well as actual candidate quality," says Blanche. "But was even more interesting was what we found on a global scale. We tend to think of equal opportunity language as an American thing, because it stems from the Civil Rights Act. But Textio's data and our experiences have shown that EEO statements work even better outside the US than inside of it."
But a perfunctory statement isn't enough. "Textio found that using the bare minimum EEO statement saw worse hiring results than jobs that didn't even have one," notes Blanche. "You have to customize it and call out that it's a priority, in your brand language. It can literally be as simple as writing 'We encourage people from underrepresented groups to apply,' on your job ads. That really works."
Avoid cliches like the plague.
Certain words and tired phrases have become so embedded in tech jargon that they've lost all meaning. But they can also send up red flags.
"Cliches such as 'rockstars' and 'ninjas' are words that signal a male-dominated culture. Using highly corporate language is often a signal to people of color that they won't thrive, because that language was developed in predominantly White, male spaces," Blanche says. "Get rid of it, say what you mean and be specific."
Here are some examples of cliches startups need to look out for:
Drives results. What kind of results? Aggressive, flashy ones or thoughtful, meaningful change?
Stakeholders or buy-in. If someone is reporting to their stakeholders, who are those stakeholders? Why not "agreement"?
Work hard, play hard. What if a fantastic applicant has outside responsibilities, or is seeking work-life balance and sustainable impact at your company?
"A big part of this is just being more thoughtful about the word choices you make. There are incredibly subtle language differences. For example, when you describe a position as managing a team, you increase the number of male applicants. For developing a team, it increases the number of female applicants. But leading a team is more gender neutral, helping you get the largest, most balanced and most qualified set of applicants for your open role. Of course you're actually doing all three, but how you message it changes the outcomes you get," says Blanche. "An added bonus I've seen is that members of our hiring teams are becoming more aware of the impact that their language has. So it's not just about fixing the short-term hiring piece, but it's making folks more conscious of the words they use every day."
Get creative (and do some gentle stalking).
Outside of choosing the right words, Blanche also credits her self-described "weird" sourcing tactics as a secret weapon of sorts. In her role at Atlassian, she actively seeks out underrepresented groups and encourages them to apply.
"I've followed hashtags on Twitter that are associated with underrepresented people in tech and I tweet job ads at those participating in them. It sounds weird, but I'm completely serious. I say 'Hi, you look like a great UX designer and we have these three open roles that you should take a look at,'" she says. "I've also gone on Amazon and looked at the technology books, read the reviews and tried to find out who wrote them, because women tend to write more reviews than men do. No one's going to write a review of a Node.js book unless they know what they're talking about."
8. REMEMBER WHAT THE "I" STANDS FOR
"I'm forever reminding people that I have an ampersand in my title," Blanche says. "Tech companies put out diversity reports, not inclusion or belonging reports. And that's because subjective feelings like belonging seem harder to measure. People like to focus on diversity because there's numbers and spreadsheets — things people are comfortable with. They're less comfortable with the more squishy notions around what it means to feel like you belong," she says.
Blanche offers three tips to put the focus back on belonging:
Explain it in reverse. "I've found is that people actually understand the concept of exclusion better," Blanche says. "Everyone's had a time in their life when they've felt that they didn't belong in a space, whether it was not getting picked for kickball or being sexually harassed. So when you take people on that journey, when you explain that you just want people to stop feeling that, then everyone gets it."
Measure belonging. Blanche points to a survey from Culture Amp and Paradigm as the best example to look to right now, with a battery of potential questions startups could ask around inclusion. "The number one predictor is the response to this question: 'I feel like I belong at my company,'" she says. "And at Atlassian, we're finding that specifically the feeling of belonging on your team is what matters. By asking about that along with other questions on job seeking behavior, we're able better understand our six and twelve month attrition rates so we can stop it before it happens."
Focus on retention. The importance of retaining the underrepresented individuals you already have can't be overstated. "Companies invest a lot in the external branding piece of D&I, but that needs to be coupled with making sure the folks who are already in your organization are brand advocates. The whisper network is real and it has a huge impact," Blanche says. "Creating a great environment is an incredible recruiting tool that's often underutilized. Make everyone want to stay and eager to recruit others. When you've built a culture where people want to be, you can get an overshare of that underrepresented talent."
LOOKING AHEAD AND BRACING FOR IMPACT
With Blanche's leadership and significant investment from teams across the company, Atlassian has been able to raise the bar for D&I by fighting back against fatigue and taking action to turn goodwill into real results. For the startup looking to follow in their footsteps, first identify the unique and aspirational "why" that drives your own D&I efforts. Next, start experimenting with small tweaks, such as adjusting the end-of-year review process flow. Encourage everyone on your team to take on the hard work of mapping their privilege and start slicing data at the team level for deeper insights. Be sure to embrace intersectionality by highlighting hidden identities. Consider redesigning your recruiting to mitigate unconscious bias and optimize for experiences, not just skills or filling the role quickly. Fine tune your messaging to remove cliches, emphasize equal opportunity and get creative with outreach to underrepresented communities. Finally, make sure you don't forget about belonging. Find new ways to measure it and focus on retaining the underrepresented individuals you already have.
For Blanche, the key learning is even simpler. "At the end of the day diversity is just about hiring and retaining well," she says. "The thing that I love most about what we've done is that we were really clear with our hiring community that we just wanted them to hire the right people. We didn't need a quota, yet they were able to hire a much more balanced group of Atlassians. Ultimately, our job is to help design a recruiting process that is as efficient and objective as possible. If we succeed at that, we'll get diversity on the other side. There's this myth that you have to lower the bar, when in reality, diversity is the hard-won result of holding yourself to the highest standards possible."
And while there is no shortage of obstacles in her way, Blanche is optimistic that the future is bright. "There's been a fundamental sea change. Companies are now starting earlier than ever. Asana hired a head of D&I when they were only a few hundred people, but a decade ago it was almost unheard of to bring someone in before you hit 10,000," she says. "But most of all, the potential for impact is enormous. There's an incredible opportunity to create an industry that's more reflective of the rest of the world, which is important because who we are so deeply affects the products we build, which the entire world uses. Even though we're at the beginning of our journey and it's easier to wish we were further along, we're dedicated to doing our part to move the industry forward. There's so much room to make a mark on this space, and that's exciting."