David Spinks is exactly the sort of person many startup leaders could use in their corner right now. As a repeat founder, he bootstrapped CMX (a network for community professionals that offers support and education) until it was acquired by Bevy (a community platform powering event programs for companies like Salesforce, Atlassian and Duolingo). Now in his role as the software provider's VP of Community, Spinks is building on more than a decade spent advising hundreds of organizations on community strategy. His sweet spot? Partnering with founders and community builders as they look to scale that intangible magic of getting groups together — while making an impact on the bottom line.
But in these tumultuous times, even the pros are struggling to find stable footing. Take his largest event, CMX Summit, which brings together over 1,000 attendees each year. "2020's summit is still in flux, to say the least. It's scheduled for October, but I don't think anyone can tell you what to expect that far out right now," says Spinks. "Like all the founders, marketers, event organizers and community builders across the country, we're in this suspended state, pausing offline efforts while we work to bring events online as quickly as we can."
In recent weeks, he and his team have shifted into high gear to lend a helping hand to others facing a similar task. They've rolled out a command center with COVID-19 info for community professionals, put out excellent resources and of course, started hosting virtual meetups of their own. "Everyone, even community experts, are still in the 'figuring it out' stage," says Spinks. "Some, of course, have been doing virtual events already, but it wasn't their core strategy so it's still a big shift."
As he sees it, there are two distinct groups that need help right now. There are companies who have already been building online community spaces, and those who are doing it for the first time now. That's why the first question to ask is this: What point are you starting from?
"There are lots of companies that have been building virtual communities for a long time, using online forums and groups as a place to gather online. Those spaces are blowing up right now and getting a ton of traffic as everyone is spending more time gathering online. So the challenge for these companies is managing the influx of activity while shifting their in-person community events online, as most didn't have a robust program for virtual events in place," says Spinks. "The startups in the other group are starting from scratch right now and thinking 'Crap. Our typical sales and marketing channels are drying up, our trade shows are getting canceled. We've got to figure online events out, fast.' But it's not as simple as just hosting a webinar. There's a lot more to a virtual event than that."
In this exclusive interview, Spinks delves into useful strategies for startup leaders in each of those camps. He also shares targeted tactics for making the virtual discussions format more valuable, from the tools to use to the techniques that will help you encourage engaging conversation. Whether you're tasked with energizing your existing community, pivoting your company's event programming, scrambling to spin it all up for the first time — or just trying to hold a really great virtual happy hour — Spinks offers a wealth of wisdom drawn from over a decade spent deepening the moat of community.
STRATEGIES FOR SHIFTING YOUR EXISTING EFFORTS ONLINE:
For those that already have a robust community strategy in place. How can you adjust as you shift from IRL to online?
"From a community manager standpoint, you're probably thinking, 'Engagement is super high right now. Our community is coming together in these really special ways. We just need to figure out how to rev this up, keep supporting our community, and then come up with creative ideas and new formats to bring them together virtually,'" says Spinks.
The biggest shift in strategy or tactics for existing community programs is the offline to online move for events specifically. "This is especially true if they were leaning heavily on an in-person component of their program, which most were. For example, our recent industry trends report at CMX found that 60% of companies were doing both online and offline events. Obviously that mix is changing for now," he says. "Previously, it was really difficult to get someone to sit there for a whole day attending a virtual event from their office. But now there's this perfect storm of companies having no choice but to go virtual, and everyone being stuck at home, online and looking for ways to stay engaged and learn. That's making virtual events work really well right now. Most folks are seeing through-the-roof engagement. The jury's still out though on whether virtual events will work as well after the dust settles."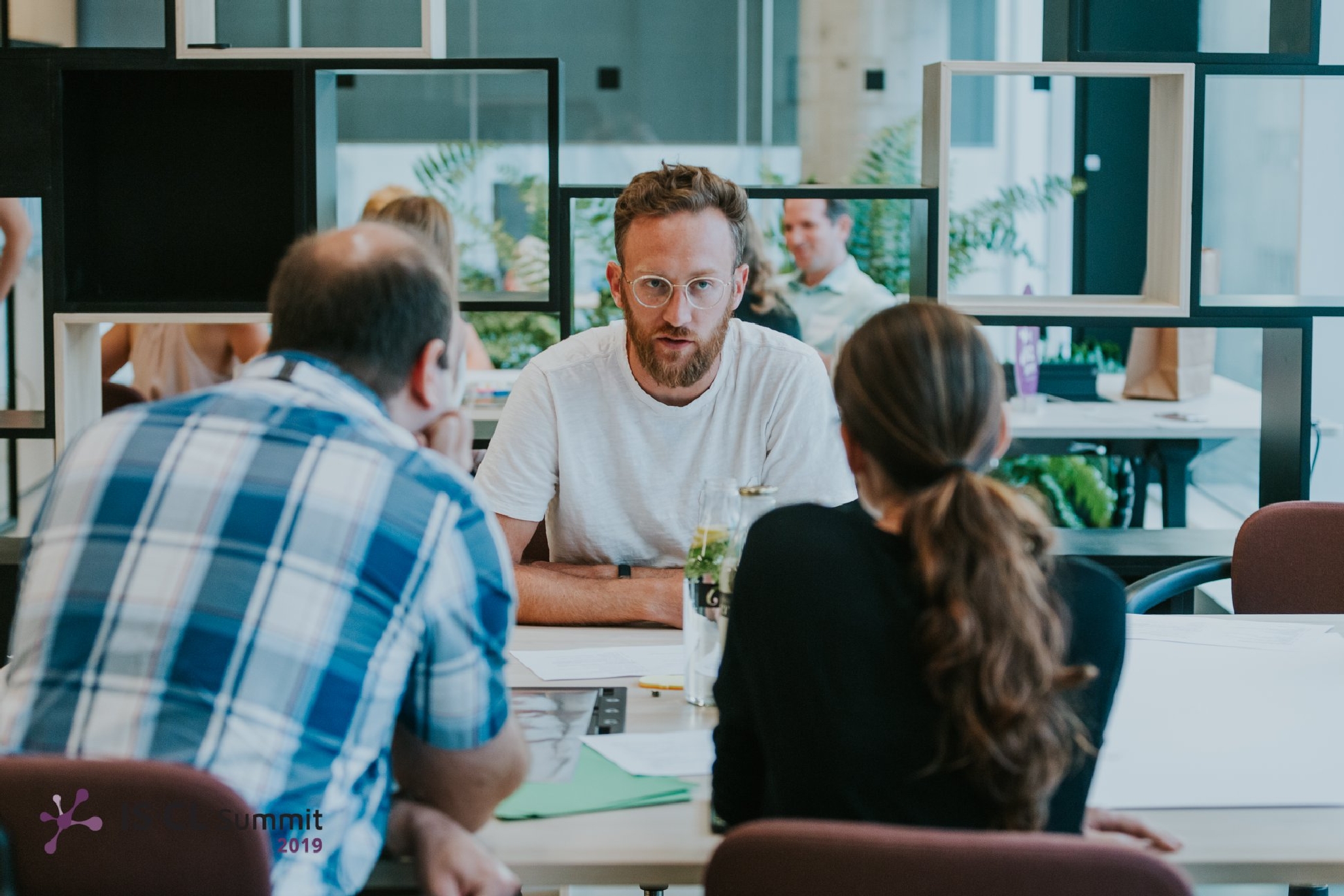 That uncertainty over whether this shift is fleeting or more permanent can be unsettling for those whose very careers are centered around the value of getting people together in person. "At the very least, in-person events seem to be on hold for the next few months. So pausing conferences and meetups, until at least the fall, is advisable. While this is a really difficult time for a lot of community teams and event organizers, you can also look at this as an opportunity to sharpen your virtual event chops," says Spinks. "You won't be able to fully replicate the experience of in-person. Virtual just won't have the same feeling as getting together in real life. But you can hit a lot of the same value points of in-person events and lean into some of the unique advantages of virtual gatherings."
The best community programs have always been a hybrid of online and offline. So if you've been all offline up until now, see the opportunity — you'll have a more balanced program when the dust settles.
Here are several specific tactics Spinks himself is leaning on right now:
Experiment with different formats. "You don't need to organize a massive virtual conference to get people together. Start with a simple discussion group on Zoom and see how that goes. Try hosting an Icebreaker speed networking session. Do a single talk and Q&A," says Spinks. If you do want to go big, lean on others to bring the content. "We're trying this at CMX now. Instead of the workload to coordinate 20 small virtual webinars, we can have one event with 20 speakers and make it a big, collaborative event with our community," he says.
Move quickly. "Everyone's going to be organizing virtual conferences over the next six months. There will be more competition for attention than ever before. You don't need the same kind of lead time to organize an online event that you do for an in-person event," says Spinks. "As long as your speakers have enough time to prepare, and you have enough time to promote it, you're good.
Keep all the elements of your event experience in one place. "If you use multiple platforms that people have to find links for and log into, you'll quickly lose engagement," he says. "For bigger conferences, there are tools like Hopin, Airmeet and Vfairs to name a few, that keep everything from 'main stage keynotes' to breakout sessions and discussion groups in one place."
Connect local communities. "If you have local organizers who were hosting local events, we're seeing that many of those local organizers can switch to virtual events as well. All of Bevy's customers have been running local user group programs, and are switching to virtual," says Spinks. "Then you can list out all the virtual events that are happening on one page so the community can join dozens of virtual experiences every week."
See what resonates with your audience and if it works, keep doing it. Don't be afraid to make mistakes right now with virtual events — the bar isn't very high.
PRINCIPLES FOR GETTING YOUR VIRTUAL COMMUNITY & EVENT GAME OFF THE GROUND:
For those jumping into virtual events and online community building for the first time. Where should you get started? Spinks offers five principles for you to keep in mind as your rev up your online event engine.
1. Don't be afraid to swing for the fences.
"A mistake I often see with folks who are just getting started is that sometimes they just don't take a big enough swing at it. They launch a group, invite some people, post a couple times — and then lament the fact that they're seeing no engagement. Communities form when people see an experience that's exciting to participate in, either because the content is great, the people are high quality, or it's well produced. So if you don't make your community exciting, it's going to be hard to get off the ground."
Spinks gets more specific on how you can gain altitude:
If you're a company with an established product that a lot of people use and love, then it's relatively easy to create a space for those customers to come together and chat. "They're excited enough about your product that they will want to talk to other customers to learn, improve how they use the product, and share their experiences," says Spinks. "When you put more time and effort into organizing a high-quality experience for your community, your members see that and feel more special. That will make them more likely to want to contribute."
If you don't have a lot of customers yet, then your product probably shouldn't be the "common interest" of the community, because people aren't taken by it yet. "Make the common interest focused on a broader topic that will be relevant to the customers you want to reach. For example, Culture Amp hosts the 'Culture First' community for people ops professionals. Branch hosts the 'Mobile Growth' community for people working in growing mobile apps and businesses," says Spinks. "Neither communities are primarily focused on the product, they're focused on the topic at large. Now they have products that people love too, but they started with community while their product was still early-stage."
2. You're growing a tree, not building a house.
Another misstep Spinks often sees is a tendency to overthink the program — and letting that prevent you from getting started. "You don't need a big group to start a community, and you don't need to have a fully-fleshed out community engagement plan to start hosting events. Just start gathering, learning and iterating," says Spinks. "Growing a community is more like growing a tree than building a house. You don't need to have blueprints for what it will all look like from day one. Just start bringing people together and over time your community will organically find its form. So even if you don't feel 'ready,' it's never too early to start building your community. It will become an invaluable asset to your company in the long run, but it does take time to build up. And right now speed is important. So start now."
If you're feeling overwhelmed, don't sweat it. Just start hosting. You'll pick up on many of these tips organically by just getting your reps in. The truth is, when you bring the right group of people together into a shared space, with the right purpose, it's almost impossible for magic to not happen.
You can make that start by taking small steps. "Kick off that Slack group or host a Zoom call and see how it goes, that's a fine place to start. It's often better to start with a tool that people are already using and familiar with anyway. If people love it, keep growing. If they don't, try something else," he says. "You don't need anything fancy to get an online community spun up, but if you want something more comprehensive as far as tooling, you can look at Mighty Networks and Discourse, which can both get spun up more quickly. If you do want to have something more customizable and comprehensive, you can look into enterprise platforms like Khoros, Higher Logic, Vanilla and Tribe. There are so many options out there."
Tooling aside, Spinks emphasizes that you just want to get people talking to each other right now and make sure they have a space to do that. Here are some ideas for virtual events you can get started with:
Discussion groups and roundtables: Smaller groups of 10 or fewer where you facilitate a discussion. "There's no speaker, it's all about learning from each other. If you have a larger group, you can use breakouts. Most virtual event tools have breakout features, Zoom included," says Spinks.
Speakers and webinars: Find speakers and experts to give a talk or do an interview, and let people sign up to watch it live. "Simple webinars can work well, or you can use a more comprehensive virtual event tool to provide additional chat and interaction functionality around the stream," he says.
Speed networking: Use tools such as Icebreaker.video to have lots of quick 1:1 calls among community members.
Collaboration and brainstorming: Use virtual whiteboards and collaboration tools to run an online hackathon or brainstorming session.
Shared experiences: "People are organizing meetups, dance parties, music festivals, singing circles and all kinds of different virtual experiences right now. Get creative," says Spinks.
Virtual conference: Combine multiple experiences and host a full event with speakers, discussion groups, networking and fun experiences.
3. Focus on first principles instead of exporting your offline event strategy.
A virtual certainty in these uncertain times we're living through is that most startups are now in the same boat — and attempting to shift their strategies in similar ways. In an era when everyone's suddenly ramping up online events and trying to cultivate community, how can you cut through the noise and stay relevant?
"There seems to be an almost limitless appetite right now for online content, because people are socially isolating in real life. Ultimately, the same things will cut through the noise now that always has: targeted, high-quality content that's focused on real pain points that real people are experiencing," says Spinks. "Bring it back to your customer and community members. What are they dealing with right now? How is this crisis affecting them, specifically? What content do they need right now to help them stay productive and healthy?"
It's much easier to build a community if you've already built an audience. To build an audience, start helping people. To turn it into a community, start helping those people help each other.
That means it's not about slapping virtual events together, or porting your in-person event playbook into the digital realm. "A trade show is a great example. You won't be able to replicate the experience of walking a trade show floor in a virtual environment. So don't try. Instead go back to first principles. What is the value of a trade show? It's giving people an opportunity to meet lots of vendors, see product demos and meet the teams behind software products," says Spinks. "For the sponsor, the value is spreading awareness of their brand, collecting leads and getting a chance to connect with prospects directly."
He suggests some alternatives: "Instead of a page just listing out the sponsors, why not put together a series of demos that attendees can sign up to watch? Or giving attendees the option to book a 1:1 meeting or small group session with vendors if they want to learn more? This is actually something you couldn't really do in an in-person event because stage time is expensive, and you don't want to fill it with vendor demos. But online, stage space is unlimited, and attendees can choose their own adventure. Rethink the entire experience," says Spinks. "Instead of a tote bag, create a digital version where sponsors can include gifts, discounts, gift cards or donations to organizations in need right now. Instead of welcoming everyone into one big room, why not match up every attendee with a relevant buddy? Think about the things you can do at scale online, that you couldn't do in an offline event."
Don't try to copy in-person. You can't. Instead, go back to first principles of why you organized the in-person events. Ask yourself: What problem are you solving? How are virtual tools uniquely positioned to provide that value?
4. Set dual goals to stay authentic.
In Spinks' line of work, there's always been a tension between cultivating authentic communities and bringing it back to the business results. "Business and community building have to be integrated. As warm and fuzzy as it may feel, it's naive to say 'We're just going to build community and not worry about any business objectives.' If you do that, that's fine. But you're relegating yourself to the 'charity' bucket of the business — and you'll be first in line for the chopping block when it's time to make cuts," he says.
"When we work with a community team to set their objectives and their metrics at CMX, we remind them that you should have dual objectives for your programs: one focused on community health, and one focused on business outcomes. On the community front, ask, 'Are we giving people a sense of community? Are we creating a sense of belonging for them? Are they happier as a result?' Then on the business end, you can tie community back to your objectives."
To pinpoint how community can fit into your startup's strategy, lean on Spinks' SPACE Model:
Support & Success: Your members answer support questions and teach others how to use your product, resulting in reduced support costs and customer expansion.
Product: Members offer feedback and ideas for improving your product offering.
Acquisition: The community drives awareness, leads and prospects.
Contribution: The community contributes content, code or products to your platform.
Engagement: As a result of participating in your community, customers become more loyal, increasing retention.
If you're also measuring the impact on the business, that doesn't make it less of an "authentic community" initiative. In fact, it's critical to be able to show the value of your community, because that's what will help you justify and grow your investment in serving your members.
There's risk in taking that mentality too far, though. "Many companies still use community as a branding mechanism, when in truth all they're trying to do is drive business value and growth. That inauthentic approach is not going to work in the long run. People see through that," Spinks says.
And now, there's an added wrinkle: a danger of being seen as exploiting the moment. "This is a risk for every startup that's just jumping on the online community bandwagon now. If you just see it as a short-term opportunity to capitalize on this crisis, you're off on the wrong foot. Make sure you're actually trying to solve a problem, not just take advantage of an opening. Set both community and business goals and stay accountable to both."
5. Measure, measure, measure.
For those looking to pinpoint that business impact, it can be hard to gauge how your efforts are taking hold. Taking his dual goal-setting approach, Spinks shows founders and newly-minted community leaders what to look for:
Business metrics: "If you do a virtual event, see who signed up, who showed up and who engaged with the content. Map that back to your customer database and figure out how many of those people were current customers, prospects or cold leads. How many of them never heard of us before, but now they did?" says Spinks. "Now you're able to see if you're having valuable touch points with people all along your funnel. You can also measure impact on your existing customers. Are they happier? Are they more likely to renew? Many of these are B2B metrics, but much of this thinking applies for B2C as well. Are they more loyal customers? Are they coming back? Are they spending more? How likely are they to recommend your product?"
Community metrics: "On the community side, you can actually gather deeper data with virtual events. Think about when you host a conference. It's difficult to track how attendees engaged with your content. You don't know which talks, discussion groups and events each person went to. With your virtual events, you can go deeper and track who attended each session. Then use surveys to measure community health. Questions like: Do you feel like you belong in this community? Do you feel welcome in this community? You can also use a sense of community index as another measurement tool."
KEYS TO FACILITATING VALUABLE VIRTUAL DISCUSSIONS
For those who want to make their small group discussions as impactful (and seamless) as possible. What tools should you use? How can you drive conversation?
If you're looking to get the most bang for your buck right out of the gates, Spinks has a favorite format he'd encourage everyone to try.
"Once you find your bearings, I'd encourage you to push for more than a simple webinar where everyone watches a live stream. Discussion groups have become one of my favorite formats for building community. They're genuine and intimate. Something about having a small group of people listening makes folks feel like they can be more open and vulnerable. And the networking value is huge. I've met so many high-quality humans and formed lasting relationships through discussion groups," he says.
For folks who are dipping their toes into virtual events, discussion groups and breakouts for the first time, Spinks taps into his extensive experience to offer a series of practical pointers for facilitating virtual discussion groups:
Stay under 10 and over 30.
"When someone invites me to a 30-minute discussion group, you can count on me not coming. I know it's not going to work. Introductions take about two minutes per person, so with 10 people in a group, you'll barely finish remembering everyone's favorite movie before the call is almost over," says Spinks.
"I'm also very skeptical of a group discussion with more than eight people in the group. 10 is the max I'd recommend. Any higher than that, and there's just no way everyone will feel like they have an opportunity to contribute. If you're okay with more people passively participating, you can go bigger. And you can split it out into subgroups using the breakout feature on tools like Zoom. But you risk losing the special sauce that makes group discussions stand out."
Keep the "small" in small group discussion. Stick to 8 or fewer people and extend the conversation to 60-90 minutes so you have the room to dig deeper.
Set the scene with the step up, step back rule.
"This reminds participants to step up and use their voice when they have something to say, but also to step back and make room for other voices when they've been saying a lot," says Spinks.
"This is perhaps the most important rule for a facilitator to enforce. When a participant starts taking up all the airspace, you're the only one in a position to step in, and ask them to step back."
Kick off with a bang.
"There are lots of specific formats you can use to kick off or manage the entire discussion," says Spinks. Here are a few ideas he's used with success:
Kick off with speed networking: "If you have the extra time, you can use another tool where attendees can meet each other in short 1-1 video chats before joining the group session, just like you would at an in-person event."
Round of intros: Kick off with a round of intros. Spice it up with a "fun" question like 'What cartoon character do you most identify with?' You can get more ideas from Range's icebreaker tool.
Whip-around: An initial question that everyone answers to get everyone involved in the conversation early. "They're usually quick. You can find a ton of examples and advice on choosing the right question from Rachel Ben Hamou," says Spinks.
Traffic light: Ask everyone to share how they're feeling at that moment by choosing red, yellow or green.
High-and-Low: Have each person share a high and a low from their life or work. This is also called "a rose and a thorn."
Presentation: Get one or multiple members to share their screen and give a short presentation or passion talk, then open it up to discussion.
Share a challenge: Each person has a chance to share a challenge that they want feedback on and then gets time for other participants to give them feedback.
Bring a beverage or a snack: Have each participant bring a warm beverage, or drink of their choice, and share what they're drinking at the start of the call. "Or do what Kate Sassoon at Singularity University does and ask everyone to bring a snack," says Spinks. "She's pointed out that this is bonding neuroscience at work (and neurodiversity inclusion for those who need to play with something and/or self-soothe to pay attention)."
Commitment and next steps: Finish the call by asking each participant to share one commitment they will make as a result of the discussion, or a next action they will take.
Carve out explicit expectations and lean into awkward silences.
"We've all experienced that awkward silence where someone asks a question to a group of people, and no one steps up to answer. It somehow hangs heavier in the virtual air. If you're the facilitator, you'll have an urge to fill in the space yourself. But you need to fight it," says Spinks. "Sometimes it's important to just let the silence sit, and leave it to your participants to fill it in with their voice."
That said, you want to make sure there's not too much dead air. And this is an area that requires careful recalibration of your approach to in-person events. "Nina Rong, VP of Communications at Generalized Intelligence, pointed this out to me recently. When we're face-to-face, we have eye contact, body language. We need to be much more explicit than we think we need to be in virtual discussions," says Spinks. "That means directing specific questions to specific participants. As Nina says, open-ended questions like 'What do you think about this?' posed to the whole group is a recipe for radio silence or worse — the dreaded conference call cacophony of multiple participants trying to speak at the same time."
TYING IT ALL TOGETHER: TAKE CARE AND DON'T FORGET TO TAKE A STEP BACK
As a capstone on this community-driven, circumstances-forced guide to virtual events, Spinks offers up a caveat and a warning. "All of the advice I just shared applies only if you have the bandwidth to take on that work emotionally, mentally and physically. Community managers, event organizers, marketing leaders, founders — this shift is putting a lot of strain on all of us right now," he says.
"Even if you're an extrovert, organizing and interacting all day can be incredibly draining. And what we're seeing right now is unprecedented," he says. "We're adapting to quarantines that could go on for months, shuttered businesses and nonstop worries about our friends and family. For all of us overachievers in the startup world, we already had full plates — and we just had a lot more to worry about dumped onto them."
To handle the extra load, many managers are rightly emphasizing the importance of space and self-care. But for Spinks, there's room to go farther and get more specific. "It's not enough for managers to say, 'Take care of yourself', but then talk about how 'Now's the time to really hustle and work through this,' in team meetings. Yes, we all need to pivot, have big goals and adapt. We need to figure out where there are new opportunities and where we need to adjust business-as-usual tactics so we can keep the business in business," he says.
"But it's important to articulate upfront and get specific in your advice so people know you mean it. Here's what I say: 'Take the time you need right now. If you need a day or two, or however much time you think you need to make sure you're in a good place and your family is good, full stop, that's the number one priority. You need to take care of yourself, because you're not going to be able to invest in your community fully for the next several months if your cup is empty. Reset your lifestyle for the new norm and build habits so that you can continue to take care of yourself for the foreseeable future while this crisis plays out.'"
As for how he's following his own orders, Spinks shares what's been working for him: "Social media right now is the most stressful place in the world. There are updates every second about new numbers, sad stories and what the government's doing. It's really important to control how you're consuming information right now, because it all feels important but it's easy to get overwhelmed. I put on SelfControl for big blocks of work time," he says. "I'm also trying to lean into my meditation practice, sitting for longer than usual and taking my time in the mornings. And I'm exercising every day, getting my runs in while we're still allowed to go outside unimpeded."
Outside of the self-care required to sustain this work, Spinks has one final reminder. "You could be forgiven if you look at this situation we're all in and think, 'This is community's time to shine.' I've caught myself and my team doing this. We live and breathe community. You can easily slip into using that language of, 'This is an opportunity,' or, 'We can tap into this in marketing.' That's true. But the number one priority is being a resource and helping people right now. It's not to make more money out of this, or take advantage of opportunities. It's to be there for your community. People around the world are experiencing helplessness, loss of normalcy and lack of connection in a difficult way right now. How can our businesses be that resource for people? How can we create safe spaces for people to come together now when they need it most?
Take a step back and reflect on why the work of building community is so important. "There's nothing that builds community as strongly as shared struggle. If you're canceling events, your business is struggling, and you're having to change up your strategy, bring your community into that process. Be transparent with them about what's happening. Let them help and get involved. You'll be shocked at what your community is capable of when you give them a chance to rally together."