Back in 2011, Max Altschuler joined an early stage education tech marketplace called Udemy as its first sales hire. The marketplace needed to bring on instructors to create online courses, and it needed to do it with 20% month over month growth on a very tight budget. Typical inbound marketing wasn't high touch enough to make people want to do something so new with so much upfront effort and no financial guarantee. Altschuler had to figure out how to do something different.
Around the same time in 2011, Jorge Soto was hired as Head of Sales at Mopub and was the company's first business hire. He was tasked with building a scalable and repeatable sales process for an ad publishing platform that was the first of its kind. When Jorge started at MoPub it had three technical founders, they were pre-revenue, had a ton of unstructured inbound data inside Salesforce, and had no sales process. They had to figure something out quick if they wanted to grow the business.
This article is by both Altschuler and Soto, explaining how they tackled their respective challenges and what they learned in the process so that their wisdom might help others.
If you're anything like us, the fundamental issue with building a sales process at a startup lies in the fact that you need to generate more revenue month over month without the ability to leverage more resources. Most companies need to rely on outbound sales (prospecting and outreach) to generate revenue and close deals.
For the lucky few of you reading this that are running on inbound sales only, good for you. But you're not pushing hard enough. You should always have someone on outbound, even if it's a fraction of their time, reaching for target accounts. Think Fortune 5000.
There's an art and a science to outbound sales. Yes, technology and data availability has made it easier and more efficient than ever before. But the best thing you can do is turn more of your outbound sales into inbound opportunities. That's what we hope this article helps you accomplish. 
Mind you, there's no silver bullet, and every sales process is different depending on a vast array of variables. We'll show you the process we've used and have seen work time and time again. With slight tweaks here and there, there's almost no reason why it won't work for you too.
Before we jump into things, it's important to know that the modern salesperson lives by two mantras:
Right Person, Right Time, Right Message = WIN
Build. Test. Measure. Optimize.
Let's go!
Understanding Inbound 
Inbound is the term we use to describe traffic that's driven to a site organically or via marketing campaigns such as advertising, social media, content or other things. This is also known as Inbound marketing and covers digital marketing and content marketing as well.
The part of Inbound that we'll focus on most is an area in which most startups spend a significant amount of their marketing budget: Online advertising.
As startup founder or early employee with something to sell, I'm sure you're familiar with how AdWords, Facebook ads, retargeting or really any online ad network works. More likely than not, this is what you depend on for signups and lead generation.
You run these ads to drive people to your product or service, hoping that they'll want to go on to the next step in your process, whether that's sending you an email, giving you a call, asking for a demo, or even buying the product.
Now what does that process of creating this ad look like? We'll walk through the Facebook process as an example.
Step 1 - Choose the goal or objective of your campaign.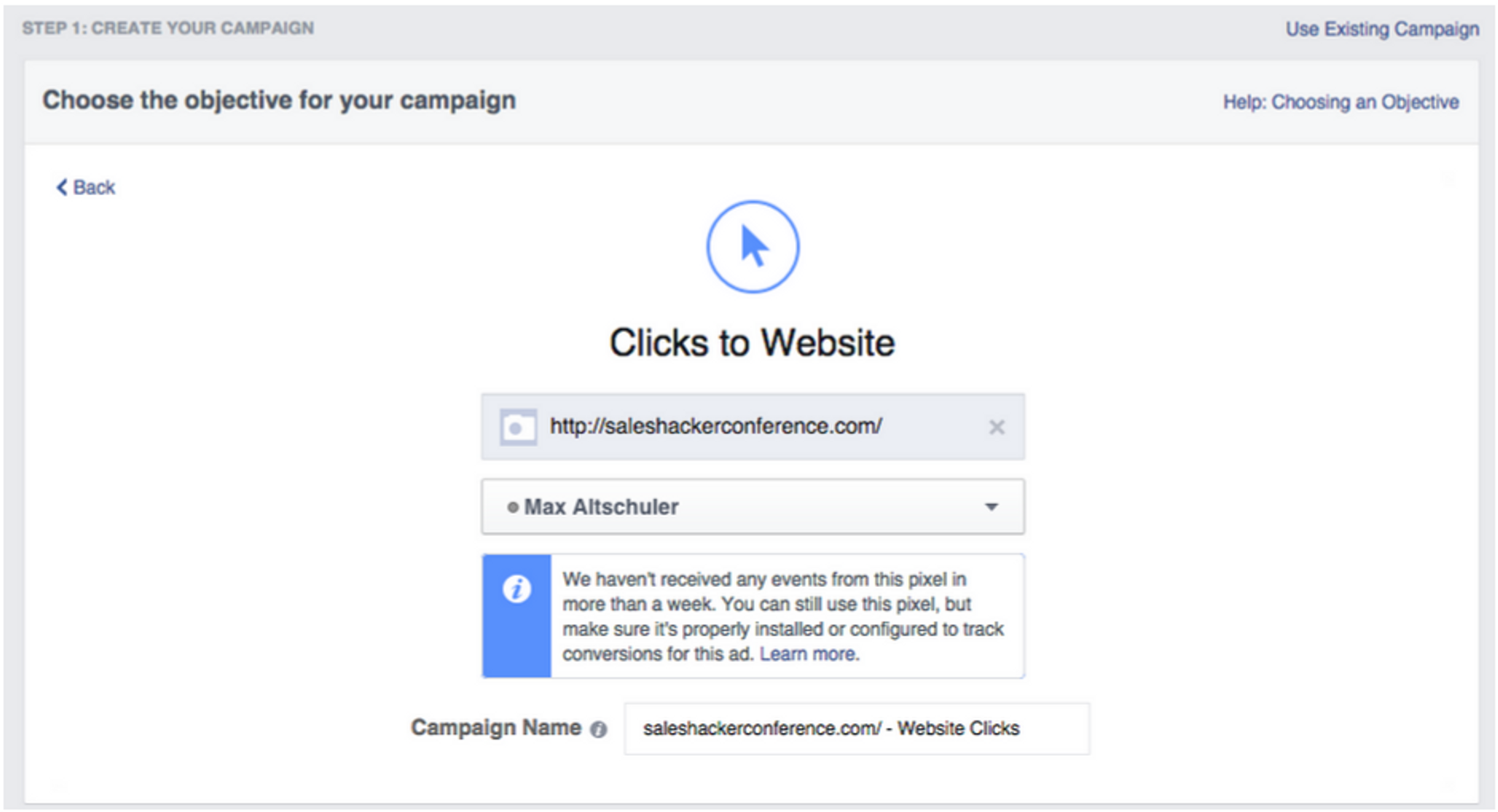 * Choose destination. Place pixel on your site so it can track. Step 2 - Choose your target audience.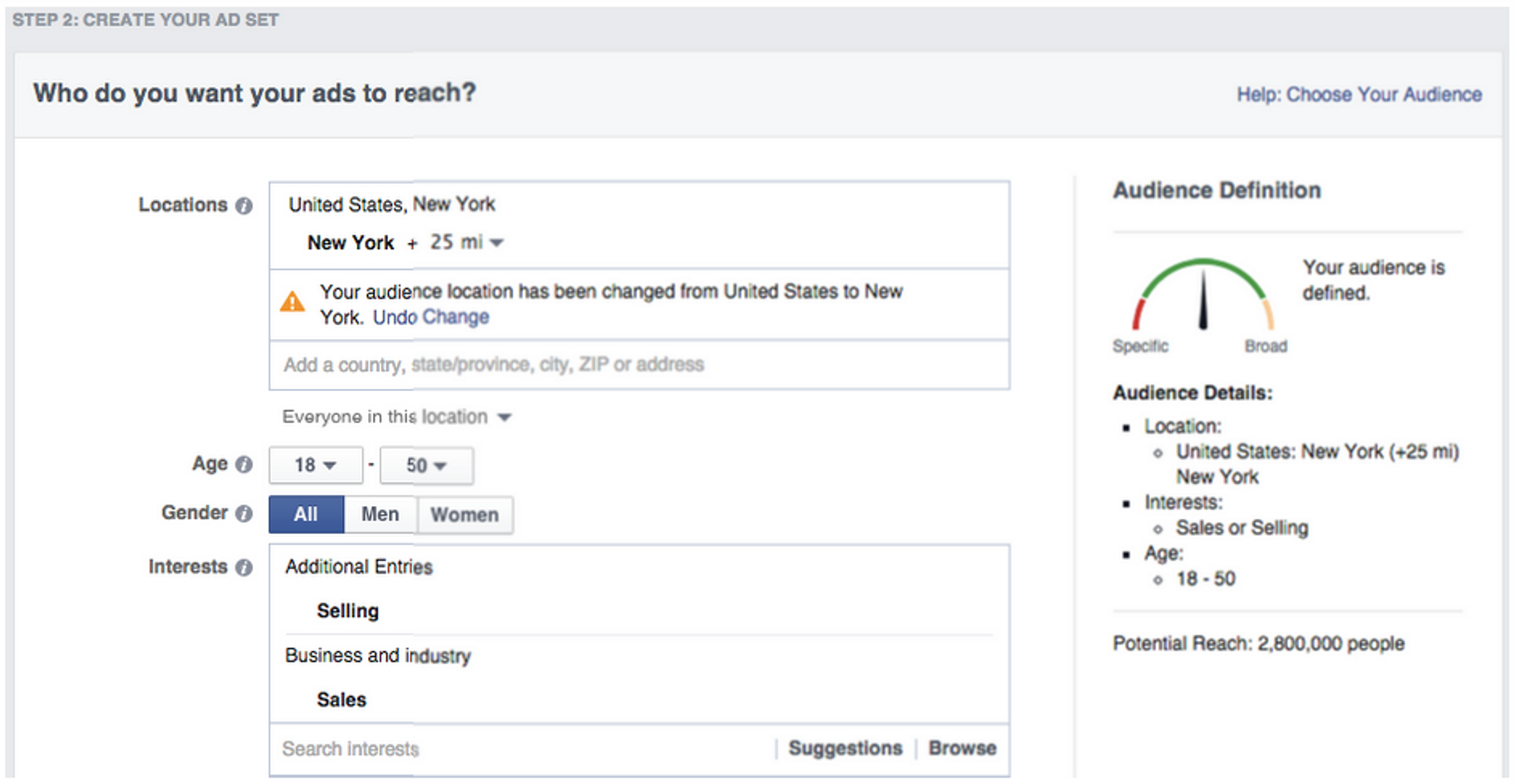 * Pick your ideal audience by selecting certain demographic details. This allows you to target your ads better.
Step 3 - Find the right image, description, call to action.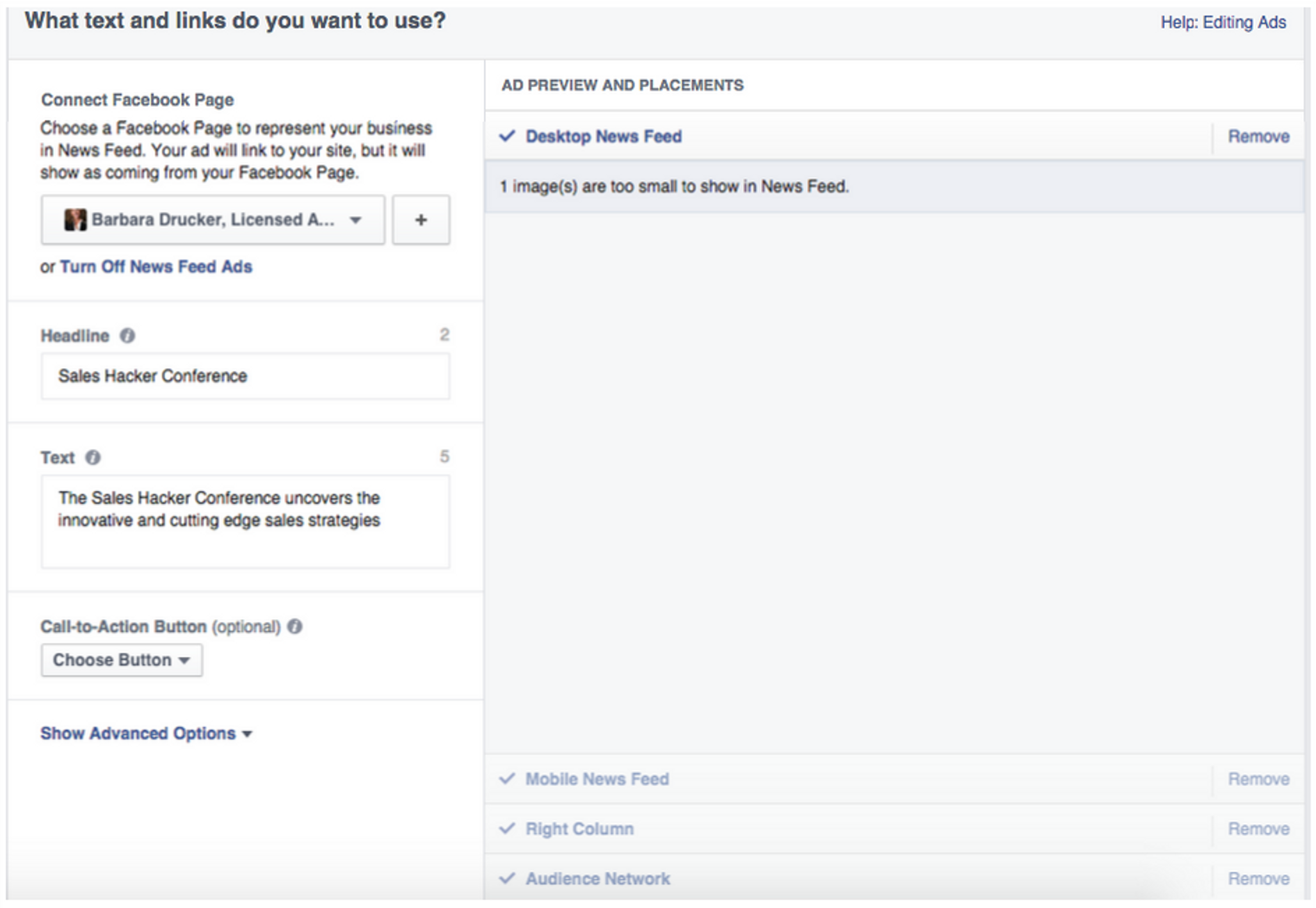 * This is your message that hits your target. They must be able to relate to it.
Let's take a closer look at what's happening here. Facebook or any other ad network allows you to:
Target people based on certain attributes or variables.
Craft a message to display to them based on who you are targeting.
Choose a call to action that brings them to their next step in your chosen process.
There are many problems with this type of campaign:
1. Even though you can pick your audience, that's about as far as you can go in your targeting. This might be great for getting views on your website, but not as much for conversions or engaging people in a buying process.
2. It can be very expensive with almost no real transparency and very little to show for it. 
3. Because of both 1 and 2, you have very little control. You could very likely be throwing money into the wind.
4. Do you really think decision makers at large companies are spending enough time on these networks to come through a Facebook or Google ad? Anyone who has bought or sold software before at or into a large organization will tell you they absolutely do not.
Now what if I said you could target deeper and segment lists so that the message you craft is almost always 100% relevant to the recipient? Oh, and it will cost you less than the campaigns you're running on ad networks.
Here's how you turn outbound marketing into inbound interest to close bigger deals, faster, and more frequently.
It's very important if you go down this path of turning outbound in to inbound, that you follow the steps to a T. If you run outbound campaigns without doing your homework at the top of the funnel, you're just another jerk spamming. Just like in ad campaigns, it's all about finding the right message and the right person at the right time.
You don't want to be targeting your vegan Aunt Patty with your Steaks-as-a-Service campaign now do you?
To illustrate the process of turning Outbound into Inbound, we'll use the a step by step process similar to creating an ad campaign. At the end of each section, we'll add our Sales Stack of services you can use to automate or complement the process we described.
Step 1 - Figure out your target audience or ICP
In sales, we call this target audience our Ideal Customer Profile. This is the type of person and company most likely to buy your product. The ICP is broken into two parts: Company and Job Title. This can be broken out even further as you get more advanced for Company Size or Industry.
For example, your target buyer at a 200 person company is the VP of Marketing, but at a 2,000 person company, it's the Digital Marketing Manager. As organizations grow, they hire out for more focused roles.
The better you can target and more granular you can get with your customer profile, the more successful your outbound campaigns will be.
Here are a few questions you might want to ask yourself when trying to identify your Ideal Customer Profile:
What products are my customers using that I compete with, complement, or might translate to interest in my product?
If you have a Mailchimp-style service, you want to speak to Mailchimp customers.
If potential customers are running Facebook Ads, they might also be interested in Ad Optimization or Analytics software.
Where are these people living on the web?
Someone interested in your eCommerce service might have a store hosted on Shopify or built with Magento.
If you want people to create courses online, go find people who have already created content on the subject in book form and are selling it on Amazon. Then convince them to try video content.
What do I consider my low-hanging fruit?
These are the people already doing what you want them to do, just somewhere else.
Someone buying or selling a service on Craigslist that your company provides. It's easier to get the person to use you over Craigslist than to create a new buyer/seller from scratch. Pinterest has emerged as another way to source potential customers that are already playing ball.
You're going after their budget focused on ad-spend and you see that a potential buyer has a testimonial on a competing company's website. You know they have budget and are already spending it somewhere else. Time to go get your slice or even the whole pie.
What can I decipher from my previous closed deals that I can use in new ones?
You keep closing deals with companies, so take a moment to ask yourself, what do these companies have in common and how can I apply this when speaking to companies with the same common variables?
Once you've figured this out, you'll want to build massive lists of these companies.Here are some good places to look to start building lists of your ICPs:
LinkedIn and Facebook groups
Industry conference websites
Trade association forums and directories
Job boards like Indeed, on LinkedIn, etc.
Public legal filings
Shopify
Any company database or marketplace
There are plenty of databases out there for you to use to inquire about these companies to find even more information. Things to look for include:
Amount of money raised to date
Timing of last round raised
Employee headcount
New employees recently added
Job titles and new titles added
Company headquarters location
PR announcements, like product, funding, key hires, or partnerships
Legal filings
With this in mind, you're already getting more granular than an online ad because now you can target by a recent event — not just by static attributes like location and age range.
Here's how to use Datanyze to target based on condition, industry and technology.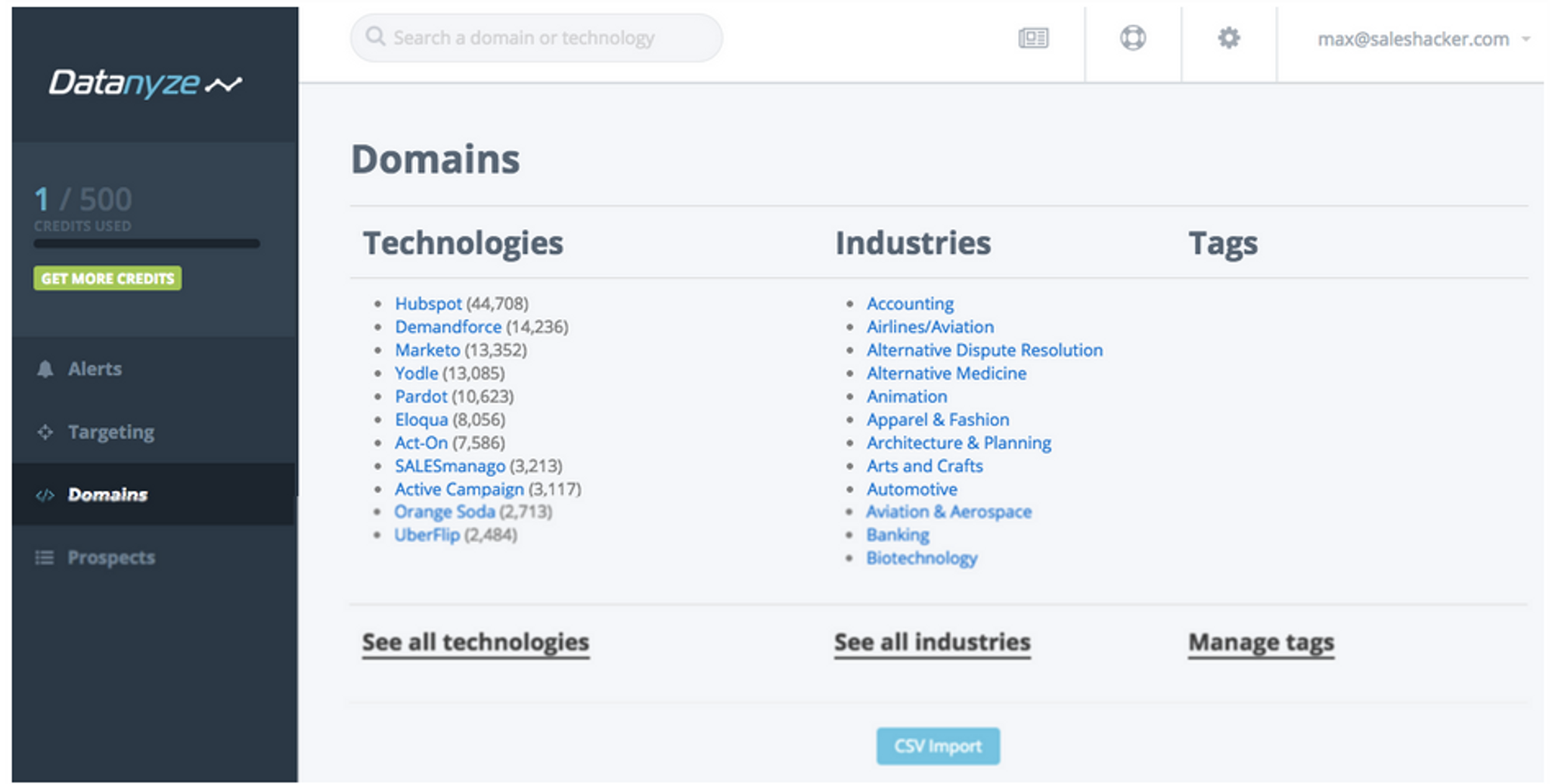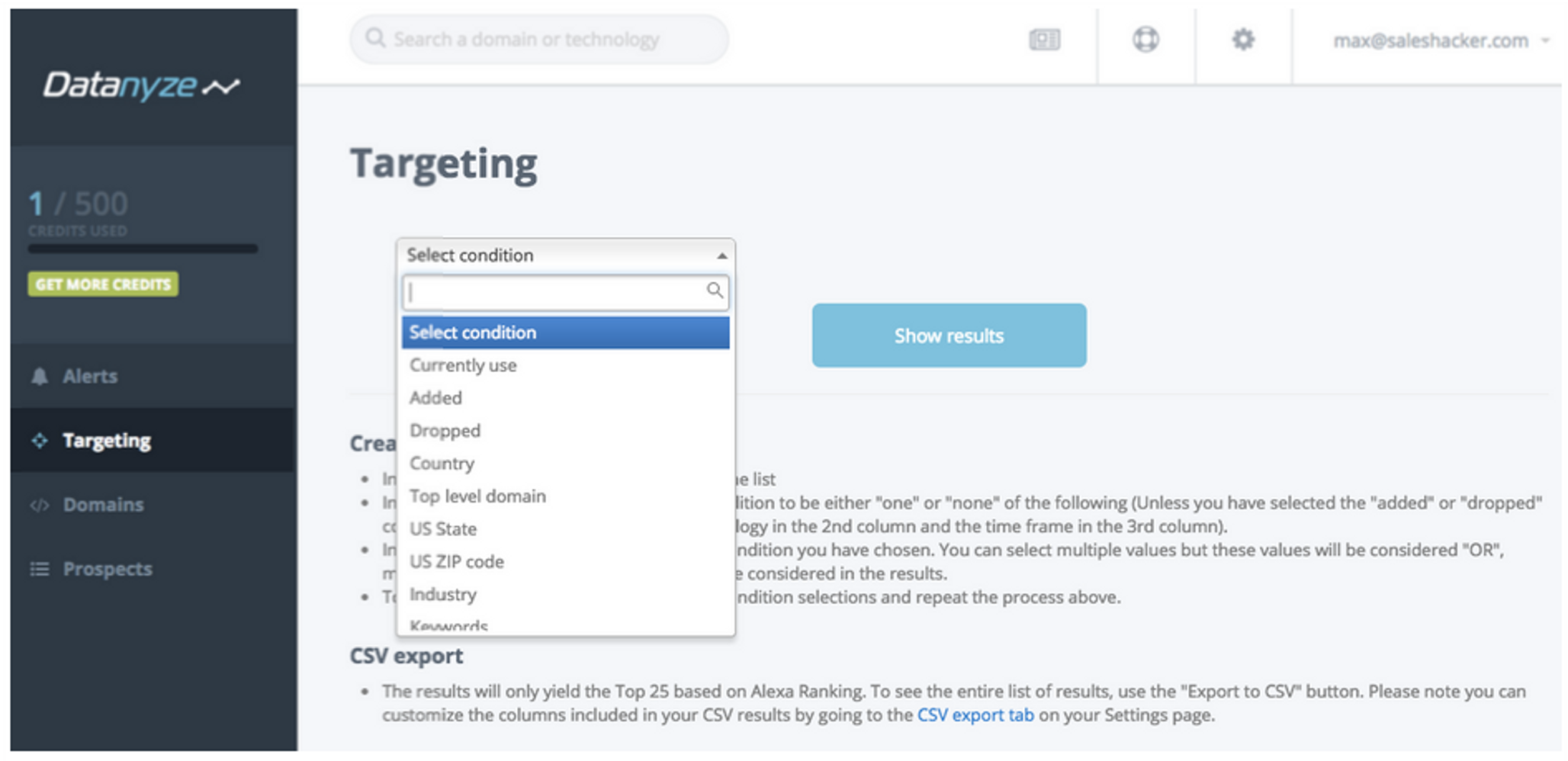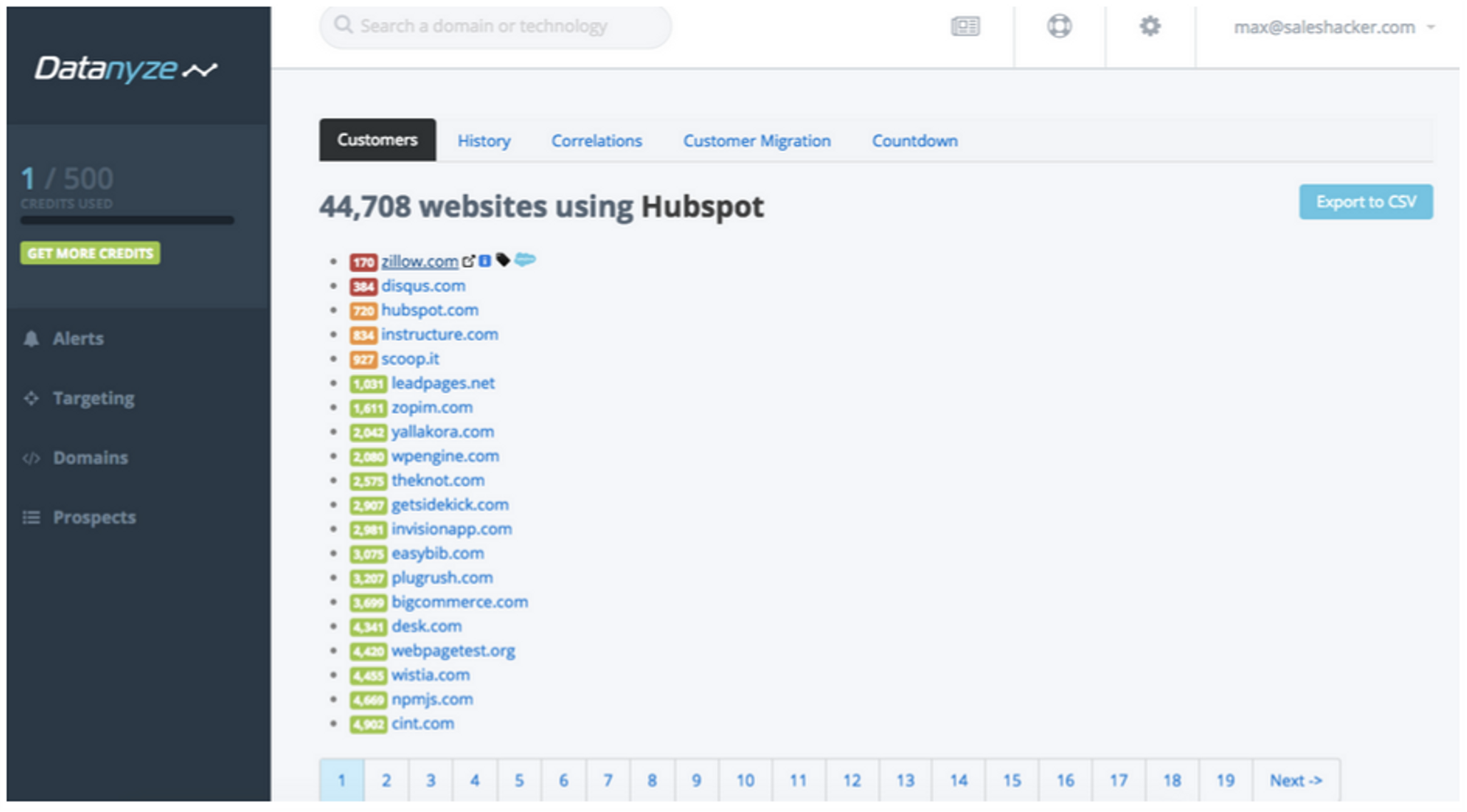 Glimpse at companies using HubSpot, for example. If your product is competitive or complementary to HubSpot, this is interesting to you.
Sales Stack: Datanyze, BuiltWith, iDatalabs
Step 2 - Get the Right Contact Info
By now, you should have a few lists built of companies you know will want your services and an idea of who the right person to talk to at that company would be.
If you don't know the exact person to contact, that's ok. You can try the top-down or bottom-up approaches. You should at least know the function of the person you're trying to reach (Marketing, Sales, Product, Finance, HR, etc).
The top-down approach targets the VP of that function and asks for an introduction to the appropriate person you should be talking to.
The bottom-up approach is almost a B2B2C model in which you target the end user and make them your champion for the deal.Once they've tried and love your service, you can use them as an internal salesperson to sell up the chain.
The next step is finding contact information for the lists you've just built. For generating Outbound into Inbound, finding emails is mission critical. Phone numbers are also good if you want to get into a more advanced cadence, which we'll get into later.
Any of these simple and easy to use tools listed here will help you build out your brand new, fresh, and ready-to-rock lists.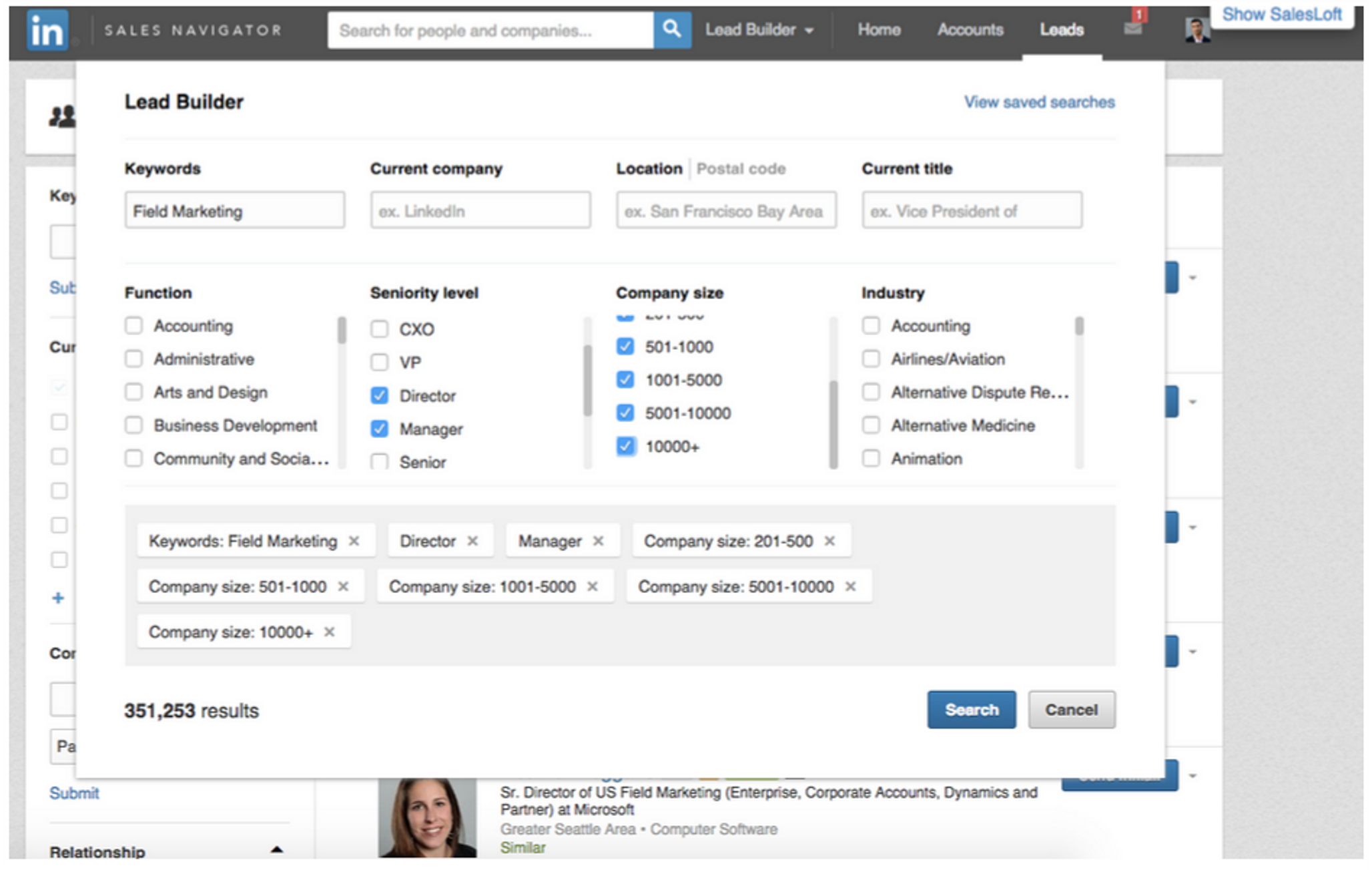 Pair LinkedIn Sales Navigator with SalesLoft for best results: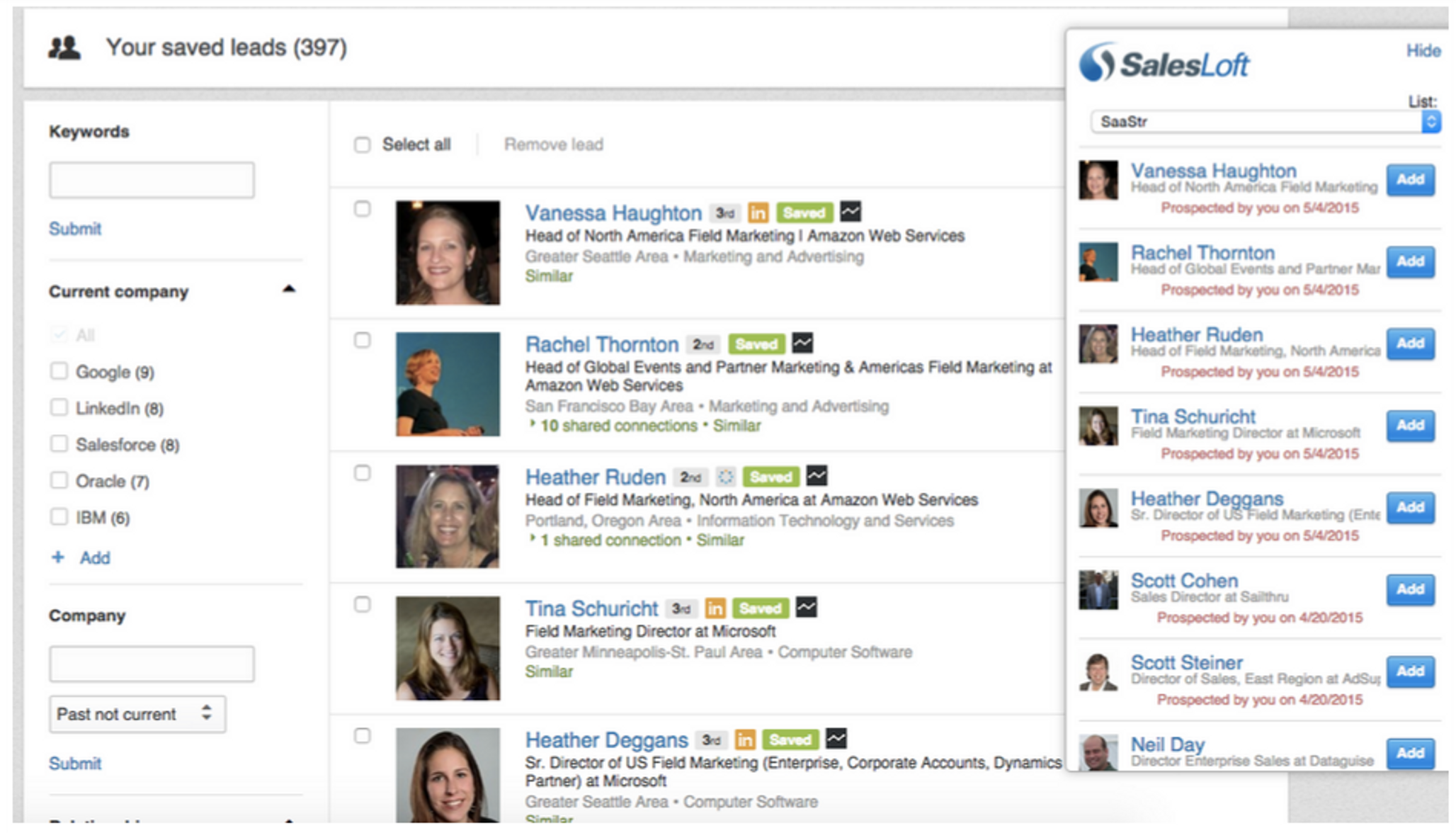 Sales Stack: SalesLoft Prospector, Toofr, DiscoverOrg, Capture! by Ringlead, LinkedIn Sales Navigator
Step 3 - Research, Messaging and Call To Action
Now that we have our "right person," it's time to work on the "right time" and "right message" parts. This is called lead research, and it's a very important part of the process. Without this, you're just another spammer.
Why? Because you still need to learn things about your prospects so you can deliver a message relevant to them and provide value in the sales process.
You'll want to find out as much information as possible on the company and individual contacts before you reach out to important prospects. Find triggers or action events to use as a reason to contact them at this time.
Below are examples of trigger events.
At the company level:
Fundraise, liquidity event, acquisition, or company milestone
New headquarters or expansion
Key executive hire
Good PR (company is growing, product release, CEO on Ellen, etc.)
Good blog post
Competitor PR
Awards or recognition
New contracts or partnerships
At the individual employee level: 
Job change
Awards or recognition (Field Marketing Manager after a successful Dreamforce event)
Good blog post
Twitter or social trigger event (you will know from their Twitter if they care about a local sports team winning the Super Bowl, etc.)
New people buy new products and services. When someone is new to a job, it's the perfect time to reach out and congratulate them and gauge interest.
Once you've gathered your information, you'll need to segment your lists a little bit to get them ready to send. When you do segment your lists, try to find a common denominator or variable that a bunch of the companies on the list have in common. Bucket them together so you can send them a blast that will look personalized but isn't.
The smaller your sales team is, the more ground you'll want to cover, so try to find a larger common denominator.
Use the common denominator to do a few things when crafting messaging:
Break the ice or build a rapport. For example, if you have a bunch of leads that are from Boston and the Patriots just won the Super Bowl, you start the email with "Congrats on the win! Must be a fun time to be in the city. It must be buzzing!" You can be fairly confident that it will resonate with the person on the other end and not offend anyone.
Value Proposition. They all have the same issue or pain point. For example, the common denominator could be industry. It just so happens that almost every company in the taxi and limousine industry has the same big problem (maybe it's drunk kids messing up their cars). Your product or service just so happens to solve that problem.
Honestly, that's all you really need in a cold email. So it basically flows like, "Hey, you're cool/I'm cool. Here's how I think I can help you. Let's chat." One flick of the thumb on a smartphone to take action, tops.
Use your research to help you nail both those points in one message to as many companies at one time as you can. But don't force it. Segment your lists using the common denominator, and then craft the message accordingly.
Lastly, your Call To Action (CTA) should be a definitive next step. If that next step is a phone call, then say it and name a time. Make sure it's clear and trackable.
The data on these companies and individuals is all over the internet, but uncovering it is the hard part. The internet can be a massive black hole, so you need a good way to sift through the noise to find relevant content about your prospect's company. Many of these companies solving this problem are using a mix of scraping, crawling, AI, and big data analysis.
Sales Stack: FunnelFire, Spiderbook, InsideView, LinkedIn Advanced Settings, Mention.io
Step 4 - Cadence and BTMO
Cadence refers to the amount of emails, messages, phone calls or any sort of touchpoint in the sales process, and how often you do it.
Typical cadence looks like this:

Now that we understand that, do you remember the second mantra in the beginning of this article? Build. Measure. Test. Optimize? I'm sure you've heard it from all that Lean Startup stuff. Well this is where it really comes into play.
At this point, you have everything you need to start sending emails. You'll need to make sure you're tracking your campaigns using software that makes it super transparent to test and optimize everything.
Most software will allow you to track Open Rate, Clickthrough Rate, Viewed Time, and Response Rate.
Only track things you can derive an action from. Open Rate, Clickthrough Rate, and Positive Response Rate are the most important.
Open Rate is tied to Subject Line. If Open Rate is low, subject line might be the main issue.
Click Through Rate is Call to Action. If CTR is low, CTA might be weak or not the appropriate next step.
Positive Response Rate is tied to the message. If this is low, your message or your targeting are off. Possibly both.
Viewed Time helps here by understanding how long and how many times someone has viewed the email or attached information. If they haven't responded yet but this number is going up, it's still a good sign. Keep plugging away with a similar message.
If you're getting no response, tweak the messaging.
Make sure to build and test this on big enough lists so that you have enough data points. 100 emails is a good starting point for a test. Any less and it's just too small of a sample size. Also, test it across multiple list sources, as that could be an unforeseen issue that won't show up in testing.
Sales Stack: ToutApp, Cadence by SalesLoft, Outreach.io, Yesware
To Recap...
In Step 1, we did advanced targeting to find your Ideal Customer Profiles in both companies and individual employees. Then we found their contact info in Step 2. Step 3 gave us the context we needed to reach out and Step 4 was all about the delivery of the message and optimizing as you go.
Now any emails that come back to you are you inbound leads. Setting this process up with the tools we've provided makes it easy to automate. The entire process can be taught to a Virtual Assistant as well. So now you have an outbound engine that can drive targeted, high quality, leads while costing you a fixed amount, instead of throwing money at the wind and putting a cap on it each month.
Udemy and Mopub were both able to use these strategies effectively, allowing them to see unprecedented growth and lap the competition. The steps laid out in this article work for almost any type of B2B sales no matter the vertical or type of sale.
By leveraging web scrapers, emerging technology, and outsourced help, Udemy followed these steps and grew its instructor marketplace from 1,000 courses of much lower quality in May of 2011 to over 5,000 high quality courses 18 months later, with over 400 being added per month. They're recent Series D funding announcement mentioned they now have over 30,000 courses in 80 languages with a valuation presumed to be in the hundreds of millions.
Under Jorge's guidance, Mopub went from zero to thousands of sales-qualified leads. Over Jorge's first 4 years, he built the inside sales process on the supply side that helped fuel a $100 million run rate and $350 million exit to Twitter. There, Jorge became the Head of Inside Sales for the Mobile Exchange Team.
Max now runs Sales Hacker Inc. to help other startups build their sales processes. Many of his key findings, including many of the ones discussed in this article, are in his book Hacking Sales.