Lucia Guillory questions everything — it's a tough habit to break after years spent earning her PhD in organizational behavior. Now, as Head of People for Patreon, the membership platform that helps creators get paid, she's building a rapidly-growing team with that same iconoclast spirit, testing everything she can, piloting next-gen feedback tools, and rethinking what it really means to create an outstanding experience for employees.
That's how she's ended up at the helm of a distinctly nontraditional People Ops organization. It's an umbrella that includes the recruiters and HR generalists you might expect, plus a few teams you might not: IT, facilities, and administration. For Guillory, there's a clear common thread — "All of these functions are aligned in their primary motive: caring for our employee base." So far, this has paid off with 97% of Patreon employees stating unequivocally that they're proud to work at the company, and 91% saying they'd tell their friends to join.
In this piece, we'll call Guillory's approach 'Holistic People Operations,' and the atypical structure of her department is just the start. Below, she describes three key strategies startups can use to maximize the reach of their people and culture-oriented efforts:
Expanding the scope of what falls under People Ops.
Planning for an employee's needs over their entire lifecycle, from hire to exit.
Creating a culture of data-driven decision-making.
Along the way, she shares lessons she learned during her academic career at the Stanford Graduate School of Business and as an HR leader at Yahoo!. And she urges (especially early-stage) founders who haven't focused on people operations yet to get on it. Now.
Creating a Holistic People Ops Org
"My goal is to coordinate across all the functions that touch an employee's experience at Patreon, so that we can support and nurture every employee in a way that equips them to be as happy and productive as possible," says Guillory. "All of the teams I oversee make an impact on the day-to-day experience of employees, and it makes sense to streamline the handoffs and information sharing between them."
For example, once recruiting hires someone new, they're passed to HR for onboarding, which includes being outfitted with the right technology by IT, and being placed in the optimal environment for productivity by facilities. At most companies, these teams have to interact many times every day, but have no formal relationship. At Patreon, Guillory wanted to change that.
When you're overseeing handoffs between HR, IT, facilities, and more, coordination is no small feat. It can be challenging to even get everyone in the same room — but Guillory makes sure she does once a week. "We meet for 30 minutes, so it's a pretty short meeting."
Still, she finds time in that half hour for a few critical items. "We always look at weekly wins. I highlight whatever has really pushed us forward — the person who worked on it — and why it's important."
Every other meeting, there's also a round robin on the team's chosen theme for that quarter. "Right now our focus is on speed and alignment, because we're looking to expand our team quickly. I want all the different functions to be thinking about speed, meaning how can you take what you're doing now and make it happen 10x faster? And alignment, meaning where are there touchpoints between functions, and how can we partner on those as smoothly as possible?"
Creating a clear sense of purpose is one of the key benefits of her org's unusual structure. "I've seen siloed departments at other companies where the IT group, for example, has a lack of clarity around the ultimate deliverable of their function," says Guillory. "Is it to improve the technology the business uses, to save the business the most money, or to make employees' lives easier?" With every employee-focused department under her purview, she can broadly communicate the company's foremost objectives — then pivot quickly when circumstances dictate.
Two quarters ago, for example, one of her org's focus areas was on cost savings. "Facilities and IT worked together to identify where we were incurring the greatest cost and opportunities for savings. We looked into better aligning our food spend with attendance and the impact of things like duplicate software instances on tech costs when multiple functions purchased similar resources for themselves," she says. "Now we feel like we've resolved most of those cost and redundancy issues. So we turned our attention to speed and alignment to prepare for an upcoming boom in hiring and onboarding."
By approaching these initiatives in tandem, Guillory's interdisciplinary team is uniquely equipped to position a rapidly growing startup for success. "The work we've done to streamline handoffs between functions is laying the groundwork to make custom onboarding possible," she says. "We have a high volume of reqs in certain classifications — web engineering, backend — so it's worth it to have some bespoke offerings."
Any startup leader knows that getting an engineer to work quickly, shaving even a week or two off their ramp-up, can have a huge impact on a roadmap.
Mapping to the Employee Lifecycle
Cultivating a holistic employee experience means not only considering your day-to-day touchpoints with employees, but anticipating evolving needs throughout their tenure.
Think about the full employee life cycle, then ask yourself, 'What are all the things that this person will need to be more successful today, six months from now, a year from now?'
Guillory shared some strategies her team uses to coordinate their efforts at every stage of the employee life cycle:
Onboarding
For starters, remember that onboarding isn't actually your first touchpoint with that new team member. For weeks, even months, they've been building a relationship with their recruiter. "We want the recruiter present throughout the person's transition into becoming an official part of the company. Beyond even the onboarding phase, our recruiters check in after a couple of weeks to understand how the new employee is doing and make sure things are progressing well."
From there, People Ops oversees a slew of mundane tasks for every new employee: creating their email, determining where they'll sit and ordering the right equipment, processing paperwork, setting up payroll. This is one area where Guillory's interdisciplinary team has proven particularly valuable. Through working closely with HR and facilities, the team's IT engineer, Steven Pringle, saw that those tasks were ripe for automation
"We're working on a single form that sets all of those tasks in motion," Guillory says.
What that looks like is evolving as she and her team continually optimize the tools they use to get employees ramped up quickly and consistently. Initially, the HR lead would go into project management tool Asana to create a task for everything that needed to happen. "It was a template, but it was still time consuming. You had to find out all these pieces of information as opposed to having them in one place." Now, Pringle, has streamlined the process with the creation of a Google Form that uses backend scripts to auto-populate those fields.
When the initial form for a hired candidate is completed by the HR lead, a task list is automatically generated in Asana with all the onboarding events in Google Calendar. It creates Zendesk tickets for the tech and supplies the team must purchase. This also triggers emails to the new hire and the internal folks who need to take action. This usually includes the person's hiring manager, IT, Facilities, and the people who run onboarding and training. These events inform them of what they need to order and prepare.
You can get a sense for what this looks like in Asana here, with every involved team member on the right side, and their tasks on the left: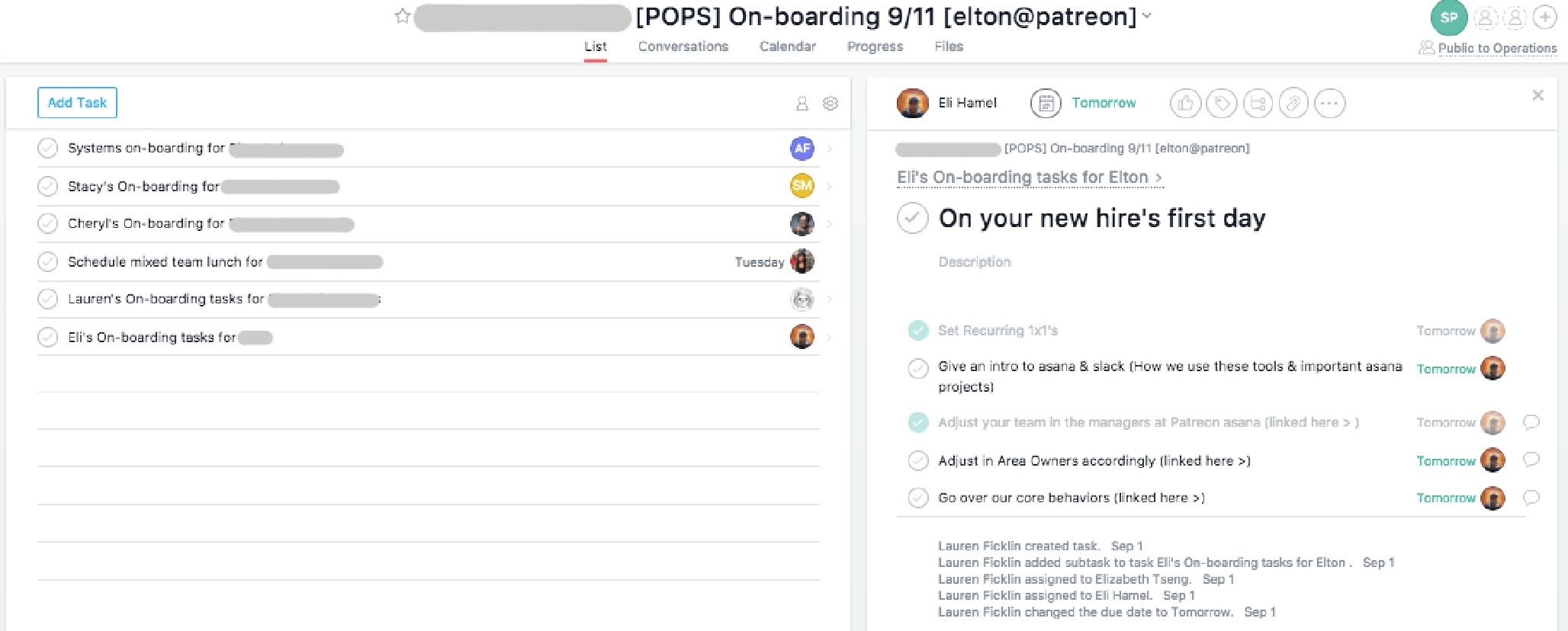 With clear decisions made at the outset, everyone involved in onboarding can accomplish their tasks with little back and forth on email and Slack. "IT used to wait for clarification and all these emails would fly between them and HR and possibly the new hire before deciding what the computer setup should be. Now those choices are made at the form phase from a clear selection of specs, so we can immediately execute on getting the right equipment."
Moreover, this kind of single-source automation targets one of Guillory's overarching goals: eliminating information loss. "When there were different parties entering the employee's information into the payroll service (ADP in this case) or communicating with the hiring manager, we would get a lot of Slacks across the team saying, 'Who's this person's manager? What level is this person?' Now, we get all this information from a single source of truth — the Google form — automatically populated everywhere."
This onboarding procedure has been invaluable in its own right, but it's had an unexpected impact on Patreon's broader culture, too, in the form of greater transparency. "Our offers previously included a person's title, but not their job level. So when we were trying to put them into our systems, we knew that they were a software engineer, but we didn't know whether they were a software engineer at level one or at level two." The result was either a delay as HR pinged the hiring manager or guesswork based on the hire's salary level.
As a result of this bottleneck, Patreon's offer letters now include both salary and level. "That's actually great for employees, too. They have that transparency coming into the organization, so they know where they stand," says Guillory. "And it keys into development conversations: 'Okay, I'm an IC3 engineer. How do I get to be an IC4?' As opposed to, 'I'm an engineer. I have no idea where I stand relative to my teammates.'"
When People Ops is encouraged to think holistically — and not focus on one narrow piece of the pie — you'll reap the benefits of this kind of alignment.
The understanding we gained from automating a broken HR process has actually helped the recruiting process, and that, in turn, has yielded a fuller, better-supported experience for the employee.
Ongoing Engagement
Beyond onboarding, Guillory and her team are continually engaged with point people (or business partners) in every department to understand and optimize the employee experience as it's in progress. For example, they manage a robust slate of engagement and diversity and inclusion programming, led by the group's HR business partner, Lauren Ficklin. To make it as impactful as possible, they need data.
Last year's survey results made D&I a top priority, prompting Guillory's team to create quarterly learning and training sessions as well as immersive events on the topic. Since then, they've seen the D&I score surfaced by the survey jump 17 points, with 93% of the organization strongly agreeing that Patreon values diversity.
To gather as much input as possible, and to honor different people's tolerance for giving feedback, Guillory and her team leverage several primary feedback tools:
Annual engagement surveys: Every year, employees are asked to complete a survey that covers everything from how connected employees feel to broader company goals to how supported they feel in their day-to-day work. Patreon uses Culture Amp to administer the survey, but there are several services that offer this functionality. There's a two week response window so that Guillory's team can rapidly collate this data and present it to the staff at all hands meetings to provide even more transparency.
Weekly check-ins via Officevibe: On a weekly basis, Leo bot, an Officevibe feature that interacts with Slack, messages Patreon employees a quick, open-ended engagement question. Pulled from Officevibe's repository of engagement questions, these check-ins ask things like "How often do you get feedback on your work?" and "How would you rate your relationship with your colleagues?" Responses are anonymous, but accommodate replies. "I really enjoy reading the feedback. I go in on a pretty regular basis and respond to employees directly," says Guillory. Those replies are routed back to the original responder, keeping the exchange — even lengthy back-and-forths — entirely anonymous on the employee side. If it feels like too much, employees can opt out of the questions. "We've also experimented with different cadences and it seems as though it is fine for those who are using it," she says.
Pulse surveys: Existing somewhere between the other two feedback-gathering tools, these surveys (also powered by Officevibes) are shorter than a full engagement study, but more targeted than weekly check-ins. Unlike a third-party tool like the Leo bot, this type of survey also gives companies more control over both questions and timing. "Part of what makes pulse surveys beneficial is the ability to measure the response to an important event or decision that has happened recently in the organization," says Guillory. "Most survey products will ask questions about your manager, or your thoughts on leadership or the company's direction. But if you want to measure more specific goals — like whether a newly launched initiative has improved employee morale — you'll need to handle that in house."
Gathering feedback is just half of the job, though — responding to it with meaningful action is the other.
"If there's something we discover is inhibiting folks in a particular department from being successful, we are responsible for communicating that to leadership and working to resolve the issue," she says.
For localized issues, go straight to the team in question to open a dialogue. "We might go to the product team, for example, and say, 'Hey, we've been getting a lot of feedback that the team is feeling strained given X or Y deliverable. How is the team broadly feeling about this?'"
Armed with that additional information, Guillory and the executive team can discuss the best solution. "We'll decide whether we should make some changes to the road map, or if we can do something else to support the people feeling the bulk of this pressure."
To uncover broader organizational problems, keep an eye out for any peaks and valleys in your data. "When I see dips, in particular, I become really interested in whether or not that's being caused by something that's actionable," she says. More than absolute scores, shifts in trends can be particularly revealing.
A few months ago, for example, Patreon's Leo bot surveys were declining in one area: wellness. "When it comes to wellness, we look at how people are doing at home and how people are doing at work," says Guillory. "A lot of the comments people were leaving in the survey indicated they were feeling stressed and that they weren't able to exercise, eat healthy, and focus on the self-care that they'd like."
The People Ops team sprang into action. "First I brought it up in an all-team meeting. 'Hey, I saw this dip in our overall engagement. I attribute it to wellness, because we're doing particularly poorly there despite positive scores on other factors.'" That meeting was quickly followed by smaller brainstorming sessions. "We wrote down everyone's suggestions of resources that would contribute to wellness, then we picked a couple to implement."
Chief among them was getting everyone in the company a gym membership (or a subsidy for those who chose to join a different facility). "We also made checking in on wellness part of every manager's role and goal setting. Not only do you need to monitor your teammates' performance and projects, you also need to check in on their well-being on a regular basis," says Guillory. "After making those changes, our aggregate wellness score has improved significantly."
Offboarding
An employee's departure marks another valuable moment to gather data that can be put to use optimizing their experience and that of future employees. So Guillory doesn't settle for a cursory chat. Her interviews touch on every dimension of a person's experience with the company, asking employees to describe:
Their day-to-day work and responsibilities.
The support and resources they received to execute their role.
Their relationship with their manager.
Their feelings about leadership.
Their understanding of the company's mission.
Their experience of the company, and what did or didn't contribute to their decision to leave.
The opportunity they're leaving for or considering, and why that's compelling.
Patreon offers departing employees two ways to share feedback: a more traditional in-person interview or a survey they can complete in private. (Either way, the process always includes a sit-down to discuss the mundane details: benefits, COBRA, returning office supplies.)
Analysis of the data has to wait a bit, though. "Due to our focus on maintaining the anonymity of folks who are exiting, we aggregate the data. We wait until there's a critical mass, usually more than five folks, to look for any trends in our attrition," says Guillory. For a young company like Patreon with low rates of attrition, that makes it difficult to act quickly on exit data; larger companies typically have more to analyze. But it's a high priority for the team to maintain the trust and confidence of existing employees. Knowing they won't be singled out when they leave sends an important cultural message.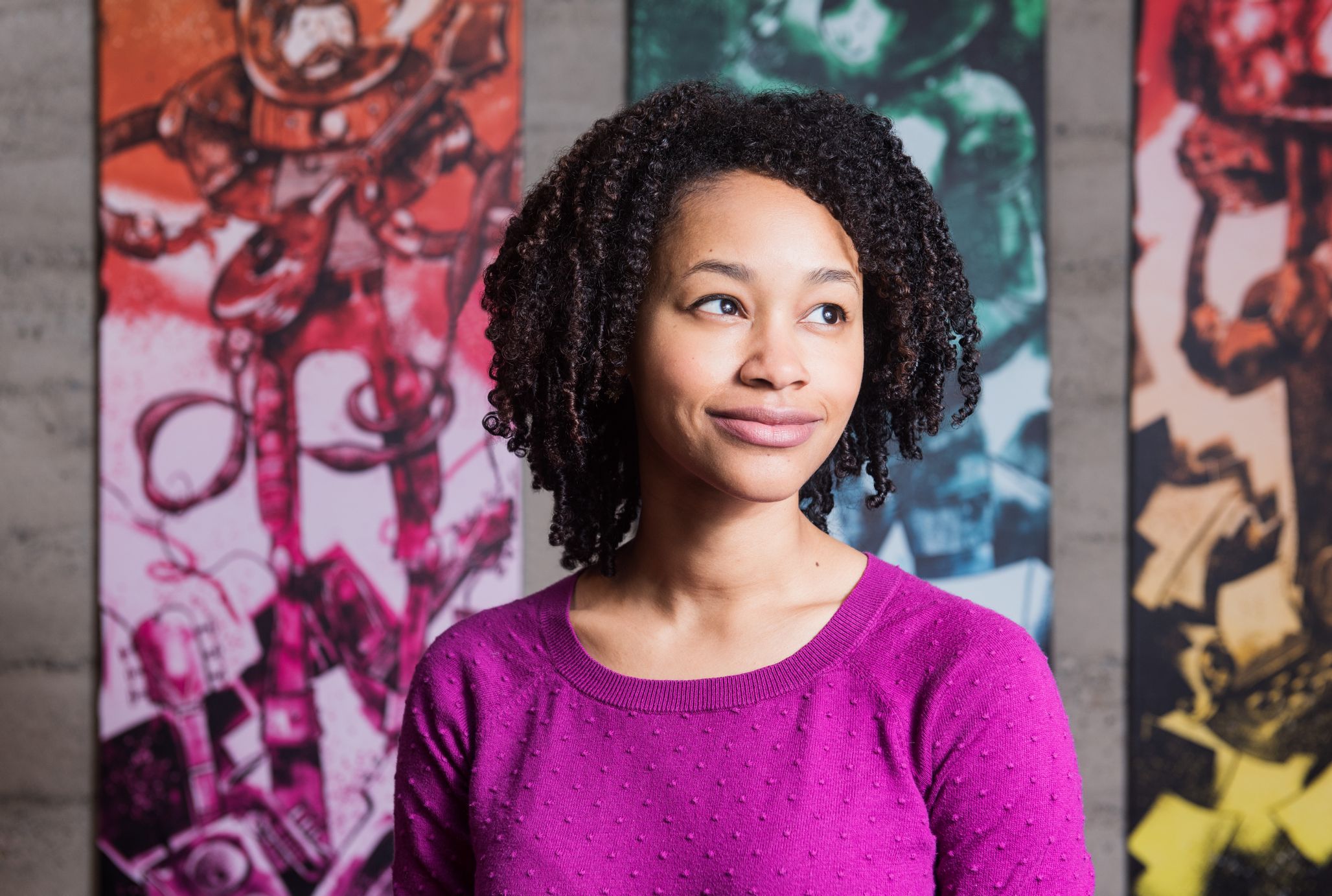 Make People Ops Visible Company-Wide
Finally, a holistic approach to People Ops means not just getting data from your team, but sharing it very publicly to everyone in return. You shouldn't just use data to back up what you want to do, you need to pay attention to the story that the data actually tells.
People Ops is an art and a science, and the science should inform the art.
While plenty of startups devour DAUs and churn metrics, too many manage their employee experience according to whim or legacy practices. "Observe, experiment, measure. Understand whether something actually works, and don't be distracted by the fact that it's been done before," says Guillory. "Substantiating key people policies and choices with data helps organizations understand and align around their approach."
HR leaders need to take an interest in the individual, no doubt, but managing the employee experience holistically also means understanding and disseminating the story that's unfolding in aggregate. Sometimes that means identifying a necessary change and communicating it to leadership, like the introduction of Patreon's gym memberships. Other times, that means giving employees a window into the data-driven decision-making that shapes their work life.
For example, the company recently completed a review of compensation, perhaps the most fraught territory an HR professional can tread. When the process was complete, though, team members weren't simply handed a new number in a vacuum. They also learned how and why the organization had arrived at those numbers.
"I like to be very transparent about the way tests are done and the quantitative data is produced," says Guillory. "I was able to say, 'We looked at all of this data. We looked at these target statistics. We moved folks in this direction, and this percentage of folks are in this placement within the distribution.' There was a quantitative justification for every action that was taken, so teammates weren't simply left to accept things on the basis of my personal opinion."
Effective people management means opening a meaningful dialogue, and a successful People Ops leader needs to demonstrate what that looks like. For Guillory, academia offers a model for how to do that. "Because of my background, I'm more inclined to say, 'Hey, this is my perspective. This is the evidence for why I believe this is the right thing to do. But I'm more than happy to hear what anyone thinks about another approach we should use or additional information you'd like to see.'"
Don't Save People Ops for the Growth Stage
At Patreon's current size — 85 employees — Guillory still knows everyone by name and gets a lot of actionable signal through day-to-day conversations. But she knows that won't always be the case.
"Were we twice the size, it would be much harder to keep a pulse on everything. We would have to rely even more heavily on feedback-gathering resources. Organizations that are building people functions should start early with using scientific methods and understanding the role of data in their functions.
With each additional teammate, the need to have a bird's eye view, to leverage data, becomes greater.
Now that she already has her organization with its various teams in shape, it will be that much easier to expand resources in each area as needed. The IT, facilities, HR, recruiting, and administration teams will each inevitably grow, but it will be clear where those people go, how they interact, and how they can integrate into the company to make the biggest impact. Right now, the tiny teams in each area are essentially stem cells that can easily scale in an organized and clear way.
"Startups often delay the inclusion of people ops resources in their organizational structures, and they delay it too long," says Guillory. There's a notion that when you know the dozen or two people you're working with — and spend long hours in the same spaces together — there's simply no need for the more formal processes of human resources.
Ultimately, there are engagement costs, performance costs, and attrition costs to running lean on functions that support your employee base. And once the organization has experienced that damage, it's really hard to work your way out.
"I tend to have an agnostic approach to the size of specific teams within my organization," she says. "I think of the function growing organically as it relates to particular needs. So if it became the case that we had extensive technical challenges, then I would expand IT. If we moved into a bigger space, I would think about whether we need to expand facilities."
Holistic People Ops is agile because it's not about filling open reqs to keep up with company growth or unthinkingly checking boxes on a to-do list. It's about taking the broadest view of what makes a person's work-life productive and healthy. As Guillory puts it: "It's about context. Grouping multiple teams together under People Ops, or operating with the employee lifecycle in mind — it's all about getting the context necessary to make choices that put employees first."