Designer Jeffrey Kalmikoff joined Betable because it scared him. "I knew there was a lot about it I didn't understand, that I'd have to learn," he said. "But all my other offers were for straightforward consumer web. I chose Betable because I had no business taking on a job that big, but I wanted to try it."
It's hard to imagine Kalmikoff being intimidated by anything. Before Betable, he was both the technology VP and only designer at location startup SimpleGeo, single-handedly ran design and UX at Digg, and spent seven years as Chief Creative Officer at Threadless. The man has become an expert at autonomous creativity – all lessons he brings to bear in his new role as Chief Experience Officer at Betable. At First Round's last Design+Startup, he shared what he's learned about being effective as a startup's only designer.
#1: Don't be the smartest guy in the room.
"This is the most important advice I can give," Kalmikoff says. "Don't fool yourself into thinking that all the best ideas are yours." No matter how good you are, if you design in a vacuum, you're going to a) burn out immediately, and b) end up with a pretty bad product. "There's no way you can come up with good ideas across that many disciplines. It's impossible." Get out of your silo and tap into the people around you.
One of the biggest challenges a designer faces is context switching – it's also where you lose the most time. "We'd all like to think we're multi-taskers, but the fact of the matter is it takes time to wind up on a project, switch to something else, wind back down, and then jump back into something else," Kalmikoff says. "You look back at your week and see how much time you wasted just by trying to be productive. It's pretty sad." By distributing brainstorming power, you can have your idea engine running the whole time and lose less ground.
Kalmikoff was lucky to practice this early on. "At Threadless, this just happened because we were a group of friends and it made sense to share everything. But no matter where you are, it's really important not to put up boundaries as to who can supply ideas to you – it shouldn't be about having your name on the product or getting the glory. If you're able to inspire the people you work with who touch the product to come up with ideas, your job will be a lot easier."
Never stop thinking of your co-workers as users and getting their ideas for what could be better. They care as much as you do.
It's especially important to involve team members who don't necessarily have design experience. "You just need to know how to process their feedback," he says. "Find me an engineer who doesn't have an opinion about design. It's really just about how you take it and then what you can do with it."
For Kalmikoff, personally, it's important to view and value his co-workers as the product's first users. "Never stop thinking of your co-workers as users and getting their ideas for what could be better. More so than anybody they are your super users. They care as much as you do. They want to win as much as you do - and they're probably less than five feet away, which is a whole lot easier than setting up user testing."
#2: Set the right tone from the beginning.
"If you work at a design-focused company, it's your ball. You should run with it," Kalmikoff says. If you want to create a collaborative environment, then it's your responsibility to make that happen. "You want to lead by example. If you start asking people for their opinions, they'll start asking you for yours. And if you facilitate a collaborative environment early, there's a lot of positive that comes from that – it informs the habits of early employees, and even the whole culture of the company."
It's critical to set these standards early on Kalmikoff says. The power of holding the ball can be good and bad. He's seen founders who roll in at 11 a.m., who party in the office, etc. And that's how the company remains even when it's arguably too old for that scene. It happens because that's how it's always been. "Across any function, whether it's engineering or design, if you want the company to run in a way that's best for you and what you need to get done, put it into practice now. It's a lot easier to get three people to do something than 300."
When you're a designer setting the tone for a company, your objective should be establishing strong, sustainable feedback channels. This echoes the need for a diversity of ideas, but puts a system around it so it continues to happen in the long-term. "You can't just set it up, either," Kalmikoff says. "You have to follow through. If you say you're going to do something and never follow up, you're never going to create a culture that does."
The same goes for setting priorities for yourself. Basically, you need to create a system that maximizes your value to the company at all times. "Designing a UI for developers so they can build very complicated gambling games very simply – that'll turn your brain inside out. You can spend a ton of time on it and then have to immediately switch over to designing a new user experience for mobile." His other rules are to spend time every day with Betable's head of product to see what's on his docket. He also aims to get through his inbox early so he can build an agenda that limits context switching and zeroes in on areas where he can make the most headway.
#3: Let good be good enough.
"Remember, 'good for now' earns opportunities for 'great' later on," Kalmikoff says. "Raise your hand if you're a designer and you're comfortable with the term, 'good enough.'" Needless to say, no one at Design+Startup volunteered, and Kalmikoff wasn't surprised. "I know, it completely counters a designer's ego to want to do that. The fact that we are designers says that we look at the world and hate what we see, and we're egotistical enough to think we can make it better. It's part of who we are."
Done is better than perfect. There does not exist a time when no product is better than product.
But too much of the time, this attitude gets in the way, Kalmikoff argues. Especially in order to work solo, designers need to take on what he calls 'design debt.' This is something engineers and product teams are all too familiar with – that queue of tweaks and to-dos that could make existing features better. The important thing is having the features out there at all. "Done is better than perfect," Kalmikoff says. "There does not exist a time when no product is better than product." More designers need to make this their mantra to keep up with startup velocity.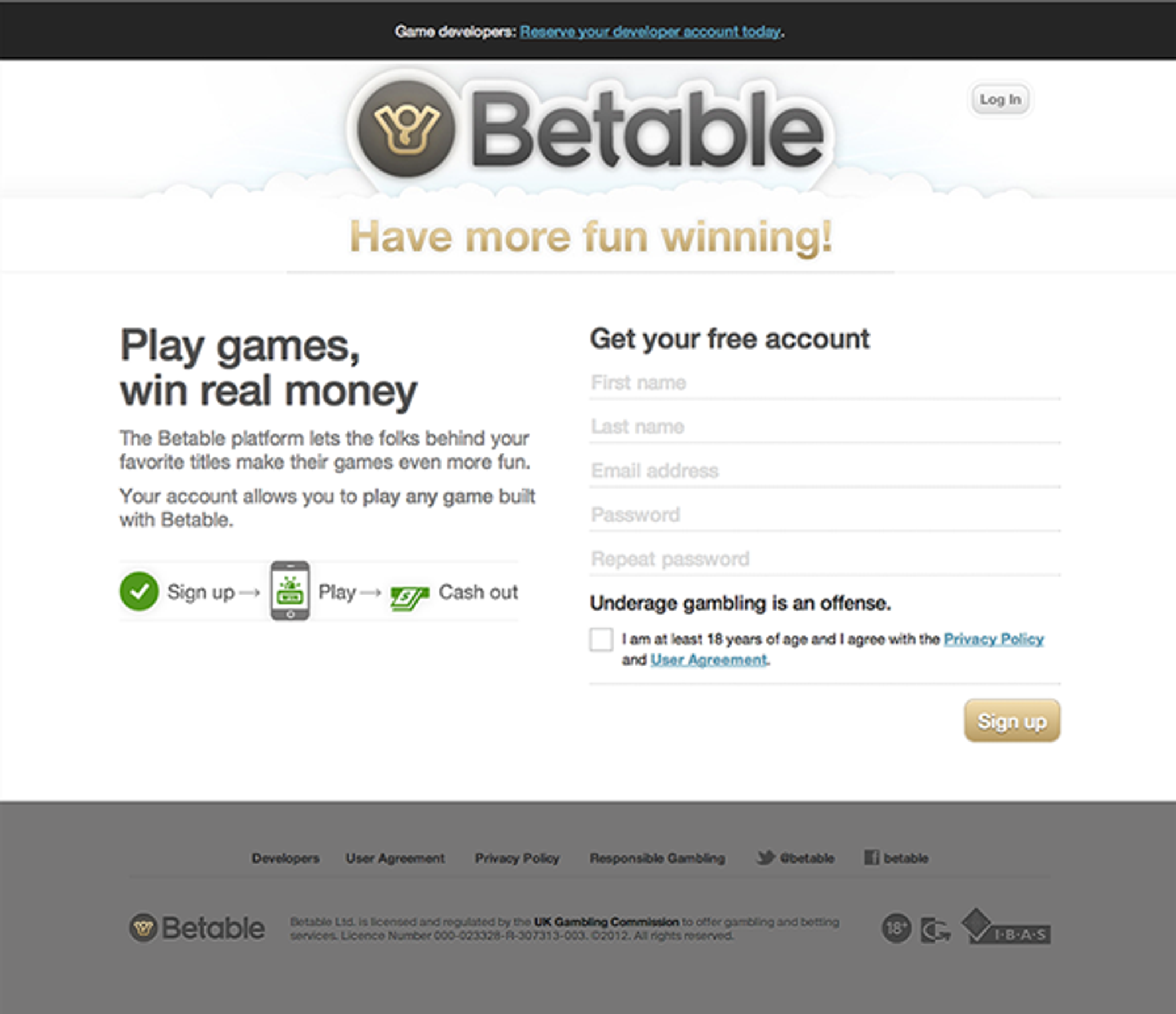 "You don't need to put up the best work of all time every time. You just have to satisfy the need for the time being so you have the opportunity to go back to it later. Otherwise you may not have a product at all," he says. "I'm not saying lose your ego – if you lose your ego you'll lose the edge that makes you want to make things better – I'm saying learn how to check it. If you don't take on design debt the same way engineers take on technical debt, you're not going to be able to make progress at the same rate." The worst thing you can do is be the designer that holds up key functionality.
Here, Kalmikoff provides a pretty personal example: "Take Betable's homepage. I designed it. I hate it." And if you don't believe him, he continues, "The top might give you a clue that I started my career 15 years ago designing rave flyers. It's horrible, but it does its job."
The thing is, for now, Betable isn't about beautiful user-facing design. It's about making tools accessible for developers, and assuring hawk-eyed regulators that the company is indeed fully and properly licensed to do what it does: namely, broker betting and gambling services.
"At the top of the site it basically says 'Hey, if you're a developer click here' because we're only really dealing with developer acquisition right now, and we're not focusing much of our attention on players yet." Accordingly, the homepage is only set up for developer conversion, directing prospective players to sign up to eventually learn more - and clearly displaying licensing and responsible gambling requirements. "Chris, the founder, has spent all this time and money and effort and sweat and tears actually getting our license," Kalmikoff says. "The least I can do is get the [license] number right at the bottom of the page."
In short, "It's okay to let design you're not happy with in the short-term get produced," he concludes, as long as you're passionate about the idea it's all feeding into. "How can you actually get it all done as the only designer at a startup? First, learn to ignore your ego. At the same time know it will be better." As with Betable, "I promise you. It will be so much better," he says.
Given the sheer amount of work required of lone wolf designers, having a sense of future potential is not only motivating, its essential. "I know when I'm 60 and Threadless is hopefully still around, I'll see someone wearing that puking clown T-shirt, and I can point it out to my grand kids and say, 'Hey, I set that up for print,'" he says. "There's a legacy to that that that's awesome – and that's always something I look for when I choose a project."