When Aaron and Adora Cheung launched house cleaning service Homejoy two years ago, they took their research seriously — they worked as traditional house cleaners for a month, and they discovered two things right away: 1) Cleaning people's homes is really really hard; and 2) the current system was so broken and inefficient that there was opportunity to change everything.
"We worked on a team of about a dozen cleaners," says now CEO Adora Cheung. "We had plenty of clients, but for scheduling we literally worked off an Excel spreadsheet that couldn't possibly factor in transportation time, breaks, or clients' schedules. As an engineer, I just thought, 'Wow, software could solve all of this in less than a second for thousands of cleaners.'"
Homejoy was founded to bring this type of speed and scale to the house cleaning business. In just over six months, the company expanded into over 30 U.S. and Canadian cities, and it just established a new headquarters in London to spread into Europe. As more companies like Uber, Postmates, and Airbnb grow their footprints from city to city and employ people outside the tech economy, developing best practices has become mission critical.
In this exclusive interview, Adora Cheung shares the strategies and hard lessons that allowed Homejoy to sprint across two continents while keeping service quality high.
The number one rule for any startup creating a platform to provide a human-powered service is that you absolutely can't afford to reinvent the wheel every time you launch somewhere new. Sure, there are parts of your business that have to remain unscalable to make this possible (more on that later), but there's a lot you can solve with a solid, automated plan. The more you have ironed out, the faster you can go, and the simpler it will be.
"Every city we went to, we learned something new and modified our plan just a little bit," says Cheung. "You could say we had a playbook — which sounds fancy — really it doesn't have to be more than a Google Doc with a checklist. No special features required."
Here's the rough list that she and the Homejoy team have developed to think about entering new markets:
Carefully identify where to expand next based on market size and opportunity for your specific business.
Pay crucial, painstaking attention to your first hire in every new city or region. They are the linchpin in your plan.
Invest time and energy in top-to-bottom quality control that is replicated everywhere you go, no exceptions.
Pay constant attention to both sides of your marketplace, and continuously think of new ways to support them.
Dig into data whenever and wherever possible to streamline operations.
Invest in one process and write it down. Then keep optimizing every step.
1. See Opportunity
"We do a ton of work before we ever step foot in a new city," says Cheung. "Our centralized team in San Francisco does a great deal of research into why we should expand into a specific city. And you really have to think beyond 'is the market big enough?'"
Cleaning is relevant to everyone — living spaces get dirty no matter what — but there are many other factors that go into choosing where to go next. In Homejoy's case, they went from San Francisco to Los Angeles before exploring New York and Chicago. It was key to start with markets they were familiar with so they could see what values and indicators mattered.
Cheung says there are three questions you should pay special attention to before opening up shop somewhere else:
What is the demand for your service now, and how will that change based on current trends?
What are the marketing channels for a launch in this specific city? How will you reach your relevant audience and how expensive is that likely to be?
Perhaps most importantly, what does the supply side of the equation look like? For example, are cleaners interested in working with a service like Homejoy to coordinate their work? Sometimes the answer is no, and this requires a marketing effort of its own.
As Cheung sees it, Homejoy's core differentiator is the ability to not only visualize house cleaning as an engineering optimization problem, but to tweak every link in the process with software and remarkable quality control. In order to viably expand into a city, Homejoy's tools need to be able to demonstrably improve life for both customers and cleaners. This means saving them time, reducing costs and eliminating the repetitive tasks of daily operations.
2. Reduce Friction At Every Turn
"When it came to making things more efficient, there were some clear places to start," says Cheung. "The most obvious to me was that there was no way to easily book house cleaning online."
To streamline the process, Homejoy and services like it need to accept the bulk of the logistical burden. They need to do the behind-the-scenes work of interviewing, background-checking, and testing the professionals that do the work. They also need to architect a scheduling system that match-makes worker and customer availability so that people get what they want when they want it — whether it's a delivery, a cleaning, or a job.
The key: Both of these tasks need to be executed far more effectively than any individual consumer or cleaner could.
"Before Homejoy, we'd ask people if they'd want to have their home cleaned by a professional on demand for $20 to $30 an hour. Everyone we asked on the street said, 'That'd be awesome, but I have no clue how to find that.'" Generally, a search online would bring up too many choices of dubious quality with uncertain pricing or the need to negotiate — which is always uncomfortable, especially if you don't know exactly what to expect.
To get more great cleaning professionals in the door, Homejoy launched an online application, thereby automating its first conversation with prospective cleaners — again, with a focus on reducing any points of friction.
"We have a solid first step that is complex enough that it screens out people who aren't really interested, but easy enough to navigate for people who really do want to work with us," Cheung says. "We're able to filter out candidates who we would have spent time phone screening in the past."
To reduce friction, Cheung recommends the following to founders pursuing similar business models:
Don't obsess over making every practice scalable at the expense of the bigger picture. Capitalize on your domain knowledge to figure out how to do everything really well — and what you'll need to do it really well — before you try to do it fast.
Keep a sharp eye out for patterns. When you find yourself or your team repeating actions three or more times, find a way to automate them in a way that will produce the fewest questions or issues. This list (or Google Doc) will continue to grow.
You should only attempt to grow when you've written your process down so that someone else is able to implement it flawlessly with little to no oversight. That's your inflection point.
"When we expanded to LA from the Bay Area, I literally handed a document we had over to somebody else and said, 'Go,'" says Cheung. "Luckily that somebody was extremely smart and able to do things on the fly. As a founder, you have to find these people. You can't be executing expansion yourself."
Before co-founding Homejoy, Adora Cheung worked as a product manager at Slide where she became an expert at user acquisition and retention models.
It's okay to be manual at the start, but always be looking for ways to automate.
3. Find Your Local Anchor
When Homejoy stakes out a new city, it sends what it calls a "City Launcher" to scout things out on the ground. But the most important job of all is to vet candidates for the first crucial, permanent hire in that community: the City Operations Manager.
"We typically line candidates up for that role in advance so that when the launcher touches down, the first thing he or she does is dive right into interviews with a bunch of candidates," Cheung says.
For a company that lives or dies on local adoption, City Operations Managers must possess several vital characteristics. For instance, they need to have intimate knowledge of the city at the street level. They also have to know about the precise challenges involved with cleaning, and how to be operational masterminds on a large scale. In most cases, Homejoy's city operations managers work with a corps of hundreds of cleaners at a time.
"We've found the best City Operations Managers to be people who know how to work with a distributed workforce and how to clean to a very high standard," Cheung says.
Look for that person who is the best at what you want service providers to do.
The most important job any city operations manager has is to find and validate talent. For Homejoy, this means administering an in-person cleaning test to every single candidate before they can work on the platform. This is how the company has maintained strict quality requirements, and it all rests in the hands of their local anchors.
4. Only Grow As Fast As Quality Allows
Because so much depends on the individual cleaners, the company spends more time on hiring than average. While a lot of startups rely on video interviews or contracting with existing companies to beef up personnel fast, Cheung and her team prioritize face-to-face interaction and direct observation.
"There's no replacement for the in-person interaction," she says. "All of our City Operations Managers have quickly realized that they can't skip that step, so we've decided to stick with that model."
Word of mouth yields the highest-value personnel recommendations.
"When we initially set up in a city and don't know anyone, we work through all the regular channels like Craigslist," says Cheung. "You have to put yourself in the shoes of independent professional cleaners. Then you have to focus your energy on becoming a trustworthy source of clients. This is the only way we're able to spread through word of mouth."
It turns out this same model is relevant to marketing to Homejoy's prospective customers in every city too.
"It actually works exactly the same on both sides of the platform — with cleaners and customers. First, you have to invest in some upfront marketing, but then it's ultimately a word-of-mouth game. It's fascinating. Even though we're an online company, because we offer local services, people talk to each other about things that have worked well for them. That's how you win people over."
Cheung's hiring checklist for startups launching in new cities can be boiled down to this:
Hire a stellar City Operations Manager who you know has domain expertise and who is committed to your same standard of quality.
Do whatever you can to fill your pipeline with candidates for the job. This includes an investment in upfront marketing channels.
Have your metrics in stone. Know what makes someone a successful service provider, whether they are cleaning or running errands. Make them as quantitative as possible so that hiring decisions are easy.
"We've been able to partner with a ton of independent cleaners who are trying to unlock opportunities on their own," says Cheung. "We provide easy, swift, and painless access to work opportunities. If you can do that, you won't struggle on the supply side."
At the same time, she admits that the company can only grow as fast as it can find candidates it believes in. "We get thousands and thousands of applications a week, so the challenge is to identify who we want to work with," she says. "Only a very small percentage of applicants make it to the phone screen, then even fewer to the in-person evaluation, and after that we run an extensive background check."
The Homejoy team developed this system through trial and error as they grew from Los Angeles to San Diego and Seattle.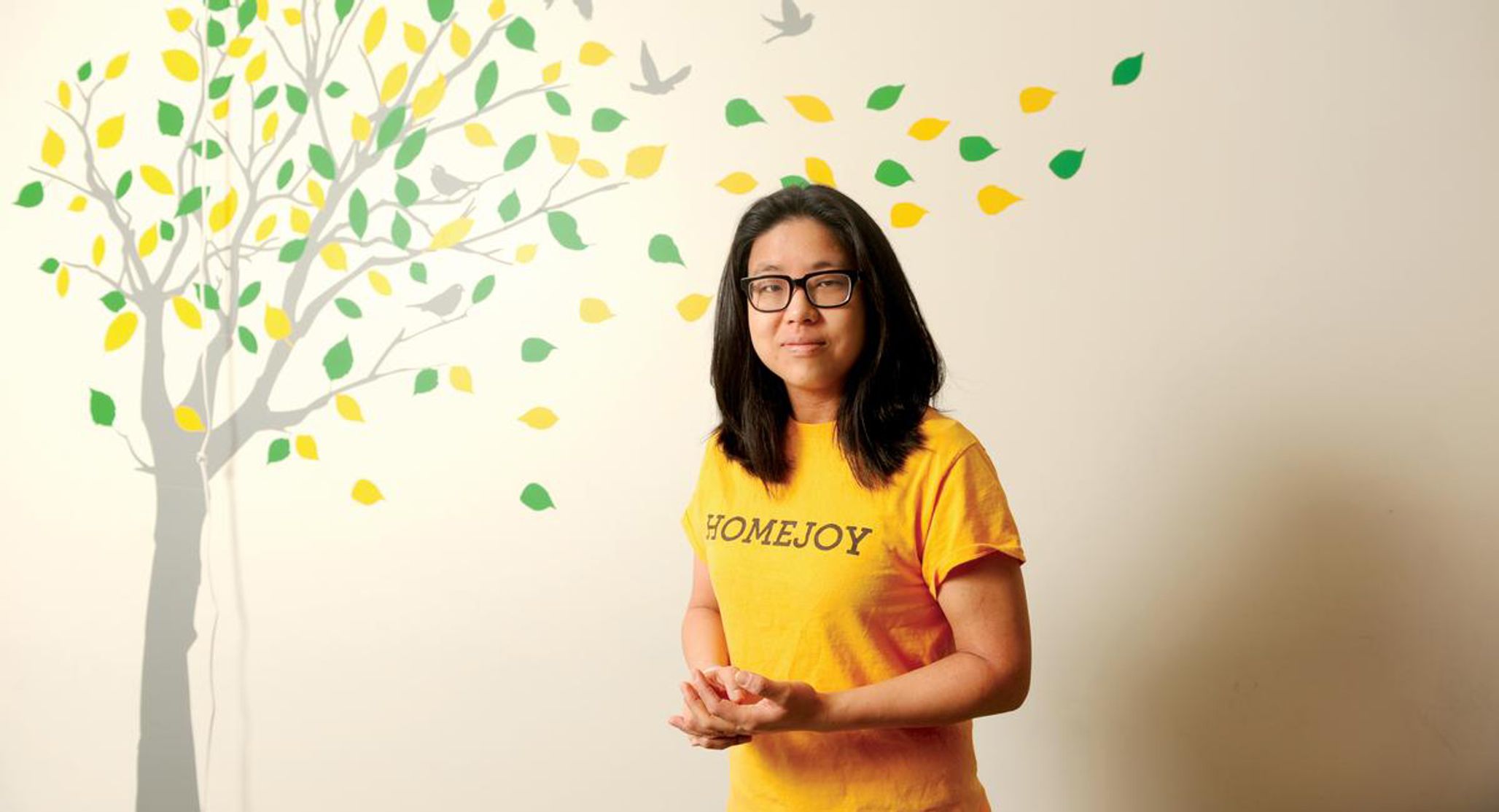 "We missed some things, which looking back could have made a big difference from the beginning," she says. "But we didn't retreat. We just went back to the drawing board and adjusted the system to avoid those mistakes in the future."
5. Don't Forget You Have Two Sets of Customers
There's a reason we started out as cleaners ourselves — no one wanted to work for us.
As Homejoy has grown, Cheung has continually faced skepticism from cleaners, many of whom see two young people trying to fundamentally change an industry they've been working in for years.
They had to make building trust with cleaners a pillar of the company. In particular, they needed to prove they'd be trustworthy where the house cleaning industry had traditionally been unreliable.
"A lot of the people we work with were used to something else – not an easy platform with recurring payments," she says. "Not getting paid on time is a precedent that's been set for decades, so of course people are going to be wary."
Homejoy wasn't going to fly without a strong force of reliable, kind and detail-oriented cleaners. So they truly became the company's first customers, and it continues to be laser-focused on building credibility and providing straightforward value without any hooks or gimmicks.
"Homejoy is just as much about paying people for the services they provide and providing flexibility for people who often need to work odd hours or around more complicated schedules," Cheung says.
The No. 1 value all employees share is making happier homes for both our customers AND our cleaning professionals.
This philosophy has aligned the entire Homejoy team around rethinking the meaning of company-customer relationships. Any service-based technology company should do the same, Cheung suggests. You have to realize you have two audiences with different needs, and just because one represents revenue doesn't mean they should get preferential treatment.
"Everyone at Homejoy knows there are two customers on the platform: The homeowners and the independent cleaning professionals. We have support teams and communities for each one," she says.
Keeping stakeholders on the supply side happy and motivated has contributed massively to the company's ability to replicate its services from city to city.
"People think they know how things work, whether it's plumbing or gardening or catering, but they don't," says Cheung. "I thought I knew how to clean but I didn't know. Even if you've researched everything and it seems simple, things are way more difficult. You need to get your co-founders and staff out there so they realize this too. Get your family and friends to do it and get their feedback."
6. Collect Data Wherever You Can Get It
Pleasing two separate constituencies requires having a firm grasp on how those experiences are going on a constant basis, both quantitatively and qualitatively. Like Uber and most other human-powered services, Homejoy asks its customers to rate their cleanings. But this isn't the only valuable source of data that is critical to the business, Cheung says.
That's why she makes a point of meeting with cleaners in almost every city where they launch. One of her strongest memories is sitting down with Homejoy's very first cleaner candidate at a Starbucks in San Jose. They talked for hours — and by the end, Cheung had convinced her to trust and join the platform. She had these conversations again and again.
"I would say I went through that same cycle for the first 20 cleaning professionals on our platform," Cheung says. "Understanding their needs and where they were coming from and their reasons for joining something like Homejoy was so valuable to the decisions we made later."
Don't think about expansion right away, think about getting process right.
Cheung still looks for opportunities to speak with cleaners in every city she visits. This form of organic data gathering dovetails with Homejoy's commitment to continually evolve its operations. Speed is important, but it can't be the guiding force. Moving fast and breaking things doesn't apply when customers are trusting you to come into their homes and make their lives easier.
"Scaling rapidly is the one thing that keeps me up at night," Cheung says. "But it's not about how many cities we're in and how fast. It's about how do we keep delivering that 'Wow' factor and 'five-star' experiences."
To make customer satisfaction even more core to the company's objectives, its next stop (in addition to Europe), will be to build out a robust data science team to measure both client and cleaner wants and needs and determine the best way to meet them in real time.
"Eventually, we'll be able to build to meet all of these needs," Cheung says. "The important thing was knowing what was required to expand, what we could tackle later, and what would give us the next big boost in growth."