In 2013 alone, Swipely jumped from 30 to 80 employees. Teams swelled and split, and people filled new roles with new directives. It reached that ironic point where, while growing strong, a company is also at its most delicate — with culture, productivity and alignment all in flux. Smack in the middle of this sprint, at 50 employees, CEO Angus Davis knew he had to do something to keep everyone moving forward as a team.
He chose a well-known tool: OKRs. The system made famous first by Intel and now by Google asks all employees to outline their major objectives and the quantifiable actions (i.e. key results) it'll take to achieve them. It's a technique designed for accountability and enforced with scores. But Davis knew he'd have to go further. After becoming Netscape's youngest employee in 1996, working to launch Mozilla, and co-founding Tellme, he'd seen how hard it is to implement something that actually makes a difference.
That's why, at Swipely, OKRs have become much more than a goal-setting system. They serve as a layer of communication that holds the company together and elevates its game at the same time. And in short order, they've become fundamental to Swipely's culture, helping it hit a record $1 billion in sales under management this fall.
How did this happen? Davis says it was all in the execution. Just because a system's worked like gangbusters before, doesn't mean one size fits all. You have to figure out how to put OKRs to work for you.
Breathing Life into Acronyms
There are few things people hate more than corporate acronyms — especially corporate acronyms that mandate work. To escape this stigma, Swipely has shifted the spirit of OKRs to be less about action items and more about collaboration.
The reality is, a system was needed. "We had grown to the low eight digits in revenue, and we've got a lot of teams dependent on one another to succeed — no one person knows everything going on inside the organization anymore," Davis says. "The right way to look at OKRs is a way to communicate so there's clarity of purpose."
At Swipely, OKRs are made up of a high level objective, a more detailed description of why that objective is important, a summary of how the objective aligns with the broader goals of both the person's team and the company, and the three to five key results that will help them achieve that goal (see below for examples).
When personal objectives are directly and clearly connected to the broader goals of the company, they're suddenly more inspiring, less myopic. Make them public so everyone can see what's on their co-workers' plates and employees no longer feel like they're toiling in a vacuum, or for their manager's approval, Davis says. That way, OKRs become a built-in way for people to ask for resources, or easily spot where they can come to their colleagues' aid.
"Having public goals forces different types of thinking around how people ask for help from others," Davis says. Swipely's implementation of OKRs is all about bringing this type of dialogue to the fore. Airing things out releases anxiety and let's people get creative — and that's when interesting things happen.
The Musts
Davis embraces the fact that Swipely's OKR system is probably different from Google's, which is different from Intel's and so on — but there are some key tenets that every system needs to be effective. As he puts it, "Every church or temple might have a different interpretation, but the overall philosophy stays the same."
All high-performance OKR systems have these commonalities:
"The ability to track results on a quantitative basis." Key results are not general or subjective actions you plan to take. They should always include numbers to make it clear how much has been achieved. For example, if Mary's objective is to improve her sales prospecting skills, one key result might be to spend two hours a week shadowing Jennifer, the team member who demonstrates the most prospecting success.
"Make it something people look at, every quarter, every week, every day." This consistency turns goal-setting into a habit and changes how people think about their work and approach their everyday to-dos. "It puts in place natural milestones that make you think about what you need to do next and aim high."
"They have to be a stretch." Most people wouldn't consider 70% to be a good grade, but for OKRs that's just about perfect, Davis says. You want your objectives to be ambitious enough to push you beyond your limits. When everyone does this, it forces the tough conversations about what's truly needed to beat expectations.
Davis created the following examples (and many others) to help guide people in defining their OKRs:
Paul, a member of Swipely's engineering team
Objective: Ship [X] feature to increase engagement.
Description: Our [X] will allow merchants to access Swipely anywhere, increasing engagement, value and differentiation which will reduce churn and differentiate our offering with an exciting new value proposition.
Alignment: A company-wide objective is to "Become a 'must-have' tool merchants love to use," which has a key result, "Ship [X] product to increase engagement and drive excitement in sale." The individual objective to ship [X] is aligned with this company-wide objective.
Key Results:
Deliver alpha version to targeted devices for alpha testing feedback from 10 early customers by [date: mm/dd/yyyy].
Provide screenshots/screencast to support marketing launch of the app by [date: mm/dd/yyyy].
Release beta version by [date: mm/dd/yyyy].
Achieve engagement DAU / MAU metric of [X] with beta audience.
And on the other side of the spectrum…
Cindy, a sales account executive who wants to turn more dials into demos.
Objective: Develop better prospecting skills.
Description: By improving prospecting skills, I will get into more initial presentations and win more business!
Alignment: A company-wide objective is to "accelerate revenue growth," which has a key result, "grow booked ARR by $XX to $YY mm, thanks to new AEs, channel, and fully ramped AEs." The individual objective to improve prospecting skills is aligned with this company-wide objective because it will help Cindy attain her quota targets. It also aligns with a company-wide objective to strengthen the team.
Key Results:
Review training materials from our online coaching resource.
Do 2 60-minute game tape reviews with the sales manager, reviewing 20+ prospecting calls for coaching on what's working, what's not working.
Do a role-playing session with Allie, who has our team's top connect-to-meeting rate.
Test 5 new "compelling reason" pitches on prospecting calls to introduce humor, rapport and other techniques.
Increase my weekly connect-to-meeting rate from X% to Y%.
Davis spent hours assembling these archetypes and a central document about the OKRs process. This is solidly CEO territory, he says. As he wrote in his introduction to the document, "OKRs are critically important to me, to our board, and they should be important to you too. Having clear objectives, especially those tied to developing your skills, are a key part of career development here at Swipely."
He beats the drum every quarter. Since OKRs launched, the first All Hands of every quarter has been devoted to talking about them. "The idea is to spend the beginning quickly running through results from the previous quarter, and then use the rest of the time improving how to use OKRs and why they are important. Only then can you talk about the objectives for the next quarter."
During this part of the meeting, Davis asks the heads of each department to talk about how they performed against past OKRs and what they plan to do over the course of the next three months. "Everyone should come out of this meeting with a clear understanding of where the company's going and why," Davis says.
Why Stretch Goals?
People love hitting their marks. Crossing off every to-do is always the goal. But when it comes to effective goal-setting, you should never get to 100%. If you do, you're not trying hard enough.
If you don't set your goals high, you won't force the right questions.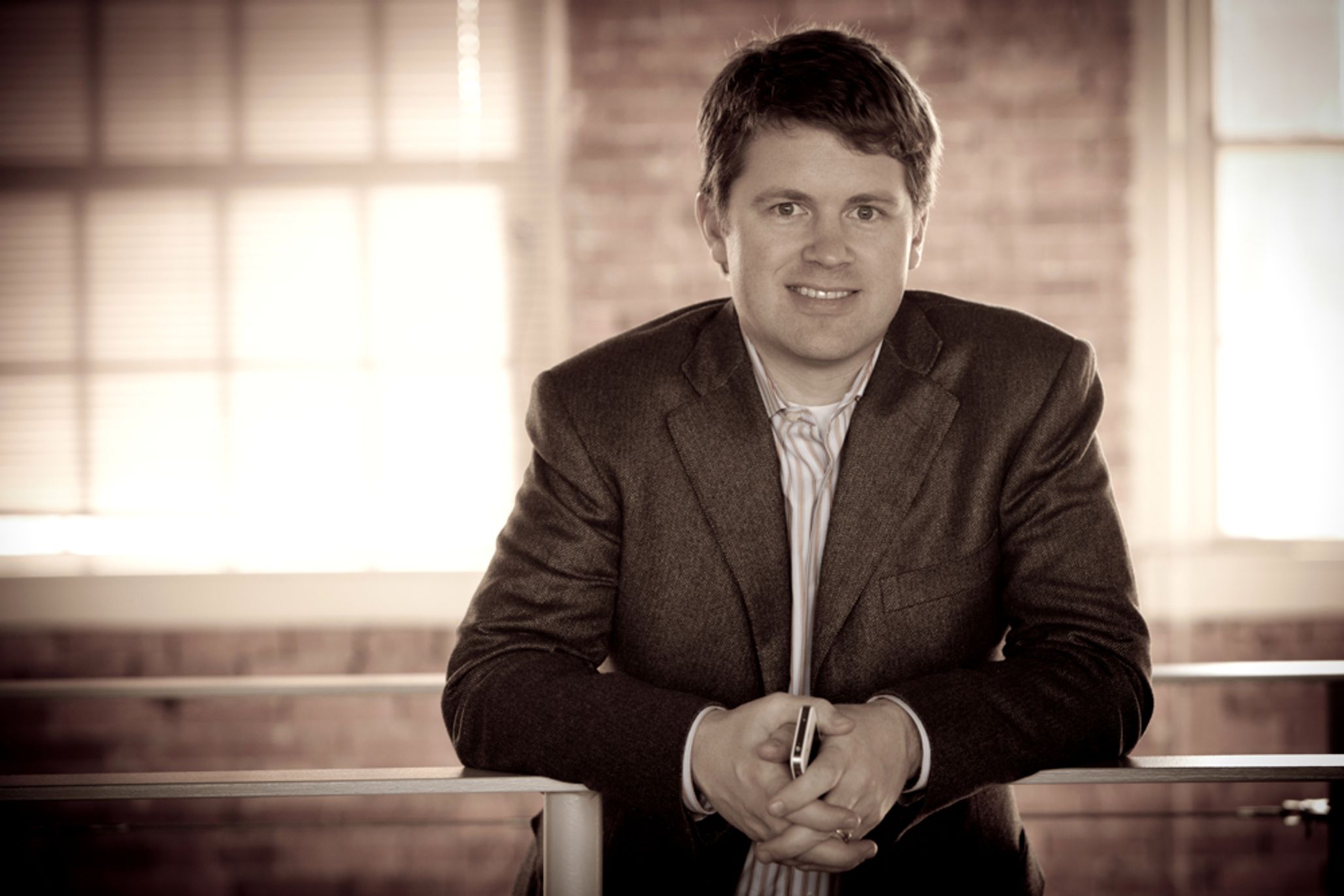 It's not enough to say you want to see 10% improvement when you know that's well within your reach. It means you'll just keep doing the same things, just working ever so slightly harder.
"But if I said to you, I need 50% improvement in what you're doing," Davis says, "you'd probably say, 'Gosh, in order to do that, I'd have to completely solve this hard problem' or 'I need to completely rethink how I'm addressing X or Y.' That's what OKRs are supposed to do. When you aim higher, you think harder about the steps you need to take to really achieve something."
The Kiss of Death: Performance Reviews
While some companies fold OKR results into annual performance reviews, Davis is adamant about decoupling these processes, especially if compensation is involved. "OKRs are not designed to be used as a weapon against your employees," he says. "They are a tool for motivating and aligning people to work together. They increase transparency, accountability and empowerment."
For example, Davis says, members of Swipely's sales team have part of their compensation tied to the number of deals they close. That makes sense. But if OKRs were always tied to money, you'd never see other, diverse objectives in the mix. A salesperson would never create an objective to improve a training program, for instance, even though training programs are vital to the company's overall success.
But that's not the only problem. "Let's say we bring OKRs into a performance review, and punish the person for scoring lower than maybe they had hoped — they go without their bonus. That just encourages them to sand bag their OKRs from there on out. They won't stretch. They won't push hard." In short, they'll play it safe. And that's when startups stagnate.
Putting distance between reviews and OKRs has another positive side effect. Before the OKR system was instituted at Swipely, most employees got all their praise and/or feedback in one big chunk during their performance reviews. Now, with regular OKR updates and reviews spurring increased dialogue between employees, their co-workers and managers, recognition can be spread out over time, which tends to be more rewarding.
How it Works in Practice
At Swipely, OKRs aren't only a quarterly affair. Davis checks in on his immediate reports every week, and encourages his leadership to do the same. They believe people should be held publicly accountable for failing to regularly update their OKRs, and Davis even shapes his management meetings around them.
"We start each meeting and I ask people to give me their quick wins — one or two things they or their team has achieved in the last week that are notable. Then I say, 'Okay, now looking at your OKRs, what progress has been made? What are the areas that are still keeping you up at night? Where do you need help?' Everyone shares one or two things that are causing them the biggest concerns about hitting their OKRs and that guides the meeting's conversation in the right direction." Because they're always focused on removing roadblocks, they never feel like they're wasting time, Davis says.
Outside of management meetings, he believes OKRs make it easier than ever to keep people focused and collect feedback. Employees are encouraged to spend time defining their own OKRs and then to meet specifically with their managers to incorporate their feedback. This update should happen within the first week of a new quarter — after the prior quarter's OKRs have been scored and discussed.
Swipely uses SalesForce's Work.com platform to track people's OKRs even as they make progress.
If, for example, your objective is to drive more leads, one of your key results might be to create a live chat feature to drive a certain number of new leads a month. "When you get the live chat feature pushed to the website, you can mark your key result at 30% done. Then when you start getting close to your target number of leads, you might mark it at 60% done." At any point, your manager can check the system to see where you're at and if you need help.
"Grading should be a simple exercise at the end of every quarter, five minutes tops," says Davis. You score an objective by averaging the individual key result scores underneath it. This is also why it's so important to make those key results quantitatively measurable.
Measuring OKRs should be easy. Defining them is where you want to spend your time.
Swipely's Work.com system also makes offering feedback to people or their managers as simple as clicking a button — same goes for requesting feedback from someone specific. "You can tag the people who you want feedback from just as easily as you add tags to a photo, and they can give you private one-on-one feedback about whatever you want."
Skill-building is a major emphasis for Swipely's OKR system, and Davis is especially keen about helping people develop in areas where they want to improve.
"When it comes to developing skills, it's more about continual coaching," he says. "We actually require that every person on our sales team have at least one skill development objective. It's not something like book a certain number of sales. It's about their personal career development. It could be as simple as someone wanting to read more on a particular topic."
Davis is so intent about this that he has a standing meeting with the head of sales every month to see how each person's skill development objective is coming along and whether they can leverage any of the company's resources to help them win.
Bottom Up, Not Top Down
In order to maximize impact across the board, OKRs need to be a tool for the bulk of employees, not a requirement.
You want 60% of your company's OKRs to be defined by employees, not leadership. You don't want the executives coming in dictating what all the goals are going to be and letting them trickle down.
As an example, he highlights Swipely's commitment to improving training programs, especially for its large and rapidly growing sales team. "We heard from a number of people that they want to develop better skills in certain areas, and now we have a goal at the very highest level of the organization to keep expanding our training opportunities. As key results, we've hired a dedicated sales training person and brought in an outside consultant to talk about particular skills that will help the team win more consistently."
The Beauty of Alignment
Just over four months ago, Swipely opened up an important new source of revenue — channel partners who promote the service to their networks. Before that, the company was solely dependent on in-house direct sales, so this is an exciting development. And, to a large extent, OKRs made it possible.
In order for the channel partnership team to get traction, it was going to need heavy duty marketing support from day one. Not only did they need to explain the program to prospective partners, they needed to empower them with marketing collateral and build a community to engage them, answer questions and track their progress. There were a lot of big asks all at once that weren't easy to anticipate.
Because the OKR process is standard across teams, Davis had the ability to make sure marketing's goals were in line with channel partnerships' needs.
"I could shuttle the marketing OKRs to the person running the channel partner program and straight up ask him: 'Ok, if we do even just 70% of this stuff, it'll be a home run for you guys, right?'" Davis explains. "But the first time I showed him the list he said no, what we really need is X, Y, Z. It forced the conversation, and let me go back to the head of marketing to say, 'Hey, this isn't going to cut it.' If it hadn't been for OKRs, we might not have had that conversation until the end of the quarter."
The result: The channel partner team got the resources it needed from not just marketing, but also sales and operations to become a major and growing stream of revenue for the company.
Still, Davis says, one of the best outcomes is that he now hears people talking casually in the halls in the context of their OKRs. It's a sign that people feel connected to the company and where it's headed. And that gives him faith, he says.
"We created OKRs because we were getting to a size where I or the leadership wouldn't be able to and wouldn't want to weigh in on every little decision — now everyone in the company has the framework to make decisions in Swipely's best interest and a support system to build the skills that will take them to the next level."