As Apple prepared to open its first retail store, Ron Johnson — the project's chief architect — realized that the company was making a big mistake. The design was wrong, he told Steve Jobs, as they drove to the pre-launch meeting. The company was moving away from its focus on individual products toward becoming a holistic lifestyle spanning movies, music, and more — but the store didn't reflect that shift. They needed to start over.
A few minutes later, Jobs was the one to announce that they'd be rethinking their approach to stores from scratch. It was largely on Johnson to make it happen — and what he delivered has fundamentally changed technology retail. Prior to Apple, he led Target's successful rebrand. Since then, he failed to work the same magic for J.C. Penney. It's safe to say, when it comes to retail, he's seen it all.
As more startups like Birchbox, Bonobos and Warby Parker experiment with showrooms, retail best practices are evolving to embrace a hybrid model. In a recent talk at the Stanford Graduate School of Business, Johnson explained how brick-and-mortar strategies can fit into the consumer tech economy, and shared tactics for startups to break the digital barrier.
The most important thing startups need to understand is that there's a big difference between making a sale and creating an experience. Beyond pop-up shops and marketing gimmicks, there's a profound advantage to creating a lasting commercial space where people want to spend their time — not just their money.
"We live in a high-touch world," says Johnson. "We're all social animals and we love to engage. There will be a physical component to retail forever even though the internet is changing commerce." While e-commerce is growing, it still accounts for less than 7% of all retail sales in the U.S.
Reinventing retail in the startup space upends the basic sales playbook, he says. If you're going to create a great customer experience, "Everything on your list will need to be counterintuitive." Below, is a breakdown of how he tapped into counterintuitive strategies to create distinctive retail brands.
Bet Big to Redefine Your Market
If you set out to be truly innovative, you'll have to be willing to fly blind. Existing data can only tell you how to improve on what you and others are doing now — not how to do something completely new in the future. Giving more weight to intuition gives leaders more room to pick an unexpected path.
"If you rely on data, it will drive your decisions— and most companies would come up with the same approach."
In Johnson's opinion, data-driven tactics reduce your business to a commodity. If other people can crunch the same numbers, there's a good chance they can do something better than you can.
"Anytime you imagine something, you're going to get stuck battling reality filters — assumptions about business that are embedded in your company or industry," he says.
As Vice President of Merchandising at Target, Johnson pushed for an unlikely idea — introducing Michael Graves' artsy, premium-priced house ware, and pitching it as "design for everyone." This didn't just launch his career, it transformed the nation's second largest general merchandise retailer. But it didn't happen overnight.
The idea wasn't well received at first, Johnson says. Other executives didn't recognize the designer's name and questioned whether their customers would even value higher design products. As a result, they focused on why the idea would fail, rather than recognizing the opportunity to differentiate the business.
"We can deliver great value to middle America," Johnson told them. His idea wasn't just to upsell with higher prices — he imagined a sea change in how consumers would perceive and relate to Target. Eventually, he convinced the higher-ups to go out on a limb with the Graves collection. And when they did, he didn't just add the products to store shelves, he hosted a buzzy launch event at New York's Whitney Museum, placing the new products in the context of great works of art.
"We invited the press to see what design could be for everyday people, and it connected," he says.
Investing in big ideas meant more than gambling on a flashy move — Johnson's plan for Target was all about fundamentally chaining the retailer's relationship with the people it served. He believes this shift in priorities can be helpful for every retail business, from technology startups to legacy department stores.
Rethink Your Customers' Needs
When Steve Jobs decided to stake the company's reputation (and a lot of money) on opening stores, he knew that Apple products would still be available from online retailers — retailers who could probably process orders faster and cheaper. But people flocked to every Apple Store that opened. Why? Because they offered something people needed, Johnson says.
With technology moving so fast, people need help and support. In this world, the connections built before and after purchase are even more important than the sale itself — that is, if you care about long-term market domination.
"You're connecting a creator with a customer," Johnson says. The way you build that relationship will determine the lifetime value of the customers you acquire. A retail startup's platform has to be delightful not just across devices, but across online and offline engagements. You've got to find a way to be so special that people choose your interface over someone else's.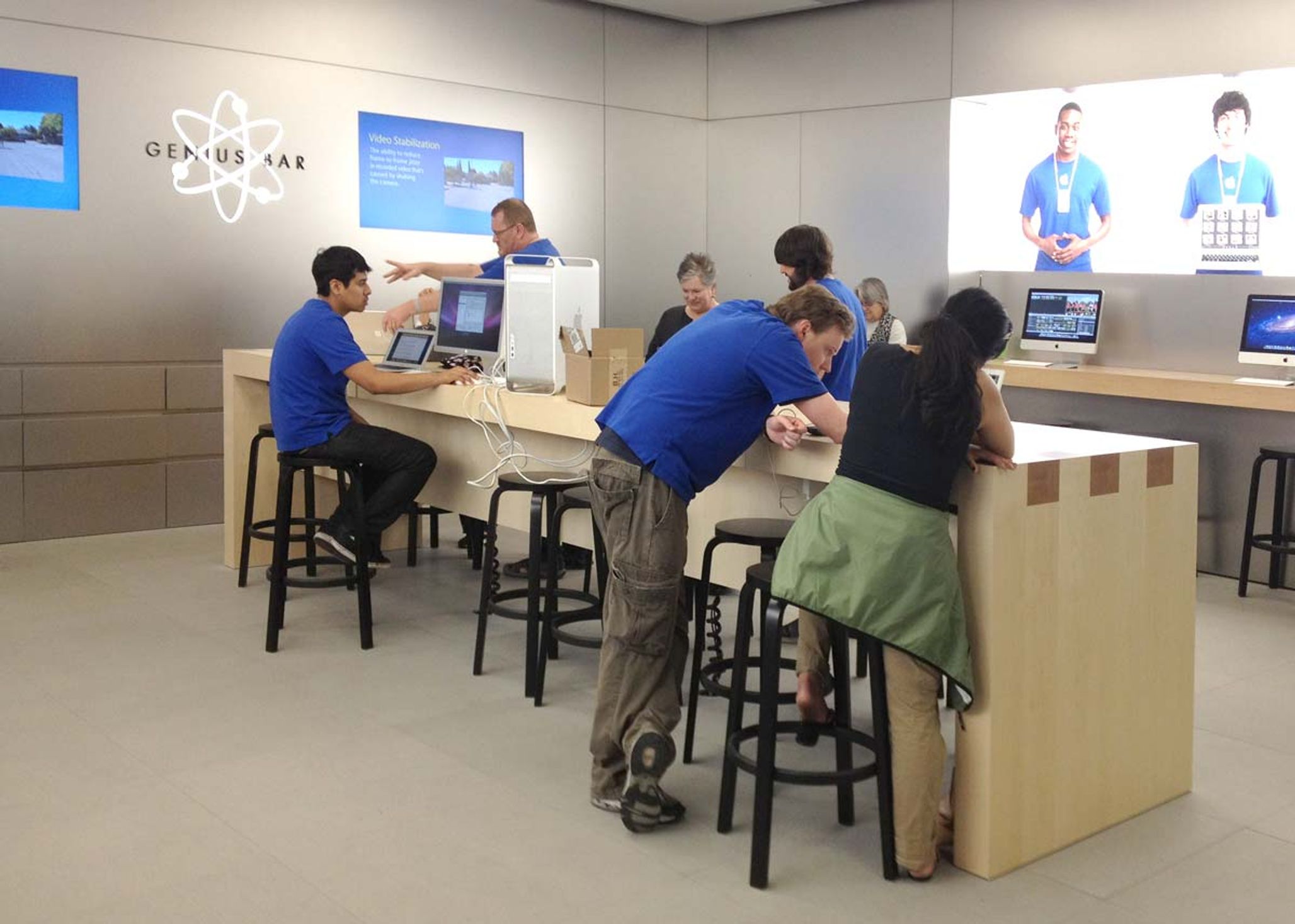 "Only 1 out of 100 people who visit an Apple Store each day will buy anything. Think about that — if you go to Whole Foods, 75% buy. At any apparel store, 25 to 30% buy. At an Apple Store, only one person buys but it's the busiest store in the mall. What's going on?"
When Apple recruited Johnson in 2000 to become Senior Vice President of Retail Operations, its products were viewed as being exclusively for people who were wealthy, design-oriented and tech savvy. Johnson wanted its stores to be more welcoming than this image. He wanted enthusiasts to be able to geek out, but also give beginners the support they needed to set up new devices, learn about new apps, and generally hang around and play with the products.
To design and realize this welcoming atmosphere, Johnson focused on making three major changes:
1) Reworking the sales funnel: Over time, Apple observed that customers might buy something online but still visit an Apple Store — and vice versa. Where the sale occurred didn't matter. What mattered was the relationship that ultimately led to an average purchase of nearly $60 per customer. Johnson doesn't think that physical retail can or should trump e-commerce. Rather, brick-and-mortar plays should augment online experiences — not compete with them.
2) Understanding that a store is not a warehouse: People can buy Apple products cheaper online, but they still go to the stores. That's powerful evidence that consumers want more than speed and convenience when they shop.
Traditional stores — the kind that focus on sales, promotions and pure volume of stock being moved — may be a thing of the past, Johnson says. "Stores that are like public warehouses are not tailored, not personal. There's nothing special about them."
"The world is going to get increasingly personal."
This means that startups can't use the previous generation's retail playbook. Just as they do online, retail innovators in the real world need to invest in sophisticated payment processing and develop customer relationship management systems that can seamlessly track touch-points from offline browsing all the way through mobile engagement and e-commerce purchases. Apple, for instance, has migrated swiftly to mobile solutions for checking out inside their stores. Customers can download an app and literally check themselves out so they don't have to wait in line.
Warby Parker is another relevant example. The stylish eyeglass seller closely tracks in-store customer flow and preferences, as well as online behavior, compiling the company's end-to-end customer interactions in one place. Email marketing, website browsing and billing information are brought together so that the company can follow a customer's journey and learn when and where to optimize.
Real-world showrooms offer a chance to leverage that relationship history in person — but it requires new types of interactions. The Apple Genius Bar (pictured above) is a prime model that recast what in-store interactions could look like. Several of Warby Parker's stores are outfitted with photo booths and other off-beat surprises. At Birchbox's brand new store in Manhattan, browsers can get their nails, hair or makeup done, in addition to building their own boxes of lifestyle accessories.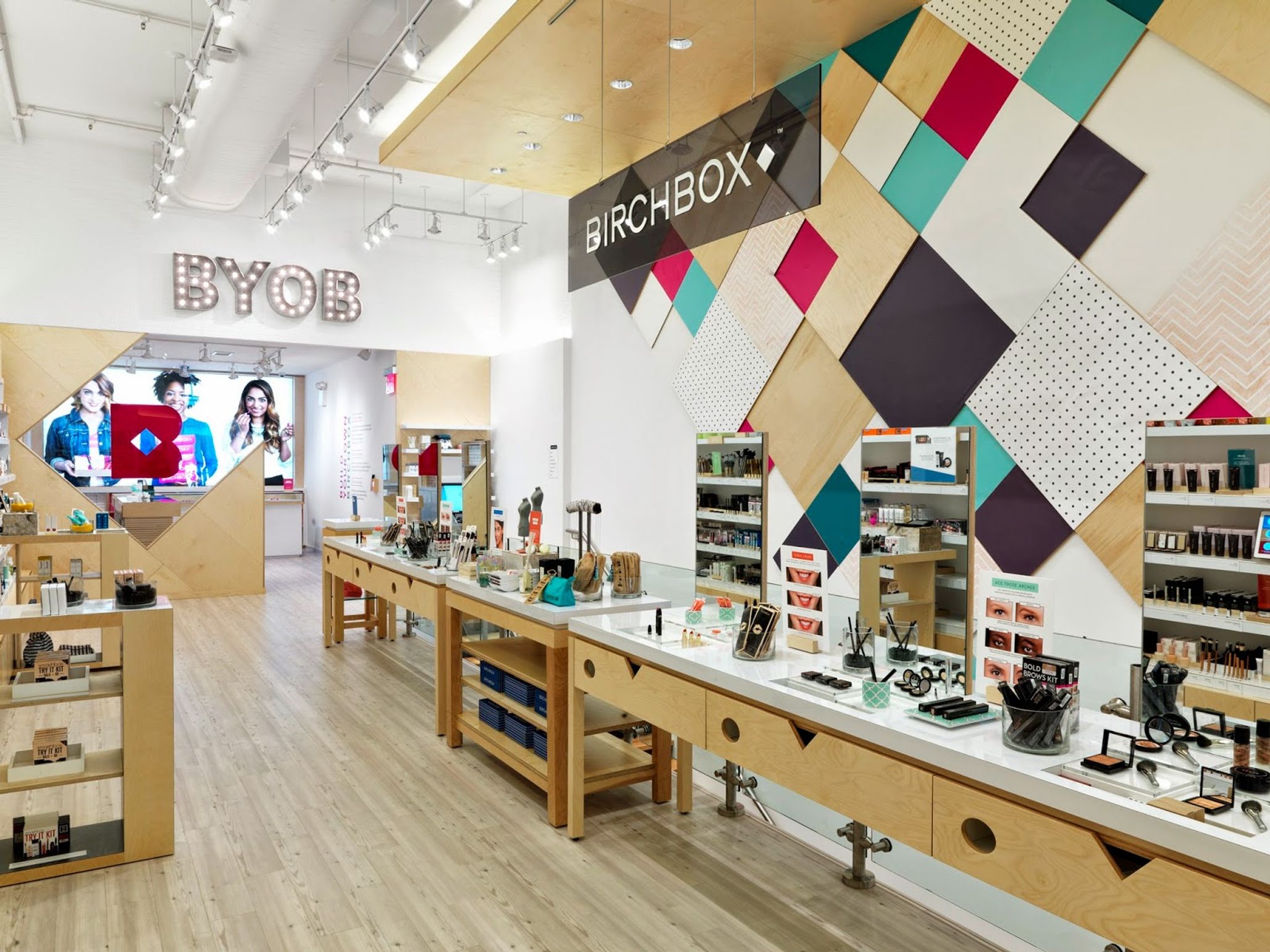 3) Selling an experience: When Johnson designed the first Apple Store with Jobs, they shared one criterion: It had to deliver a great experience. Features like the Genius Bar and internet access may have been one step removed from making a sale, but they solidified a signature high bar of service.
"It was a pure play," Johnson says. "There was really no compromise. Even today, you walk by an Apple Store and see that people feel like they belong there."
Unsurprisingly, making no compromises involved serious risk. When Johnson joined Apple, it commanded only 3% market share and was losing money. Designing (and then redesigning) the retail stores was uncharted territory. Fast forward, and Apple has since been declared the world's most valuable brand several times over. The iconic glass cube store in Manhattan is now a New York landmark.
How does this apply to the next wave of technology companies that don't necessarily have a deep bench of quality products?
"High-tech and high-touch have to go together," Johnson says. It may sound counterintuitive, but technology demands a certain degree of intimacy. "Technology is hard — you want to be able to talk to someone face-to-face if you want to learn from them too. You have to figure out how to create more intimacy, better relationships." Part of this is not forcing, or even suggesting that people buy in the moment.
Build for face-to-face encounters that don't end in a sale. "No one like a commission salesperson — you want someone who looks in your heart, not your pocketbook," Johnson says. Build a staff that teaches customers to get the most out of their products. Time in your store should be about education and entertainment, not just shopping.
Go where your customers already are. "You go to Stanford Shopping Center, and you can see the world changing before your eyes — the mall will survive, but now it's restaurants, it's SoulCycle, it's a variety of engaging activities with fewer stores." Apple makes sure to locate its stores in the center of mixed-use spaces. They aren't just showrooms either. They're play spaces, sandboxes, repair shops and classrooms.
Go after mindshare, not market share. After the Graves experiment at Target, Johnson's CEO cautiously suggested that they test the waters with three design-oriented, higher-cost products. Instead, Johnson rolled the dice and rolled out 140 different items, placing them prominently throughout the store. Maybe they wouldn't sell a single premium piece, but the logic was that customers would start to see all of the store's products in a new light. This allowed Target to differentiate itself as the low-cost, high-style option.
Revisit Pricing — But Tread Softly
Standard startup wisdom has it that customers want more pricing options than fewer, and that every interaction should drive toward conversion. In retail, however, that approach falls apart — and it probably should, Johnson says.
"At companies ranging from Apple to Starbucks — most places we shop today — you know what the price is. There's integrity."
He learned the hard way that that strategy doesn't work in a vacuum. When he stepped in to lead J.C. Penney's new retail strategy, he inadvertently set off a price war, not with competitors, but with customers. He eliminated coupons, time-bound flash sales and most clearance pricing. As a result, price-sensitive customers fled.
"We failed on the execution and moved way too quickly," Johnson says.
But does that disprove his thesis on pricing? Not in his book. When it comes to pricing (among other things), he says, "Everyone deserves truth in their relationship with companies. I wanted to take a 109-year-old company and see if we could find a way for it to succeed for the next 100 years."
"In hindsight, our biggest mistake: We went way too fast. Too fast for our board, too fast for our customers."
His experience at J.C. Penney has yielded a new take on tactics retail leaders need to apply at the very beginning.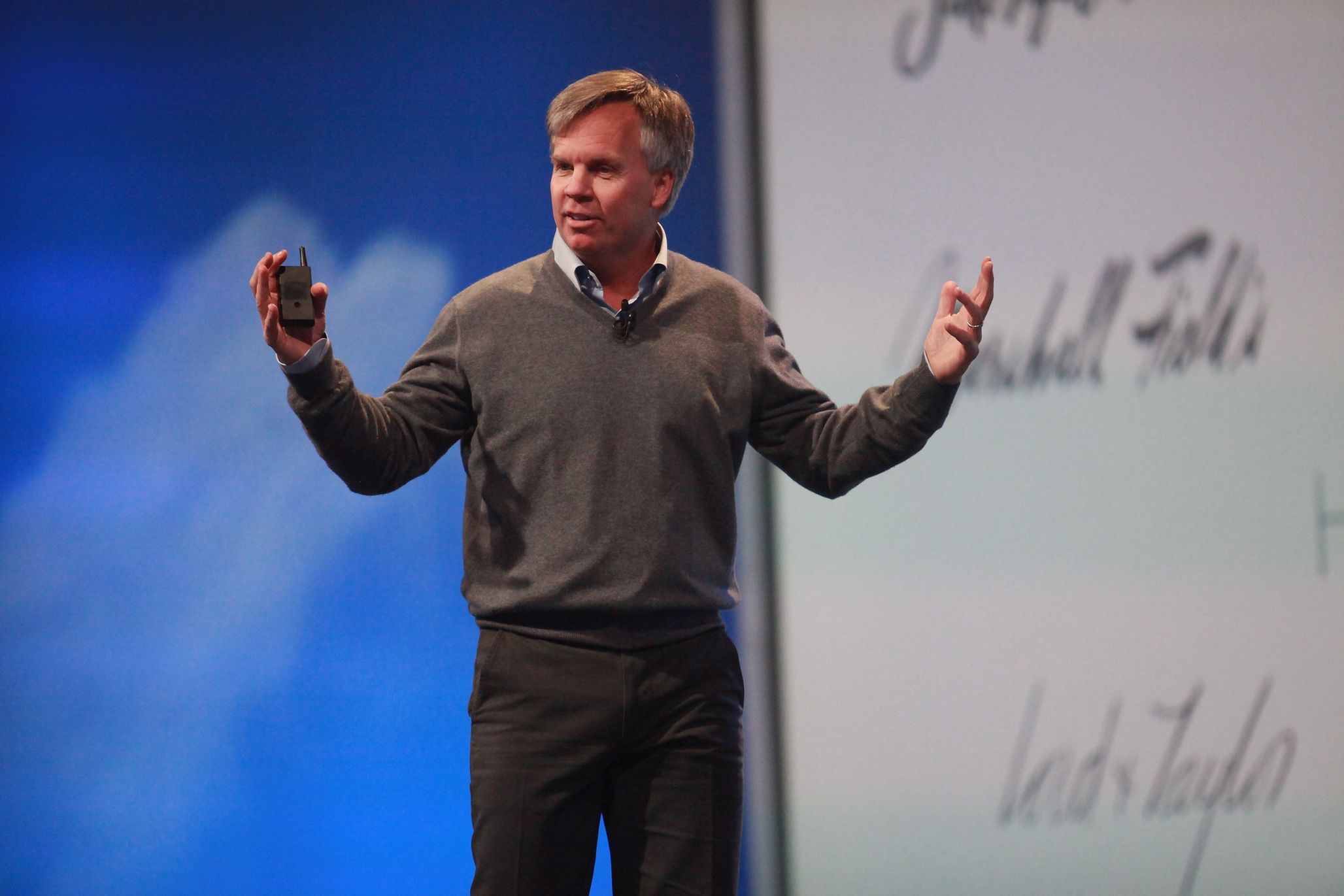 Build Buy-in Early and Let It Dictate Your Pace
Johnson started driving major changes at the department store assuming that he had broad-base support. "Many people are comfortable with the status quo," he says. "The biggest surprise to me was that people don't tell you what they actually believe. I assumed the trust I had developed as a leader, and the social capital, would transfer. The reality is, you have to earn that. You can't take it for granted."
But there's an upside to the idea that winning buy-in is required for driving change. It also gives innovators who make a strong case the chance to lead from the middle of the pack. You just have to start early and build the right bond with influential people who will back you when the time is right.
"You don't have to be senior at a company to have impact."
"I was a rising, middle-market kind of person at Target," Johnson says. "We did what we believed was right, and it impacted the whole company. Leadership at its best is situational. You can't sit around in business waiting for someone to do great things."
Johnson has been credited with developing a "next big idea" in retail twice now. But he didn't intuit his way to big breakthroughs at Target and Apple out of the blue. He had to develop finely-tuned gut sense like anyone else would strategically learn a skill.
"I started at Mervyn's on the floor," he says. "Our first couple months, we weren't even allowed to meet with customers. I unloaded trucks for three months, and I got really fast at that." But that time wasn't spent solely carrying boxes.
"The art was what you were learning — how to merchandise, good packaging, how is it organized on a trailer, how do you stock it efficiently, how do you make sure goods get to the floor?"
Just as Homejoy CEO Adora Cheung gained insight into the cleaning industry by buckling down and scrubbing clients' homes, Johnson learned the nuts and bolts of retail at the loading dock and behind the cash register.
"The way to learn almost anything is by doing it."
"It gave me a lifetime of knowledge," he says of this early tour in grunt work. "Now I can walk through a store and see things I wouldn't spot if I hadn't done that."
There is a counterpoint to Johnson's "work your way up from the bottom" approach. Sometimes, he says, you'll invest a ton in your plan, and then need to throw it out the window — even if it's really embarrassing.
Be Willing to Start Over
That awkward car ride with Steve Jobs — the one where Johnson dropped the bombshell about the store redesign — now makes up a core piece of his retail strategy, guided by his friend and mentor.
After the store design team agreed to scrap their plan and start fresh, Jobs called Johnson with a piece of advice.
"You reminded me of something I learned with every movie I did with Pixar," Jobs told him. On almost every film, just before the release date, the studio would realize that some part of the script could be better. Either the ending wasn't quite right or a character hadn't gelled. That meant pushing the release date. Which meant a massive ripple of other changes. Still, doing it right was more important.
"You only get one chance to make a movie," Jobs told him. "You only get one chance to launch a store. It's not about how fast you do it, it's about doing your absolute best."
Today, Johnson echoes these sentiments: "It's not about speed to market. You've got to be willing to rethink things, to have the courage to start again."
Click here to watch the original presentation at Stanford's Graduate School of Business.